Mister Mayo
By Melanie Moffett
May 26th, 2015
0 Comments
804 Views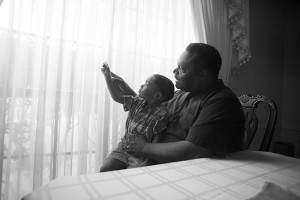 Leaving politics at the water's edge, three-term Monroe mayor Jamie Mayo pulls back the curtain and shares reflections on life, love, and family.
article by Michael DeVault | photography by Brad Arender
In 1981, the financial aid office at Northeast Louisiana University was a walnut-paneled suite of offices on the southern end of the Administration Building. Most of the work of financial aid was completed by hand, the campus's first computers just coming out of packing. Students wanting to attend college using Pell grants or student loans had to present copious amounts of documentation and fill out a seemingly endless wave of forms, none of which guaranteed approval.
For incoming freshmen, the process was daunting. On one fateful day during the summer of that year, though, things were going well for a young woman from Bastrop. She had a helping hand in the form of a popular, well-known student. Her brother, recently graduated, had been a star basketball player on Coach Mike Vining's championship team.
Together, he assured her, they could complete her paperwork and get her enrolled in college. During the process, though, her brother was somewhat distracted by another woman. She was waiting on a friend to get off work. He immediately recognized her as someone he "knew of, though we hadn't actually met."
"We had our first conversation in the Financial Aid office at ULM, while she was waiting on one of her friends to get off work, and I was attempting to help my sister get financial aid to attend ULM," recalled Monroe mayor Jamie Mayo of that fateful day almost 34 years ago. "We sat beside each other."
Jamie recalls an interesting conversation and knew immediately that he wanted to spend more time with the young woman named Angela. But her friend was getting off work, and he still had to attend to his sister's financial aid. So Jamie asked Angela for her phone number so he could call. "He was really nice," Angela told BayouLife. "He asked me to go on a date. That's how everything got started."
The young Jamie was fresh out of college with a degree in business, and he had secured "a good job" at the area's largest employer, State Farm Insurance Company's MidSouth Regional Office as a commercial underwriter. Jamie recalls it was a "great job" for someone just out of college. "I was very excited that I was able to get a good job in the community, where I had attended college, and to be able to stay here in Monroe, where I had made a lot of friends," he said. "Plus, I was still in very close proximity to my family in Bastrop."
The good job also meant he could take Angela out on a good date. To impress her, he chose one of the nicest restaurants in town, Austin's in downtown Monroe, as the site of their date. From the moment they sat down to dinner, their future was written. After the date, Jamie became a permanent fixture in her life. "He came by the house every day after that to visit me," Angela said.
The time at her house gave her family time to get to know Jamie, too, and Angela said they immediately took a liking to the respectful, driven young man who was showing an interest in their daughter. Angela remembers how her family liked Jamie. "Especially my grandfather. My grandfather loved him," Angela said. Both Jamie and Angela recall a relationship taking off at a breakneck pace.
"That year, we got engaged and got married the next September," Jamie said. "In a year's time, we met, dated, got engaged and then married."
He laughs at the speed with which the relationship developed, but he said he knew from the moment in Financial Aid. "After being around her just a few minutes, I knew that she was who I wanted to marry. There wasn't any question in my mind."
Some 34 years later, it would be too easy to look at how much has changed and drop into a summary. NLU is now ULM. Financial Aid is no longer a complex process and applying for funding takes about a half-hour on the computer. State Farm's Mid-South Regional Offices are no longer in Monroe. And Jamie Mayo isn't in the insurance business anymore. But where's the fun in that? Instead, like the young Mayo family's life, it's more interesting to look at the slow road, to take time and appreciate the moments as they arrived.
So much of Jamie's life seems to be lived with the same pace with which he played the basketball that first made him a well-known figure in Monroe circles. A year-long engagement, a marriage, and he didn't stop there. Not too long after they married, Angela revealed some pretty big news.
"About three months after our wedding, she was pregnant," said Jamie. While many young fathers-to-be express a hint of panic, Jamie had a different reaction. "I was excited."
That excitement and anticipation were rewarded in 1983 when the Mayos welcomed a son, Jared, into their house. Angela said there wasn't a moment of profound change in her husband. Nor was there any drama or consternation. Instead, he took it all with the same stride and control that have marked an almost 40-year career. "He was very conscientious about everything," she said. "He made sure everything was in order at home all the time."
From the start, he set out to be the leader and father he knew he could be. While Angela credits him with providing a stable household, a solid and secure financial footing, and the caring compassion of a father, Jamie said he learned as he went, and the first lesson was the most valuable. "In my case, it was good to have a supportive wife with a lot of patience," Jamie said. And about that stable job with the good employer, Jamie had some news on that front, too.
State Farm had offered him an agency in Shreveport, a town that was booming at the time. A State Farm agency there would mean long-term financial security, prosperity and the ability to become his own boss. For a young man in business, it was the opportunity of a lifetime. There was only one problem: Jamie had zero interest in leaving his hometown.
"So in 1984, I left State Farm to become a sales representative for Metropolitan," he said. Leaving behind a salaried position, Jamie took on the risk of a commissioned job with the prospect of financial reward. The only way it worked, according to Jamie, was because Angela was there.
"I was out hustling, trying to sell insurance," he said. "She was pretty much at home in her mom role, taking care of the kids, of the house, of everything. Of course, at the time, she was working, too."
After college, Angela had secured a job with the Monroe City Schools as a special needs teacher. She was at Clara Hall Elementary at the time. They took a home not too far from her parents. "Her parents helped a lot with the kids," he said. Note the plural—kids. By 1986, the young Mayo family had grown again, this time with the addition of  daughter, Ashley.
"He was really excited about having a little girl," Angela said. Jamie adds a bit more detail, though. While he was excited, he wasn't prepared for how different having a daughter could be versus having a son. A daughter, according to Jamie, requires more attention, more input. There is the hair, the dresses, the makeup. "I never did all that," Jamie said. "That was Angela. But it does require more effort and energy, which put more pressure on Angela. Remember, at the time, I was in sales."
For a time, it seemed like the Mayos had it all. And it was all due to hard work, determination and personal achievement. Looking back, their son is still impressed by what went into making the family a family.
"Can you imagine just being in a house with a guy like him?" Jared asked. "Somebody who really doesn't take "no" for an answer, whether the question is about insurance sales or running for mayor. That's what I love about him the most, that positive, will-do attitude."
Ashley, too, revealed her dad's infectious drive in her own life. "I was majoring in nursing, something I had wanted to do since I was a little girl," she said. But nursing school was proving difficult for the Neville graduate. The exams were grueling, the reading load enough to make her question her dream, and then she talked to her father. "He kept encouraging me to work hard, study hard, pray hard, and he reinforced that I'd be able to make it. Even when times got tough, he said that with prayer and hard work, I'd make it."
And she did. Today she's a nurse at University Health-Conway, and she's a mother. Tyler, her son, is now three. She believes she's on a pretty firm ground as a mother, thanks to her parents. "They were a great example of how to be parents," she said. "I'm just trying to go in those same footsteps, to be there for him just like they were for me."
Jared has a similar dream. Though he's not started a family yet, Jared knows the kind of dad he wants to be. "I want to be the kind of dad who guides my daughter or son to be the kind of person they should be, they can be, to mold them and teach them," he said. "When I have kids, I think he's prepared me to be the kind of dad I know he wants me to be."
Aside from a touch of parental stress, the Mayos seemed to have everything they wanted. They had two healthy, beautiful children, a loving home, and the support of family and friends nearby.  For more than ten years, that's just the way things stayed, too. The kids grew, Mom and Dad worked, and they enjoyed the good life. But by the early 1990s, Jamie had begun to want more. One night over dinner, Jamie revealed his plans.
He would run for Charles Johnson's seat on the Monroe City Council.
"At first, I said, 'What did you say you want to do?'" Angela recalled. She recognized her husband was concerned for the city. He wanted to make sure the community continued to enjoy a good quality of life, but he also wanted more for Monroe. For Angela, though, it was a bit of a shock. She was a relatively shy, keep-to-herself kind of woman. Jamie understood what he was asking of his family, especially of Angela, who doesn't like the spotlight. In fact, at most political functions she attends as First Lady of Monroe, you won't find her on the dais. She'll be in a corner, talking to a close friend or two.
"She's not eaten up with celebrity, with being the First Lady," Jamie said. "She's just a humble, down-to-earth person who loves her family."
Yet, telling her husband that he couldn't run for office never crossed her mind. As she had done previously, she supported him fully. "I was a little nervous at first, but he had always wanted to do it, and I wanted to support him. I'm a team player, and I went along with it."
Jared calls his father's ambitions "inspirational."
"He was the person who always looked at it as it can be done, no matter what you want to do in life," Jared said. And even as politics took hold of the Mayo household, Jamie still made time for family. He drove Ashley to school every morning, took the time to teach her brother and her about the value of family, but most importantly, about setting high goals and achieving them.
"That's the one thing I admire most about him," she said. "And he strived to instill that in both me and my brother."
Today, Jamie's circumspect about his path. With 14 years in office and at least one more run for the top spot in his blood, he's one of Monroe's longest serving mayors. He still rises early to head to work, but first he spends time with Angela, their grandson, Tyler, and the kids. Before he can belong to Monroe, he first belongs to his family.
"Even though being a mayor takes a lot of time away from us, he still gives us every bit of time we need him to be Dad," Ashley said. "Any time I need to talk to him about anything, he's available. He's open to listen to anything I have to say."
That listening spirit is what made Angela first fall in love with him. Still today, she knows he's the one. "He makes me feel special. He listened. He listens to what I say, just like he was listening to my opinion back then."
Maybe not so much has changed after all.
Jamie Mayo became mayor of Monroe in 2001, following the death of Melvin Rambin. He is currently in the middle of his 14th year as mayor, making him the second-longest-serving mayor of the city, behind Bob Powell who served in the office for more than 16 years. That's a record Mayo looks to beat this fall, when he stands for a historic fourth term as mayor. And yes, Angela, Jared, Ashley and Tyler will all be there at his side.