M&K House
By Melanie Moffett
Aug 28th, 2015
0 Comments
413 Views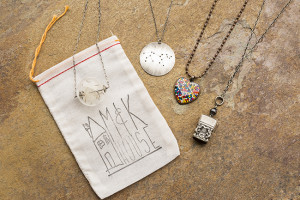 Mother and Daughter Meet Design
article by Meredith McKinnie
Sarah Lee and her fifteen-year-old daughter, Kaylin, are the mother/daughter duo behind M&K House. Much like the logo, hand-sketched by Kaylin herself, the pair began from scratch. Sarah always crafted a custom piece of jewelry for her loved ones for Christmas. Sarah's mother's 2013 gift was a slim bracelet with the inscription: "Of all the rights of women the greatest is to be a mother." Kaylin asked her mom randomly, "Could we sell these?" And M&K was born, fostered by Kaylin's youthful, fresh creativity and Sarah's business acumen and eye for sophistication, the pair creates timeless pieces, each with its own name and story perfectly wrapped and presented with the same handmade care attributed to each piece's construction.
The name, "M" for Mommy and "K" for Kaylin originated from the initials put on their cups. Though Kaylin tired of calling Sarah "Mommy" a few years ago, Sarah still initials her cup with an "M." Having Kaylin at the age of 30 after fearing children were impossible, Sarah values this time with Kaylin, teaching her success by encouraging her entrepreneurship, talent and inspiration. They design together, with one having the idea and the other building on it and vice versa. Sarah insists Kaylin brings a "childlike innocence" to the pieces. Kaylin has since learned the ropes of small business, doing all the packaging, prepping the bags, closure cards, inventory, measuring and assembly. She is receiving a business education outside of her high schoolstudies and has found her passion at the tender age of fifteen, a feat many adults still seek.
Being a shy child, Kaylin has blossomed with this venture, becoming more outgoing, vocal, a true salesperson, stepping out of her comfort zone and finding her self-confidence. Kaylin has even created her own products and even offered to buy the materials herself if Mom was doubtful of the idea. She stands behind her ideas and expresses herself through her design. Her first product, magnets in a tin, sold out the first week at the local River Market. Kaylin promptly declared she needed her own space and moved her table down, a move that only made her mother that much more proud of her progress.
Having collected quotes since the age of ten, Sarah understands and appreciates the power of words with many pieces inscripted with some of her favorite sayings. Each piece comes with its own story and inspiration, packaged alongside the piece with a care card all in a little M&K bag with Kaylin's hand-drawn house gracing the front. Aside from the superior craftsmanship and attention to minute details, there is a feminine sophistication to each piece layered further with the story to give each customer the depth of artistry. M&K just takes it a step further, packaging the process along with the product. Always one to give back, and with a daughter with a heart for giving, the duo creates one charity piece each spring. This year's "Bells of Hope" necklace benefitted Heiffer International USA, a foundation that buys producing animals for people in other countries. M&K's 25% contribution from each sale of "Bells of Hope" helps upstart funding and education for families in the Mississippi Delta to start family farms. This keeps the money at home and helps the children by helping the families. Next year, Kaylin wants to help animals; Sarah is teaching her to be an entrepreneur and to give back to the community.
One of the stories behind the piece is that of the "wishes necklace." Sarah and Kaylin have always loved dandelions; they call them "blowies." They often stop in random fields to blow and wish, hardly ever having passed one up. Inspired by their tradition of blowing dandelions, the wishes necklace is made from a hand-blown glass ball filled with dandelion seeds. Carefully placed on an adjustable chain, the necklace may look fragile, but it is not. One was recently dropped on a cement floor and bounced five times without so much as a scratch. Their pieces not only have depth, but also durability. Along with Sarah's mother and best friend, Jerry, this mother/daughter team exemplifies entrepreneurship, inspiration and careful love and respect in each piece they create, a story and a business worth attention.
Website: mandkhouse.com
Facebook: M&K House
Instagram: mandkhouse