Moran Moran
By Melanie Moffett
Sep 29th, 2014
0 Comments
782 Views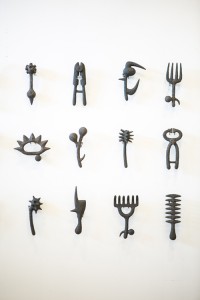 Husband and Wife Exhibit at Kit Gilbert's Studio 301 Contemporary Art Space in Ruston
article by Karl Puljak | photography by Martin G Meyers
There remains a common perception that in order to see and buy really good art, one must travel to major cities like New Orleans, Dallas and Houston. It is also safe to say that our region's best very artists and craftspeople predominantly exhibit work in galleries in New Orleans, Dallas and Houston. While this conundrum may never be fully resolved, Kit Gilbert is working to keep our region's best patrons and artists from traveling hundreds of miles to exhibit, experience and purchase exceptional works of art.
A well-respected figure in Ruston's art community, Ms. Gilbert has merged her great pride to showcase the established artistic talent in the area with her desire to connect local patrons at her Studio 301 Contemporary Art space in Downtown Ruston. Her current curated show features the work of her long-time friends, Andi and Robert Moran.
The Morans operate an art studio next to their home in Choudrant. Andi, a ceramist, and Robert, an architect, sculptor and consummate maker, have exhibited their work in over 80 juried and invitational shows throughout the country. They have been represented in nearly every major metropolitan area in the United States. They have been published in national art and crafts magazines. They were selected to participate in the "big" one: the Smithsonian Craft Show in Washington DC. If you are looking for serious artistic cred in north Louisiana, look no further.
Andi's ceramic work resides far from the traditional potter's repertoire. Her impeccably crafted clay boxes, vessels and implements appear to have been excavated from an archeological dig of a long forgotten culture. Her sculptural forms resemble ceremonial containers, primordial artifacts and ancient tools. Through a sophisticated layering of ceramic surface techniques, her finished objects look both archaic and distinctly modern.
Robert's sculptural work typically begins with the idea of a functional artifact (a chair, a lamp) and is tested by narrative. With intellectual curiosity (he is an Emeritus Professor of Architecture at Louisiana Tech University, after all), wry wit and a level of craft that would be the envy of any machine shop welder, Robert's objects are challenging, darkly humorous and flawlessly fabricated.
The Morans' collaborations, uniting their individual preferred media of clay and steel, result in exquisite lamps, objects and installations that would be the pride of any art collector in the country.
    The Moran exhibition will be on display through the end of October at Studio 301, located at 301 North Trenton in Ruston. Call owner Kit Gilbert to schedule a viewing at (318) 614-4057. To see more of Andi and Robert's work, visit moran-moran.com