Mother's Day
By Melanie Moffett
Apr 27th, 2016
0 Comments
263 Views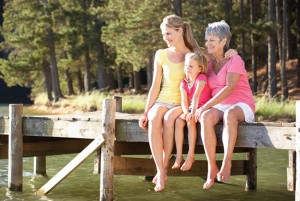 The Value of Having Parents That Weren't Perfect
article by Cindy G Foust
May is here, which means we are nearly half way through this calendar year (I'm blowing out of the starting gate this month with a rhyme.) Time is flying at the rate of a speeding bullet, and we find our BayouLife community staring into the face of summer. Before you know it, I'll be writing my column on building snowmen and riding our sleds through the woods on a snowy evening (shout out to one of my favorite poets, Robert Frost.) I'm just kidding, of course, it will be more like turning our ceiling fans off, so we don't blow the tinsel off the tree, right? So where was I? Oh, I haven't even really started, so the good news is, I'm not off topic…yet. Yes, May is here, and we are also staring into the face of a holiday that celebrates the lives of someone that most of us hold especially, dear, our mothers. In previous columns for BayouLife, I've written about celebrating the lives of our mothers, and even made suggestions on arts and crafts and special meals to help in the celebration. For my "daddy" readers out there, don't hit the panic button yet. This month's column is not about making a mosaic out of a broken wine bottle or building a birdhouse out of popsicle sticks. Rather, this year, I decided to make this column more about reflection instead of celebration.
I often write about the hustle and bustle of the busy lives we live. We are all guilty of it, and if your family is like mine, we sometimes have to stop and make an appointment to see each other. In fact, my 10-year old daughter has gotten in the habit of scheduling routine "family meetings." When I started working on this month's column, and leaning toward writing about Mother's Day, I started thinking about what this day actually meant to me, as a mother, and what this day means to me with regards to my own mother, and other women who have played a significant role in my life. As I near the half-century mark in August (that's 50 years old on August 29th, and coconut cake is my favorite for any interested and attentive readers), I find myself doing this a lot…you know, reflecting. To start with, and I've shared this with my readers before, I never wanted to have children of my own. It's a philosophy I can hardly believe I ever subscribed to, because quite frankly, motherhood is the single most important and single most sacred thing to me in my life. Motherhood changes everything, so can I get an amen? But to be honest, I'm not sure I would have ever known how to be a good mother, or even where to begin, had it not been for the example my own mother played in my life. They say we can be the products of our environment, and I'm no philosopher, but I certainly think there's some credibility in that statement for many of us. Growing up in Mayberry on Walton's Mountain like I did, in days that seemed to move much slower and much more methodical than they do now, my mother was an attentive, fun, caring and resourceful mom. I mean, how many moms play softball until they are nearly 60? My mom made it a priority to have meals on the table, to make sure our schoolwork was done and to make sure my sisters and I had everything we needed (my brother, John, doesn't really factor in this equation, because I was 11 when he was born, so "Baby Jesus" lived with a different set of parents with a different set of rules, than we did…and just like their grandchildren do!). But more important than all of that, my mom was there for us, cheering on our accomplishments and helping us through every crisis we had, and that we still have to this day. No one was a bigger supporter, no one cheered louder, no one listened more intently than "Mama."
My sisters and I never doubted my mother's love and devotion to us, even when she was forced to exercise her parental control. But one of the most profound moments, and one of the most compelling experiences of my teenage years, was not when my mom talked me through a break-up or when she did her best to make me feel less like the "gazelle" I had been called and more like the "swan" that she saw, but it was when my mother apologized to me. Did you hear me readers? She apologized…a simple act of apology that has stayed with this writer for nearly 35 years. As a matter of fact, she committed that apology to paper, a note I still keep in my treasure chest. As we all know, they don't give us an "owner's manual" when we have these kids. There are no rules, no protocol on how to parent. My very dear friend, the late Barbara Harkey, told me one time that good parenting often was the result of dumb luck. Maybe so, but in the absence of any "How To Manual" our point of reference, especially with our first born, is probably based more on instinct and our own experiences than anything else. No, my mom had no hesitation when making her apology, for a mistake she felt she had made as a parent. I'll never forget waking up on Christmas morning, and having this heartfelt, hand-written note in my stocking. But looking back on it now, as a parent myself, the value of that lesson has stayed with me until this day, and because of it, I find myself many times, apologizing to my own children.  As parents, (I'm talking to you dads, too), we are not perfect.
We lose our cool. We wake up on the wrong side of the bed. We get stressed over work or money or what color to paint the kitchen, and oftentimes take it out on our children. We are human. But as a mother, I want to make that same kind of impression on my children, one that will be compelling enough to stay with them all of their lives, and that is that I am capable of saying, "I'm sorry."  Of course, it's important to be at all their games, or plugged in with their school activities or hosting and cooking for the weekend friends, but to me, as equally as important is the fact that they see me (and my husband) as two parents who love them unconditionally, and are just doing our best to help them navigate what should be idyllic years, but more times than not, are difficult and unpredictable. And sometimes, even when we try our best, when we are tired or irritable or worried, we make mistakes, too. As we move towards the holiday that celebrates the role of motherhood, I would encourage my "mom" readers to spend a little time, on your back porch, on your drive to work, or sitting in your big comfy chair, reflecting on your own parenting role. Who is your role model? What did they teach you? Do you ever look in the mirror and see your mom (or dad), even though you swore you would never be "that person?" For me, there is no amount of money, no level of success that can replace the value of having had parents that weren't perfect, but just did their best, with lots of love, lots of patience, lots of prayer, and of course, the occasional apology. Now that I am in the "slap dab middle" (as Bitsy would say) of my parenting years, I probably wouldn't get an A+ for my parenting skills per se, but I know I would get an E+ for effort. My son likes to say "Hard work beats talent when talent doesn't work hard." I don't think I was born a "talented mother," but I work hard at it, just as many of you do, and hopefully that hard work will influence my children to put the same effort into their parenting responsibilities one day. As it probably is for many of our parents, that will be a full-circle moment in my life. Happy Mother's Day to my lovely mother, and to all the wonderful mothers who make up the BayouLife community. May your day be filled with love, family and reflection.