Natural Beauty
By Melanie Moffett
Feb 25th, 2015
0 Comments
982 Views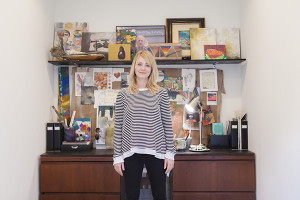 Exploring the artistic world of Margaret Moses. From her tranquil studio, she creates stunning works of abstract art that are a natural balance between man and nature.
ARTICLE BY MARY NAPOLI | PHOTOGRAPHY BY BRAD ARENDER
The path to artist Margaret Moses' studio is tranquil and calming.  The door to the space where she creates her stunning works of abstract art is open wide, bidding nature to enter.  This open door could be a metaphor for her creative process, as Moses invites the outside world into nearly every aspect of her aesthetic.  On the surface, the artist's work presents a visual of poetic harmony between color, shape and texture and seems to represent the search for a lost balance between man and nature.
Moses drew her first breath in Houston as Margaret Jackson and was raised there for her first decade. The family relocated to Monroe, where Moses would eventually attend ULM and earn a degree in interior design.  Many locals sought out her design skills during the years she spent at Inside Indigo, where her modern, uncluttered, elegant style was admired.  The home she shares with husband Brent Moses and their two young daughters, Addison and Emma, is every bit as breathtaking as one might imagine.  Although Monroe is home, time spent with family in Texas remains a lifelong source of inspiration.
Her mother is creative in many ways.  The delicate, detailed hand she uses in working with fabrics easily translates to painting, which she enjoys doing with Moses' paternal aunt, who is a successful artist in Denver.  Moses' sister is also an artist, but draws from a perspective that is grounded in realism, more so than the abstract methods her sister prefers.  The most revered and celebrated artist of her family was her grandfather, the truly brilliant Charles Schorre, who created captivating, innovative works of art that crossed all mediums.  Schorre, who passed away in 1996, was a respected and greatly admired presence in the art world and found great success throughout his long career.  His expansive body of work still serves as inspiration to Moses today, and her childhood memories of time spent in his studio are meaningful and treasured.
"He always had jazz playing (in his studio).  My sister and I…we knew to be kind of quiet and go to our spot that he had made for us, so that we could work on our stuff while he worked on his.  He would set us up with some canvases or paper and encourage us to go for it.  We would stay there for hours working," recalls Moses.
Artistry may be in her DNA, but on a daily basis, her biggest inspiration comes from the outdoors.  Colors and textures of objects found in nature often serve as inspiration for her paintings–the threads of color found in a jagged rock, the fibrous density and vibrant pigments of vegetation, the delicate opaqueness of a flower petal, the vastness of an azure sky.  Each canvas produces the essence of a triumphant surrender to nature.
"I might take a photograph of something (found in nature), because I like the way it looks.  My mother took a photo of an old cistern wall…so there was this combination of metal and algae and rust.  But to me, it looks like an abstract painting.  I took the photo and painted my version of it, and now that painting is in Summerhouse Gallery in Jackson."
Her studio is brimming with creative energy.  Large canvases rest on the floor, where Moses can easily maneuver them as she paints.  As she stands over them with brush in hand, it is as though she paints from a unique perspective where nature and humanity collide.  Her process is organic and instinctive and fosters an ambiguity that focuses on physical shapes and textures.  She works with paints and washes of varying consistency to create specific effects through layering.  All the while, she maintains a harmonious balance between color and texture to where one does not overpower the other.
"My older work was less about texture and more about how the paints mixed and reacted to each other.  Sometimes it's a layering process of the paints and playing with heavier textures. I go back and forth between landscape and cloud type shapes and more of a linear structure."
Her exceptional talent is admired locally, in galleries throughout the South and is often commissioned by collectors. Moses may meditate on an idea before her brush touches the canvas, but creating the work is a visceral experience.
"I don't always have a clear idea of what I want something to look like.  I may have a thought of a place that I have visited or saw something that sparked my interest, like a color palette. I begin from there and paint until I am happy with the result.  Many things in nature inspire me…the bark of a tree, an old barn where the paint has weathered producing different shades.  I look at something ordinary and find the beauty in it."
The colors and lines of her works are engaging and alluring and invite the viewer to form something of a elucidative coil with the image.  The artwork holds an energetic, expressive quality that collectors of Moses' work can intuitively sense.  As with many abstract painters, she hopes for the viewer to find their own connection with the work.  However, the titles of her paintings can sometimes provide guidance and act as a point of reference.
"It (the title) helps the viewer of the art…it takes them to the place you are intending to take them or lead them in that direction," explains Moses.
George Schorre once described the core attributes he endeavored to achieve in his own creations.  Similarly, Moses has inherited her grandfather's inspired approach. Schorre's words could be used to describe the ethereal artwork of the gifted granddaughter:
"Good characteristics for painting for me are: in doubt, outrageousness, mysteriously beautiful, unidentifiable elegance, always inventive and uniquely my own."
Moses' aesthetic journey is her own, but like the work of her beloved grandfather, she leaves a lasting impression.