Natural Progression
By Melanie Moffett
Aug 28th, 2015
0 Comments
471 Views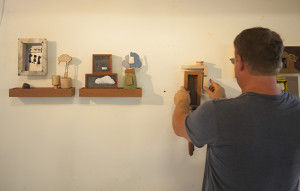 The Artwork of Cliff Tresner
article by Mary Napoli | photography by Brad Arender
Artist Cliff Tresner is as complex and captivating as the artwork he produces.  He is a curious soul, perpetually searching and seeking.  He asks questions with his eyes and his hands, aggressively manipulating objects of nature in ways that would only occur to creative person.  In speaking with him, he is at once guarded yet animated, assertive yet nurturing.  He is a dynamic artist that possesses a talent so dynamic it is impossible to forget.
The Indiana native has spent 19 years guiding art students at ULM in Monroe and remains as innovative as the day he arrived.  Tresner is brilliantly multi-talented and excels at painting and drawing, but is most recognized as a prolific sculptor.  Growing up on the plains of Indiana, he felt that he was often misunderstood, and never quite knew where he fit in.  Many of the students he encounters feel similarly.  He found that art gave him the opportunity to express himself in a way that was freeing and came naturally, and he pursued it with vigor.
"The thing that attracts me most about art is that the answer is always elusive and never really right, and often wrong," explains Tresner. "It's about continued change.  It's like life itself in that manner–it just keeps going."
He often begins working with one particular art form that leads him to create another.  He may begin with a painting and become inspired to include it in a sculpture.  Various elements appeal to him  and make up an overall collection that is visually arresting and thought provoking.
"In art, you make things, and you don't really know why. Then years later or by interacting with people who view them, you get out of your own head, and you can start to see the relevance.  For instance, why do you keep making this thing?  And why does it keep showing up over and over again," says Tresner.
Tresner's unique talents have been noticed by the art world in the South and nationwide.  In 2014, he won Best in Show at the Louisiana Contemporary Arts Exhibition at the Ogden Museum of Southern Art and received second place at the National Outdoor Sculpture Competition.  He has been chosen as the Northeast Louisiana Arts Council Artist of the Year and awarded a Fellowship through the Louisiana Division of the Arts.
As Director of the ULM Sculpture Garden, he is devoted to displaying the work of interesting artists from around the world, as well as students. He is also the Director of the Bry Hall Gallery on campus, which gives him the opportunity to work closely with teams of students to prepare, set up and coordinate exhibitions.  In addition, Tresner is also sought out to hold exhibitions of his own in various places nationally.  In 2015, the Maria V. Howard Imperial Arts Center in Rocky Mount, North Carolina hosted Tresner's solo exhibition in sculpture, painting and drawing entitled "Notes from the Road."  This showing was so successful, he was invited to do a subsequent showing at the University of Mississippi in Oxford, Mississippi called "Notes from the Road Revised."
His most recent exhibition requires no travel to enjoy and can be found at Monroe's Masur Museum of Art.  "Makers' Mark" is a captivating exhibition, where Tresner displays his work along with fellow artists and friends, Todd Cloe and Frank Hamrick of Ruston.  Their handmade objects are constructed from various natural media and result in various forms: sculpture, drawings, books and tintypes.  The exhibit highlights each artist's personality and creative strengths.  Tresner displays smaller scale sculptures composed of wood, metal and rock that have an arresting affect visually.  The collections of objects, both natural and manipulated, allow the audience to engage with organic elements that often seems peripheral or overlooked in a modern lifestyle saturated with technology.
Tresner's talent and imagination appears to be endless as creations manifest themselves in various commanding forms.  One of the most captivating and unforgettable methods he uses involves cutting words from metal to compose distinctive large scale objects.  It's a laborious task, but the outcome is visually brilliant.  During the process, Tresner "writes" words that flow into and out of his mind in almost a dreamlike, transient state.  The focus is not on the meaning of the specific words, but the visual shapes that the letters make.  Words are often misspelled, written in all directions as he works in a stream of consciousness fashion. He often listens to audio recordings of books, talk radio or podcasts while constructing the words, which maintains the subconscious conversation as he works.
"When I'm writing, I tend to lose focus and let things happen.  It's almost like being in a lucid dream state, where you can kind of control it, but it's just happening, and you go along with it," explains Tresner.
These sculpted words are then used to construct forms–large and small, functional and abstract.  He has been commissioned to create furniture, like tables and lampshades, that feature his sculptural writing,  These writings also find their way into large scale constructions, such as the outdoor sculpture recently acquired by Delta State University in Cleveland, Mississippi.
Although he is most often recognized for his sculptures, he enjoys drawing, and often incorporates these images into his mixed media exhibitions.
"Drawing is actually my favorite thing to do.  My sculpting teacher actually taught me how to draw.  He told me that sculpting is actually drawing in space, and I've found that to be true."
Tresner's accomplishments are many, and his talents are vast.  The various forms that his creativity is expressed in are almost kaleidoscopic–sculpture, painting, drawing.  His artistic abilities seem to know no bounds.  And even though he often finds himself intoxicated with the artistic and otherworldly possibility when sculpting or painting, one of his greatest passions remains in opening the minds and expanding the knowledge of his young students.  He invites and often pushes them to embrace their own perspectives and question the very nature of what they see, and this is a great source of inspiration.
"My students are really what inspire me the most here.  I'm always affected by nature–the foliage, the color of the earth, the textures–but it's the people here, who make this place great.  The visual arts have grown significantly during the time I've lived here, and that is because of the students who come through the University and want to invest in the arts community here.  They've revitalized Downtown, invested themselves in the Art Crawls…it's a beautiful thing to see a community grow in this way.  To be a part of that is really rewarding."
More of Tresner's work and contact information can be found on his website, www.clifftresner.com.  The joint exhibition featuring his work at the Masur Museum of Art, Makers' Mark, runs through October.  His outdoor sculptures and other artwork are on display on campus at ULM.