New Southern Gentlemen
By Admin
Aug 29th, 2016
0 Comments
560 Views
written by Meredith McKinnie | photography by Martin G Meyers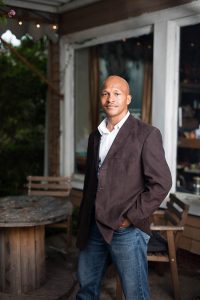 Kita K. Wright
A native of Monroe, Louisiana, Kita Wright's style can be summed up in one word, comfort. A graduate of Carroll High School and The Art Institute of Dallas where he focused on video production, Kita started his business, Proworks Productions in 2000, offering services in video production, photography and graphic design. He also specializes in media production of political campaigns. Kita's family owns the Monroe Free Press, and Kita must be ready to go when the news media calls. As a result, his style is one of comfort and convenience.
Kita describes himself and his style as "down to earth." He admits he's not a suit and tie person, though he does own them for the appropriate occasions. Instead, he typically opts for a Polo shirt and blue jeans. It's essential that his style be relaxed as he could be called to start shooting video or pictures at any time. His jeans are not expensive; rather he chooses the pairs around $20. His splurges come in the form of boots, his favorites being lizard and gator. Kita doesn't identify as a "clothes person," but he does claim to be a "tool junkie." His money goes to equipment for his business and various tools used to do his carpentry work in his downtime.
His most influential role model is Jimmy Young of Newcomer, Morris and Young, an advertising agency. Kita says Jimmy has "all the good tools and toys." But mostly he taught Kita the importance of being genuine. Kita's style motto is: "Be yourself. Dress for yourself." Regardless of one's style choices, if it comes from an honest place, it's always in fashion. People frequently ask Kita, "Why are you always in jeans?" His response, "That's just me."
---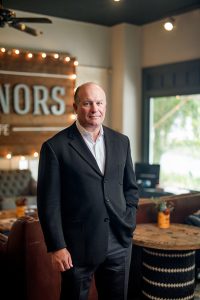 Bill Hogan
A current resident of Lincoln Parish, Bill Hogan grew up in Fort Smith, Arkansas, graduated from Oklahoma State, and moved all over the country before finally moving to Ruston in 1989. He moved to Ruston to work with his father in the residential construction and development business, which led him into the lumber business as owner of the Do-It Center. In the early 2000s, he joined his family as an owner of Hogan Hardwoods & Moldings. In 1996 he became a board member of Ruston Building & Loan, which later became Bank of Ruston. In 2008 Bill changed careers and became an employee of Bank of Ruston and was named president in 2011. "Today, he serves as president and CEO. He is extremely excited about the growing economy in Northeast Louisiana. He is married to Kelly Boren Hogan, owner of The Fashion of Ruston, and they have two daughters, Natalie and Taylor.
Bill is a self-described "CrossFit addict!" He understands the importance of exercise and healthy living, which shows in his passion for cooking. He loves to entertain and cook for family and friends. Bill loves anything from home cooking, grilling, gumbo or "really anything in cast iron." Bill calls his culinary style a collaborative effort with his wife, Kelly, as his sous chef.
Since Bill loves the outdoors and is an avid golfer and duck hunter, he dresses casual as much as he can. Earlier this year, Bill was appointed by Governor John Bel Edwards as Commissioner of Louisiana Department of Wildlife and Fisheries. Bill dresses "fairly traditional" and prefers to buy his clothes locally. His favorite clothing brand is Peter Millar; he believes ties are for weddings and funerals and prefers golf shoes over dress shoes. Bill's favorite article of clothing is his twenty-year old black Tallia jacket, but his absolute favorite things to wear are his golf clothes. Whether he's wearing his business suit and tie or his favorite hunting shirt, Bill is all about family, community and economic growth.
---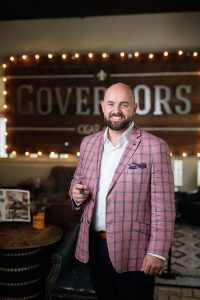 Friday Ellis
Owner of Governors Cigar & Pipe in Monroe, Louisiana, Friday Ellis is refined, somewhat dapper and sharply styled. Dad to Friday III, Asher and Aurie Grace, he and his wife Ashley Ellis have recreated that same style in the local cigar shop, where a masculine edge meets attention to detail. Friday claims, "When you walk in Governors, you see my face, but my wife creates the atmosphere." Ashley even selected the cigar profile for their newest venture, Governors very own cigar brand made by Black Label Trading Company in Estelli, Nicaragua. The cigar is appropriately named The Governor and the First Lady; it is petite, pigtail capped, mimicking the curls of his wife's hair. The cigar will be a shop exclusive and is a realized dream for Friday, who always wanted to "create something in the cigar industry."
Friday's style around town is his version of simple: boots, Japanese denim and an Oxford shirt, a stand-out in most rooms in Monroe where the average male opts for slouchy casual. Friday believes signature scents to be just as important as attire, as they complement each other. He's not afraid to "stray away from the pack and find something that no one else wears." He loves the House of Creed scents, as "they make some of the world's most famous fragrances that are timeless and masculine." On a date night with Ashley, he spiffs it up even more with by selecting a jacket with bold colors or patterns, dark selvedge denim or slacks.
He was inspired by his dad Friday Ellis Sr. who frequently stepped out in his Hickey Freeman suits and Allen Edmond shoes, quite the example of putting effort into one's appearance. Emulating his dad's effort, Friday's attention to presentation is precise, from the sharp colors of his jackets to the staple cigar in his right hand. Friday claims, "Regardless of your style, be confident in what you wear. Don't be afraid of choosing bold colors or mixing patterns. And most importantly, don't be afraid of public opinion." Since Friday always has a cigar on him, Ashley has nicknamed the front pouch of his jacket as the "Nicaragua pocket." Friday's adherence to quality is evident in his business, his partner, his genteel nature, and clearly his style.
---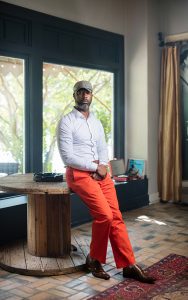 Danzie Pierce
Danzie Pierce believes in the power of education. Serving as the Dean of Students at Lee Jr. High School, he wants to give back to children, because education lifts them out of poverty. Along with his wife of five years, Robyn Pierce, the assistant principal of West Monroe High School, he is actively teaching not only his blended family of six children, but others as well. Danzie thanks Charles Johnson, his own principal in elementary school, for telling him that he did have the knowledge to succeed. Serving in the Army Infantry for two years in Operation Desert Storm taught Danzie discipline. He strives to continue setting and achieving goals and staying physically fit in his civilian life.
Danzie describes his style as his own, often searching on Pinterest for outfits that stand out, that "pop." He prefers a tailored look, noting it can be difficult to find outfits accentuating one's frame. When people see him, he wants them to know he puts time and thought into his appearance. His closet is an explosion of color including: plaid pants, shades of orange, green, blue and red. Danzie is not afraid of color. His accessories include shades, hat, scarves and his primary fascination, shoes, of which he has about 200 pair; his favorite brand is Kenneth Cole, reasonably priced, but good quality. He mentions David Beckham as his fashion icon, particularly for his fashion choices, casual yet professional.
Much like his everyday style, Danzie is consistently proving, by example, his mantra of, "Be who you are." He's showing his students their potential at school, that it's okay to stand out and stand up. His fashion choices are just one other way he is exuding confidence, backing up his statements of individuality with expressions of boldness.
---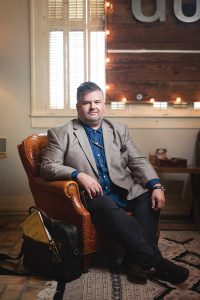 Julian Jones
"Music has always been a part of my life," claims Julian Jones. An accomplished pianist and Instructor of Voice at ULM for the last six years, Julian's love of music began with his dad, Nathan Jones, a pastor who played guitar. Julian has also maintained a private studio with Paul Hewitt Music Company for 22 years, and he is the Director of Contemporary Music at First United Methodist Church in West Monroe. With there always being a need to lead worship, it was a natural path for Julian. His style is essential to his work, a blending that comes naturally to him. His dad was always in a suit, and Julian's style is much similar, though at times less formal than his father. He admits striving to be the better-dressed man in the room, his suits personifying who he is, his form of genuine expression.
Julian describes his style as "classic with an eclectic edge," always accentuated with his own personal touches: glasses, pocket squares, socks, and various scents. He even takes the time to layer his scents; one always wants to get a hug from Julian to smell his neck. His soft-spoken tone and genteel, welcoming nature puts people at ease while his attire demands respect and admiration. His shirts are often tailored from J. Hilburn, with his shoes and accessories by Billy Reid. His appearance is consistently elegant, often transitioning from day to night with the simple addition of a blazer.
Julian insists, "Style should be natural. It shouldn't be contrived or have that feeling of trying too hard." And much like the music he respects, his wardrobe commands that same attention. This blending of the two passions manifests itself at recitals and concert venues, and is often determined by the style of music being played. His attention to detail with each note is recreated in each outfit. His appearance is note worthy, and more often than not, Julian will consistently be the best-dressed man in the room.
---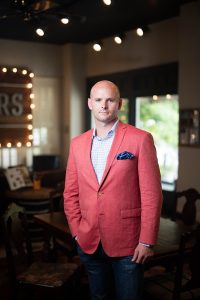 Joshua Culp
Serving in the Army and National Guard for the last nineteen years, a venture into fashion seemed an interesting and unexpectedchoice for Joshua Culp. Along with his wife, Leslie Culp, and with the help of his sister, Natalie Sutor, the couple opened the doors of Hemline Monroe in February 2014. Joshua was most intrigued by the business aspect, not becoming a "fashion mogul." The changing industry of fashion keeps it exciting. Some brands that are popular in the spring fade away by the fall; it keeps both consumers and business owners on their toes. Joshua's military background taught him the importance of organization, team building, communication and an ability to work with people. In the military, one can't be only authoritative; this taught Joshua to adapt to different personalities, a trait that is serving him well with the store.
Joshua describes his style as simple. For a dinner outing, one might spot him in a button-down shirt and jeans, perhaps a jacket, a younger version of something more traditional. He exudes a quiet confidence. Married to Leslie for over three years, Josh confidently chooses his wardrobe and is responsible for his own style. Still being full-time military, Joshua stays busy, but his style stays consistent. Even though this interview was way out of his comfort zone, Joshua did it with that same quiet confidence. Joshua claims, "Everybody sees things differently." His ability to get along with others and maintain his own originality keeps him true to himself and makes him one of our style icons. Joshua and Leslie are expecting their first child this fall, a baby boy named Jack Henry. Just like his military adventure, then fashion venture, his step into parenthood will surely be another one of Joshua's successes.
---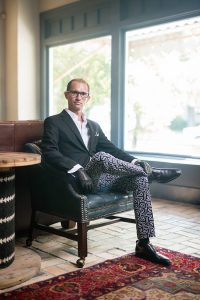 Jay Stephenson
A Monroe native and graduate of St. Frederick Catholic High School, Jay Stephenson has been a buyer for Hollis & Company Jewelers for the past seventeen years. He claims he simply fell into it after being asked to help out for one week during an event. But quickly he also fell in love with the beautiful pieces of jewelry for their craftsmanship and design. His attention to detail and eye for elegant, timeless pieces carries over to his own closet where sophistication reigns supreme.
Jay describes his style as "tailored with unexpected touches." He is not afraid of statement pieces. At work, one can find Jay in a suit and tie. For dinner, he often trades the suit for jeans, removes the tie, but wears a jacket. He claims, "I wear what I'm feeling at the moment." Surprisingly, his closet is made up of fewer pieces than one might expect, as he often edits his clothes. He purchases timeless pieces that he can mix and match, and he loves luxurious shoes. With a selection of 20-30 pair, Jay insists, "Shoes elevate whatever else I'm wearing."
He inspires risk-taking. Like the bold patterned pants in this feature's shot, Jay exudes confidence with his selections. He doesn't just wear it; he owns the look. He's not afraid to stand out, to start the trend, to be the statement in the room. Finding genuine joy in clothes, he admits his outfits change the way he feels each day. He is inspired by Tom Ford with his put-together, classic style that Jay emulates. His advice to other seeking sophistication, "Get better shoes. Get a tailor. Invest in quality, timeless pieces. Ron Alexander is who I rely on for custom suits and shirts. Most of all, wear what makes you feel good."