North Delta Food & Wine Festival
By Admin
Sep 19th, 2016
0 Comments
304 Views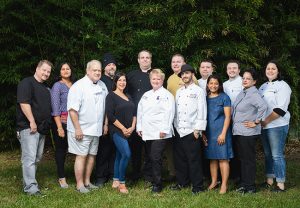 article by Kay Rector | photograph by Martin G. Meyers
Food and beverage enthusiasts will gather in the Twin Cities the weekend of October 7th through 9th to celebrate the second annual North Delta Food and Wine Festival.  Presented by Progressive Bank, the festival will showcase the talents of local chefs, as well as visiting culinary artists. Proceeds will benefit the Northeast Louisiana Arts Council and its affiliates, the Monroe Symphony Orchestra, the Masur Museum of Art and the Twin City Ballet.
The festival kicks off Friday night with the "Rare Culinary Collaboration," a three-hour tasting extravaganza featuring foods created by over thirty Southern chefs.  Award-winning chef Cory Bahr, named "People's Best New Chef" by Food and Wine magazine, will serve as emcee for the evening. Guests will have the chance to sample each chef's offerings at booths and displays set up throughout the West Monroe Convention Center.  A variety of fine wines and craft beers will also be available for sampling.  Festival sponsors will be afforded reserved parking and early admittance to the tasting party before the doors officially open at 6:00 p.m.
Later that evening, ticketholders will have an opportunity to mingle with their favorite chefs as the party moves to Nonna in Monroe's Garden District.  Admission to the "Chef's Party" is included in the ticket price, which is $50.00.
Last year's inaugural event was a tremendous success and garnered lots of enthusiasm among participating chefs and festival goers.  This year promises to be even bigger.  "Last year was a sellout.  We were actually having to turn people away," recalls Tommy Usrey, Executive Director of Northeast Louisiana Arts Council and festival organizer.  "We've expanded this year, with a larger venue for Friday night and more participating chefs."
In addition to Bahr, local food experts who will be serving up their delicious creations include Blake Phillips of Restaurant Sage, Chris McKnight of The Fat Pelican, John E. Peters, III of Vieux CarréMarket, Anthony Miletello, Executive Culinary Director for the West Monroe Convention Center and owner of Miletello's Fine Foods, Karen Bennett of Chow Baby Eats, Pat Nolan of Chef Pat Nolan Catering, Nidhi Jha and Mrudula Tatuskar of Kitchen Masala, Swathi Thota of Taste of India, Rachel Genusa Dickey of Genusa's Restaurant, Logan Parker and Renee Williams of Bayou Roux, Thurman Dickey of Thurman's Food Factory, Clelie Wilson Stone of Stone House Eats and Mark Smith of US Foods.
Award-winning chefs will also be traveling from beyond the Twin Cities to participate.  Notable New Orleans chef Octavio Ycaza will be cooking both Friday and Saturday nights, as will fellow New Orleanians Nathan Richard, Executive Chef of Kingfish Kitchen and Cocktails, and Samantha Carroll of Sac-a-Lait Restaurant.  Other Louisiana gourmets doing double duty are Robert Vasquez of Opal Basil in Mandeville, Cody Carroll of Hot Tails in New Roads, Ryan Andre of City Pork Brasserie & Bar in Baton Rouge and Blake Jackson of Drake Catering in Shreveport.  Chefs Tom Ramsey of stage and Simon Brown of Seafood R'evolution will travel from Mississippi to offer tastings on Friday night and stay to contribute their talents throughout the weekend.  Also joining in Friday's "grand tasting" will be Mark Quitney and Deanna Hoffmann of Roux in the Sheraton New Orleans, William Sampson of Vega Tapas Café in Metairie, Jeffery Hansell of Oxlot 9 in Covington, Dustie Latiolais of Crawfish Town USA in Henderson, and Jason Brady of Wine Country Bistro in Shreveport.
Clelie Wilson Stone, owner of Stone House Eats restaurant and catering in Rayville, is a newcomer to the festival.  She says she is thrilled to be a part of this year's festivities. "Frankly, I'm a little nervous," says Stone. "There are some big names from the culinary world participating."  As the granddaughter of late Cajun chef and humorist Justin Wilson, Stone grew up celebrating good food. "My grandfather believed that Louisiana cuisine, North to South, has something unique to offer the world," she says. "I believe that grandpa was right, and I garontee Stone House Eats is gonna show it!"
Chef and media personality Tom Ramsey of Jackson, Mississippi is returning for his second festival, taking part in Friday's grand tasting as well as a seated dinner at Restaurant Sage on Saturday night.  "I enjoyed it so much last year and am really looking forward to this year's event," Ramsey says.  "The hospitality shown to out-of-town chefs who come to Monroe to participate is just wonderful. My wife and I will be staying again with the host and hostess we met last year, who have become our friends," referring to Patchez and Peter Fox.  Ramsey will incorporate Patchez's family's organic product, KenChaux Rice, in his dishes this year.  He will also lend his expertise as a sommelier in choosing wine pairings for dinner at Restaurant Sage.
Seated multi-course dinners will take place at three area restaurants on Saturday night, October 8th, each offering wine pairings with elaborately planned meals prepared by celebrated chefs.  At Restaurant Sage, Chef Blake Phillips will lead a team of talented gourmet chefs in presenting "A Symphony of Chefs," a six-course meal with entertainment provided by members of the Monroe Symphony Orchestra. A portion of the proceeds from this dinner will be donated to the Monroe Symphony Orchestra.
Cooking alongside Phillips and Ramsey at Restaurant Sage will be Octavio Ycaza of New Orleans, Robert Vasquez of Mandeville, Blake Jackson of Shreveport and Nathan Richard of New Orleans.  Phillips, the reigning "King of Louisiana Seafood," recruited these noted chefs to share their talents with North Louisiana diners.  "These are all chefs that I know and have worked with before," says Phillips. "It's kind of a collaboration of friends as well as professionals."
At the Fat Pelican, Chef Chris McKnight will host a "Dinner in the Delta" on Saturday night.  Joining him will be the husband and wife team of Samantha Carroll, chef at Sac-A-Lait in New Orleans and Cody Carroll, chef at Hot Tails in New Roads, as well as Anthony Miletello of Monroe, Simon Brown of New Orleans and Ryan Andre of Baton Rouge.  Dinner will include wine pairings and also craft beer provided by Ouachita Brewing Company.  A portion of the proceeds from the Dinner in the Delta will benefit the Masur Museum of Art.
Wine connoisseurs are also in for a treat on Saturday night as Vieux Carré Market presents "A Winemaker's Dinner."  California winemaker James Blanchard of Blanchard Family Wines will be teaming up with Chef John E. Peters, III for a four course meal paired with fine wines from Blanchard's Healdsburg vineyards.  Blanchard Family Wines recently took home medals from this year's San Francisco Wine Competition, including a Gold Medal for its Red Scarf Blend.
Early on Saturday morning, revelers can enter the "5K Dash 'N Dine/Walk 'N Wobble sponsored by CenturyLink.  This chip-timed run/walk through downtown Monroe and West Monroe will begin and end at the Warehouse No. 1 Restaurant downtown.  Drink stations will be set up along the route outside Doe's Eat Place, River and Rail Cantina and Trapp's where bartenders from these downtown eateries will be serving libations to the less serious runners and walkers.  Food and live musical entertainment will be waiting at the finish line.
On Sunday, October 9th, the festival will conclude with a Southern Fried Chicken and Champagne Brunch at Cotton in downtown Monroe.  "That event was very popular and sold out last year," says Usrey.
Usrey notes that this fun-filled weekend is made possible through the generosity and support of the festival's title sponsor, Progressive Bank, as well as other area sponsors, restaurants,
chefs, beverage distributors and community volunteers. "Ashley West, Blake Phillips and Anthony Miletello are among those who have worked tirelessly, along with other organizers, to make this year's festival successful," says Usrey.  Phillips says he and other local chefs are hoping to "bring more of the spotlight to Northeast Louisiana's culinary scene and what we have to offer here in this part of the state."  As Phillips points out, "There is always so much going on like this outside of our area.  I think it's a good thing when we have a chance to showcase our part of Louisiana as well as benefit the Arts Council."
"In Louisiana, cooking is an art form," says Usrey. "The Northeast Louisiana Arts Council recognizes this and appreciates the idea of food as art." He and the other council members and volunteers are thrilled to have so many culinary artists come and participate in this fundraiser to support the Arts in Northeast Louisiana.  All of the funds raised at the Friday night tasting and the Dash 'N Dine/Walk 'N Wobble on Saturday will directly benefit the Arts Council, which serves an eleven-parish area.  "Proceeds from the festival will enable the Arts Council to increase financial support to the arts organizations in our region providing high quality performances and exhibitions that we all enjoy," explains Usrey.
Tickets are limited and must be purchased online at www.northdeltafoodandwinefestival.com.  The website also provides links and telephone numbers for making reservations for the seated dinners and registering for the 5K Walk/Run and other events.  Follow North Delta Food and Wine Festival on Facebook for daily updates and information.