One on One: An Interview with Michael Manning of the Country Music Hall of Fame and Museum
By Melanie Moffett
Mar 24th, 2017
0 Comments
552 Views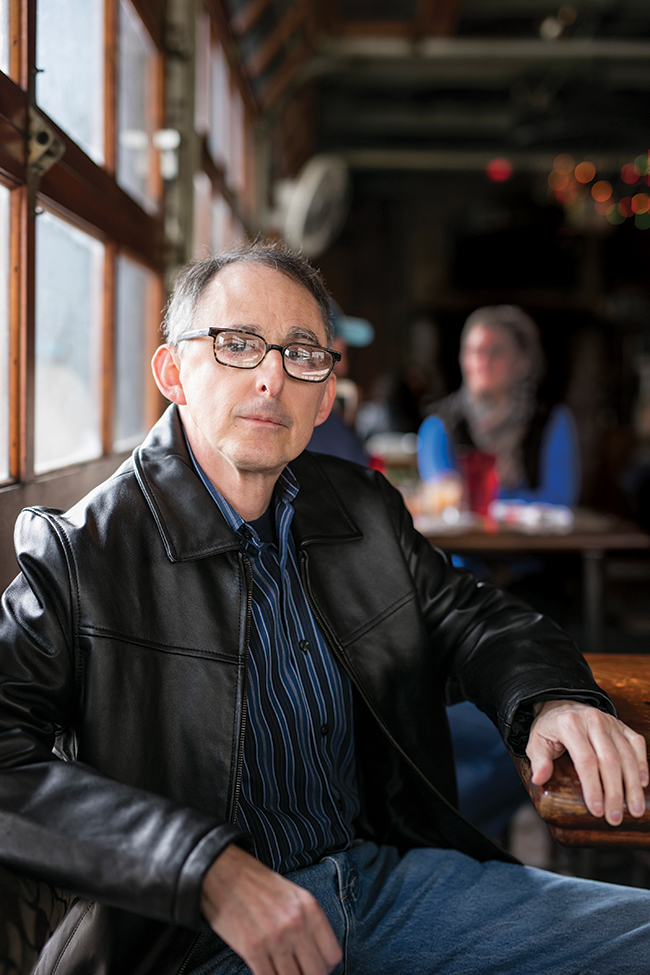 article by Maré Brennan
BayouLife Magazine recently caught up with Michael Manning, a West Carroll Parish native who left his mark on NELA with his beloved shop River Records and numerous radio shows to his credit and headed to Nashville in 2001.  Fascinating and overwhelmingly knowledgeable about music history, Manning, a Louisiana Tech alum, is currently the Senior Digital Content Manager at the Country Music Hall of Fame and Museum, a spot where truly he seems destined to be. Let's start at the beginning…
BayouLife: Tell me about how your childhood influenced your life's work with music:
Michael Manning: I fell in love with music at a very early age. When I was little I would listen to the Grand Ole Opry on the radio with my grandparents. I liked listening to almost anything on the radio, and I would sit for hours turning the dial to the left and to the right, soaking in all the music I could hear. I loved watching music programs on television like The Glen Campbell Goodtime Hour and The Johnny Cash Show. I was also obsessed with phonograph records. When I was around three or four, my mom gave me her box of old 45s, which I still have and play to this day.
BL: Do you play a musical instrument(s)/sing?
MM: Yes, I sing and play piano and guitar, but not at a professional level.
BL: How did your time behind the microphone at radio stations impact your career?
MM: I began working in radio at age 14, in 1979, and worked in broadcasting throughout the 1980s. Working for small market radio stations allowed me to not only learn broadcasting skills, but allowed me to sharpen my knowledge of several musical genres.
BL: What led you to open the legendary River Records in downtown Monroe?
MM: I had always dreamed of owning a record store, and had worked in a couple stores before I opened my own. In the fall of 1993, a business partner and I opened River Records. I felt like it was the right time. The 1990s were a good time to be in music retail. River Records became as much a communal space as it was a place to buy records, tapes and CDs. People seem to remember it fondly, and so do I.
BL: How did you end up in Nashville?
MM: I had always wanted to move to Nashville and work in some form of the music business, so I closed River Records in December of 2000 and began searching for jobs in Music City. In August of 2001, I began working at the Country Music Hall of Fame and Museum, and I've been there since.
BL: Suspending reality, what music legends (living or dead) would you most like sit in on a recording session with?
MM: If I could go back in time, I would like to go back to the 1960s when Elvis Presley was recording an RCA Studio B in Nashville, and watch as he and his band, along with the Jordanaires worked out arrangements and recorded some of his biggest hits. They would all record in the same room at the same time. This was long before the days of overdubbing.
BL: Other than you, who's the coolest cat in Nashville?
MM: I don't know if I would call myself cool or not, but in Nashville, some of the coolest people that you meet are folks who don't really realize that they're cool. You often meet people who are really impactful on your life, and you may not realize it until they're gone.
BL: How did you come about having a menu item named for you on the South Street Original Smokehouse, Crab Shack and Authentic Dive Bar brunch menu? I take it you are a regular! Ha! And what exactly are 2 eggs (Mike's Way)? I notice it's right below the Nicole Kidman egg whites – Have y'all brunched together?!?
MM: I became a fan of the restaurant South Street not long after I moved to Nashville. I began going there every Sunday for brunch, because their brunch was so good, inexpensive, and the place has such a communal atmosphere that it is just a fun place to be. Each week I would order the same thing off of the brunch menu. One Sunday I went in and there was a new item on the menu called the Nicole Kidman. I jokingly said to the wait staff, "How did Nicole Kidman get her name on the menu? She comes in one time and requests a special item and gets her name on the menu. I'm in here every week, and my name is not on the menu. How does that happen?" About two weeks later, I came in to eat and there was another new item on the brunch menu called "Mike's Way." It was the very brunch item that I had long been ordering, but now it had my name attached to it. "Mike's Way" is actually eggs, hashbrowns, and either sausage or bacon. The funny part is that the eggs can be cooked anyway you would like them and you get to choose your side of meat. In other words, Mike's way is any way you would like it. The staff at South Street is so nice and the "Mikes Way" item has been on the menu for years.
 
BL: What's the most meaningful article/content you've written for the Country Music Hall of Fame and Museum? The piece that most resonated with you?
 MM: I was asked to help write liner notes for a various artists CD called Country's 20 Classic Songs of the Century. I wrote notes about three iconic country songs for that album; "Ring of Fire," "I Will Always Love You," and "Blue Eyes Crying in the Rain." It's truly an honor to be able to be creative now and then and work on projects such as this.
BL: Old Country or New Country?
MM: I am truly an old country fan all the way. There are some truly impressive new country artists making music these days, but they're not necessarily being played on country radio.
BL: Rarest record you own or have sold?
MM: I once sold a truly rare picture disc 78 by Jimmie Rodgers that actually helped finance my move to Nashville back in 2001.
BL: What's the best kept secret at the Country Music Hall of Fame and Museum?
MM: Well, it's not such a secret anymore, but 94-year-old country music legend Rose Lee Maphis works daily greeting museum visitors. She and her husband, Joe Maphis, were country music stars in the 1950s and wrote the song "Dim Lights, Thick Smoke, and Loud Loud Music." It's such a treat to work at a place where people are so passionate about their jobs.
BL: Most unforgettable Nashville moment?
 MM: I've been going to concerts since I was four years old, and I've seen hundreds of shows. The best concert I ever saw was here in Nashville in 2007, at the legendary Ryman Auditorium. The show was Levon Helm's Ramble at the Ryman. I bought a ticket for the show at the last minute, and I'm glad I did. It was an incredible show where the Nashville music community showed up to jam with Levon and his band, and it was a show that I will never forget.
BL: Anything you miss back here in NELA?
MM: I miss my family, friends, and the great food that is such a way of life in North Louisiana.
BL: Anything else you'd like visitors to Nashville to know?
MM: Most visitors come to Nashville, because it is Music City. Should you come to visit, be sure to see the Grand Ole Opry and the Country Music Hall of Fame and Museum. Oh, and one more thing. I have a podcast. it's called Michael Manning On The Record and can be accessed at www.michaelmanningontherecord.com. It's like sitting in my living room playing records.