One with the Water
By Katie Sloan
Jul 10th, 2017
0 Comments
140 Views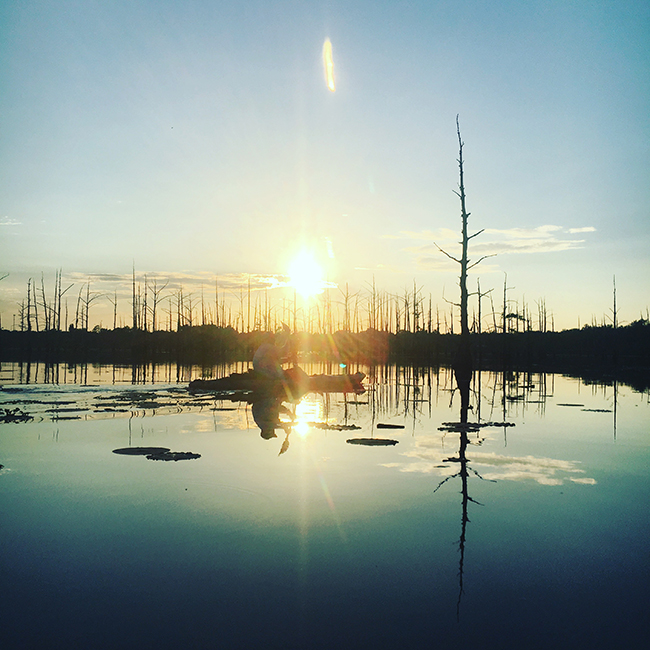 article by Nils I. Borquist and Photo by Ashley Hubenthal
Certain activities connect modern people with their primitive ancestors. Whether through fly fishing treacherous creeks, stalking wild prey with bow and arrow, building a fire with little more than sticks and ingenuity, or even running over a lightly carved trail through the woods, pastimes exist that link us with our foremothers and fathers. Another pursuit endures today, a craft that commenced when early hunters grew weary of watching marine life confidently swim past them in rivers, lakes and oceans. In order to eat, people needed to glide along the water. A vehicle was necessary, and as necessity breeds experimentation, eventually some individual learned to create a vessel that was nimble, durable, and advantageous to the ends of hunting or even navigating or crossing a waterway.
The oldest known boat, fashioned over 10,000 years ago, is named the Pesse canoe due to its discovery in Pesse, located in the Netherlands. When looking at the artifact, one cannot help but realize that the simple construction still resembles the form of canoes today. The canoe appears to be built to certain specifications and seemingly would have been used to hastily paddle through the numerous canals knifing across the Dutch terrain. The builder likely used it to fish, hunt, travel and, possibly, to enjoy the freedom that comes with powering a craft with the power of a human body.
Today, with the addiction to rushing throughout the day, many people have lost that freedom. Certainly, a great many Louisianians spend numerous hours interacting with nature due to the preponderance of hunters and fishers; however, the physical exertion required of early huntsmen, hours or even days spent in solitude, has been greatly diminished or eradicated completely. With that fact at hand, there is a movement across this country for more outdoor activities in order to reinvigorate our love of the land. The explosions of running, first with short races that evolved into marathons that evolved into ultramarathons and beyond, as well as CrossFit and even cycling have delivered a much-needed jolt to many Americans in need of working the muscles and the lungs. Paddling, an activity older than cycling and certainly pre-dating CrossFit by several millennia, is also reemerging as a hobby for thousands of people, and for good reason. Taxing the body as well as calming the mind, paddling provides the best of the worlds of meditation and physical labor, and for many citizens of The Boot, it has taken hold.
In July of 2013, Louisiana Delta Adventures, Incorporated, was officially born. While the organization transpired as a channel for the promotion of Louisiana nature and wildlife tourism, the core initiative focuses on enjoying the unique outdoor recreational opportunities afforded by this dynamic state. Including biking, birding, and camping, Louisiana Delta Adventures assists those wishing to partake in open-air activities to plan worthwhile quests. The group has also arisen as a leading advocate for paddling activities. In particular, Union Parish native, Louisiana Delta Adventure board member, and paddling lifer Stephanie Antley-Herrmann a librarian by trade but a wilderness aficionado at heart, tirelessly promotes the benefits of being on the water, whether by boat, kayak or canoe.
Growing up near sprawling Lake D'Arbonne allowed Antley-Herrmann to participate in several water-based pursuits, including fishing, swimming and paddling. She embraced the multitude of positive benefits paddling provided, from the exercise and challenge to the communing with the environment. Into adulthood, with the responsibilities of work, marriage and raising children, Antley-Herrmann's life took her farther and farther away from one of her passions, until she realized that several years had passed since her last paddling excursion. Feeling something was missing from her life, and desiring an outdoor activity she could enjoy with her two small children, she purchased an inexpensive kayak, loaded the kids, and hit the water. Within seconds, she was hooked again, and she decided to incorporate this hobby into her lifestyle permanently, a plan she has maintained for the past decade.
As a hobby sport that has seen recent tremendous growth, paddling in its various forms, including kayaking, canoeing and paddleboarding, has become attractive to many people wishing to escape the routine of biking, running, swimming or weight training, or they wish to add paddling to their fitness repertoire. The problem for many people is knowing where to start. Fortunately, individuals like Antley-Herrmann are starting paddling groups and leading local instructional courses in order to both teach proper paddling form and safety ,as well as to inform about the best places to go and explore.
An abundance of paddle trails exist in the Northern Louisiana region, and those interested may procure helpful brochures outlining locations such as Bayou Bartholomew or Bayou Macon from http://www.louisianatravel.com/paddle/trails/any/sportsmans-paradise or on the Louisiana Delta Adventures site (http://www.louisianadeltaadventures.com/). The websites themselves and the brochures relay useful information including the history of the region, directions to get there, various trail lengths, paddling skill levels, potential river levels, access points to trail (for embarking and landing), necessary equipment and important paddling tips. The advice and instructions deliver indispensable knowledge required for novices and experts alike to more easily navigate lakes, bayous and rivers. Additionally, the site is not limited to the northern region alone; information regarding the entire state's prospective paddling adventures is included.
Besides being vocal and instructional advocates from afar, Louisiana Delta Adventures (http://www.louisianadeltaadventures.com/) is also heavily involved in hands-on training and activities. In July alone, the organization is offering free kayak classes (two classes per day on July 15th and 22nd) for any person aged seven and up. With all necessary equipment offered, participants need only bring themselves. With limited class sizes, ten people for each class, signing up quickly is important. The first day of classes (times of 10 a.m.—12 p.m. and 1 p.m.—3p.m.) will take place at Lake Bruin State Park while the second day of classes (same times as above) will occur at Black Bayou Lake National Wildlife Refuge. Directions for getting to the locations can be found on the Louisiana Delta Adventures website. Training and teaching courses such as these not only prompt people to wish to get out and paddle, they are needed for the most important component of any activity: safety.
One of the more impressive teaching initiatives is called "Becoming an Outdoors-Woman." Begun in 1991 and introduced to Louisiana in 1994, the Louisiana Department of Wildlife and Fisheries sponsors the program designed to teach women about backyard wildlife habitats and birdwatching, the basics of camping and handgun operations and skill training, such as bow fishing and even falconry. Stephanie Antley-Herrmann is involved with this group, and one of her courses is kayak training. In the course, women are taught how to paddle efficiently, safety instructions and basic physical requirements from how to stroke to how to sit. The LW&F website (http://www.wlf.louisiana.gov/becoming-outdoors-woman) provides the necessary information for those interested in attending.
Kayaking clubs are also popping up around the region. Antley-Herrmann is directly involved with the D'Arbonne Kayak Club, Paddling Union Parish and Paddling Morehouse Parish, among others. Each group has a Facebook page, so contacting the organizations through those sites is a great first step to being involved. From race planning to monthly social excursions, the groups provide anyone wanting to learn from authorities and enjoy the company of fellow paddlers the opportunity to do so. The pages also offer event information and relevant contacts and links to other groups. Another great aspect of the sites is the photo pages; glancing through the pictures of local water channels should be enticing for anyone with the slightest notion to paddle. Along with the clubs, H2GO, a locally owned and run company, sells various products, including stand-up paddleboards, and they will demonstrate how to use the crafts. People can simply contact the store through their website (https://www.h2gopaddle.com/about) and let them know they are interested.
The rustic beauty of Louisiana lends itself to open-air activities. Whether running, hunting, biking, swimming, fishing or paddling, the state undeniably possesses the ideal countryside and waterscapes for optimal enjoyment. While numerous pursuits have been undertaken by thousands of residents for many years, the growth of paddling has been a welcome addition. The thrill of soaring along the water surface, slicing into the breeze, observing the natural wonders that abound and, perhaps most worthwhile, appreciating the company of like-minded adventurers are all benefits delivered when paddling one of the countless waterways located in the region. With quality and caring instructors like Stephanie Antley-Herrmann ready and willing to help both beginners and skilled paddlers and with summer in full swing, the opportunity to join in the water fun is now.