Organizing Your Home to Sell
By Melanie Moffett
Jun 26th, 2014
0 Comments
554 Views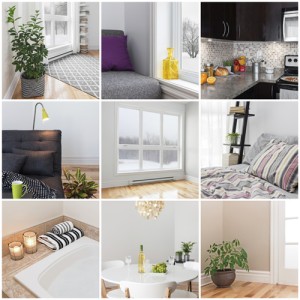 article by Erin Sharplin Love
Remember, you never get a second chance to make a first impression!  This rule doesn't apply only to your personal image; it also applies to your home. With this in mind, you certainly want to make a good first impression when you are trying to sell it!  A distraction such as clutter can definitely give  a potential buyer a negative opinion of your home. After all, who wants to purchase a home that appears to have no space?
In order to make your home attractive to a buyer, you need to be sure he focuses on the home itself, not your "stuff."  Below are my recommendations for creating the perfect home for the perfect buyer:
1.  Remove all paper clutter.  I chose to begin here because paper clutter never ends, so creating a system to overcome it is imperative.  First, go through your papers and trash or shred anything that you don't need or want.  Then, create a system for what remains.  I suggest creating a "drop box" system  – a drop box system is simply a created space that is convenient (usually by the door you enter and exit on a daily basis) and is made up of cubbies and/or bins and baskets that are perfect for dropping in mail, receipts, and other weekly "to-do" items.  An effective drop box system includes every person in the household who receives or brings in paper items.  One should take action on all items in his/her box at least once a week. For instance, I clear my drop box every Friday.
2.  Organize your closets.  Let's face it…closets are prime real estate when it comes to a home, so making them look as spacious as possible will be to your benefit.   The quickest and easiest way to make an immediate difference in your closet is to change all hangers to matching hangers (I prefer heavy-duty clear, plastic) and then to organize clothing by like with like and in color order.  As you are doing this, be sure to remove any item that you don't want to bring with you to your new home.  Make a promise to yourself that you will keep only the things you love!
3.  The pantry is a type of closet, too.  Don't neglect it!  You should begin by removing all expired and/or spoiled items, and then organize what's left.  As with your clothing, I recommend arranging all like items together.  For instance, all pasta and pasta-related products should be together, and all canned vegetables should be together.  You could also create an area specifically for baking products and snack items.  Here's a little tip to help with the snack item area: Most snacks are individually wrapped, so I like to recommend removing them from their bulky boxes and arranging them in pretty baskets and bins.  Not only will it look better, it will also be easier for little hands to grab and for you to know when something needs to be repurchased.
4.  Storage space reigns!  In other words, make sure all cabinets and drawers are being utilized to their full potential.  The one thing that usually goes unnoticed is the amount of vertical space that can be used.  Take a quick look in your cabinets. Is there space not being used between each shelf?  Most likely, the answer is "Yes!"  I suggest using shelf extenders to take advantage of that extra space.  Here are a few more tips for making the most of your cabinets and drawers:  Place stemware in the cabinet by alternating stem up and stem down.  This trick usually enables you to get one more glass onto the shelf!  Use drawer dividers to create separation.  I use drawer dividers in the kitchen, in the bathroom, and, of course, in the bedroom.  Hint: Rolled towels take up less space than stacked ones.
Getting rid of clutter isn't the only thing that you should do when trying to sell your home.  Below are a few more ways to make your home more appealing:
1.  De-personalize – Help buyers visualize themselves in your home by removing all personal items such as family photos, children's drawings, holiday souvenirs, personal collections, and other mementos.
2.  Create curb appeal – Buyers often do a "drive by" before deciding to arrange a viewing of a home.  Therefore, tidy your flower beds and add colorful plants and pots to create interest.  It might be in your best interest to invest in a can of paint to make your front door more appealing.
3.  Finish any DIY projects that are lying around.  Otherwise, unfinished work could signal that your property might be maintenance-heavy, leading a buyer to submit a lower price than usual.
4.  Make sure all spaces are clearly defined.  In other words, if you have a three- bedroom house, make sure all bedrooms are functioning as bedrooms and not as storage rooms, for instance.  And if you have a sitting room and a formal dining room, make sure they are presented as such and not as the kids playroom or as a laundry-sorting station.
5.  Last, but not least, clean!  Clean until it gleams!  A spotless home always creates a good first impression!  If possible, make sure all smoke and pet odors are eliminated.  (You might need an outsider's opinion where this is concerned.)
The great thing about eliminating clutter from your home before your move is that you can begin an organized life in your new home!!  How awesome does that sound?
Erin Sharplin Love, owner of Panache by Erin, is a Certified Fashion and Image Consultant, Professional Organizer and Certified Wedding Coordinator whose specialties include outfit coordination and closet organization.  Love has a knack for helping her fashion clients develop their own personal style, as well as helping her wedding clients create the wedding of their dreams within their budget and without the stress. To learn more, please go to www.panachebyerin.com.