Ouachita Parish Rocks
By Admin
Sep 19th, 2016
0 Comments
729 Views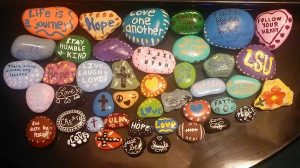 article by Meredith McKinnie
Have you noticed any colorful creations outside lately, particularly painted rocks? Apparently they're being painted and placed all over Ouachita Parish for unsuspecting finders or rock hunt enthusiasts. What began in Jena, Louisiana, in LaSalle Parish has been brought to our community to spread smiles, awareness, religious messages and overall goodwill. The Ouachita Parish Rocks Facebook page is flooded with kids' smiles proudly holding up their first rock find or painted creation to hide. With over 2000 members on Facebook, the activity is promoting community involvement and a sense of inclusion. At a time when kind words or messages of support are so desperately needed, Ouachita Parish residents are answering the call in a fun, creative, therapeutic way for the sole purpose of enriching someone else's day.
Participating is simple. Find and paint rocks with messages, art, support, scripture, etc. and hide outside somewhere in Ouachita Parish for someone else to find. You can post a pic of the painted rocks on the Facebook page with a clue to the rock's location. Be sure to use weather resistant paint, perhaps acrylic and seal with a clear coat, and because this is to spread joy, please keep the messages and pictures appropriate. If you are lucky enough to find a rock, hide it elsewhere for someone else to find. Should you decide to keep the rock, paint another replica or one with your own message and rehide. Some rocks posted included simple messages like "You are my sunshine" in yellow, and "smile" and "Believe in yourself." Imagine the right person randomly finding a painted rock that says "You are Beautiful" on a day when she really needs to hear it. It's kindness; it's paying it forward for free; most importantly, it's humanity.
Some are using the opportunity to raise awareness. "Rock the Park" took place on Friday, September 15 at Forsythe Park where community enthusiasts hid painted rocks for the Susan G. Komen Race for the Cure the next day. Some posted rocks were painted with pink ribbons and messages like, "I am a survivor" and "Fight like a Girl." With a race packed with survivors and representatives of loved ones affected by breast cancer, the gesture is a genuine, organic encouragement. Racers are able to feel the love and support from their fellow residents on a day they most it. Two purple rocks posted in honor of September being Suicide Awareness Month had two simple messages: "Don't Die" and "Survive." Some rocks reminded people that September is also Childhood Cancer Awareness Month. Messages of "Blue Lives Matter" showed support for law enforcement, and "Pray for Louisiana" reminds us of our neighbors down south experiencing the remnants of a flood Ouachita Parish knows all too well.
Religious messages of "Jesus Loves You" and "Faith" are popular rocks. It's a way for one to share his/her faith and trust God to lead the right person to the rock. Finding "A Joyful Heart Is Good Medicine" or "Stay Humble and kind" reminds us all why we're here and to not let life's upsets or roadblocks distract us from each other or from our chosen faith. Scriptures from the book of John and Luke are commonplace, as believers feel compelled to share God's message in a way that is not intrusive or perhaps rejected. One particular rock said "His eye is on the sparrow" with a blue bird perched on a branch in the corner.
Kids and adults alike are finding rocks in Kiroli Park, Restoration Park, the zoo, outside local businesses and medical offices. Some rocks were hidden on the ULM campus with the "Talons Out" motto and a throwback rock boasting "NLU." United Way Northeast Louisiana did its annual campaign themed "You Rock" and got involved in the rock movement. West Monroe High School Biology Club hosted a paint night, and some local art teachers are having their students participate. Next time you're outside, take a moment and look around. Take a moment to rock.