Paperglaze: The Modern Beauty of a Timeless Artform
By Melanie Moffett
May 26th, 2015
0 Comments
676 Views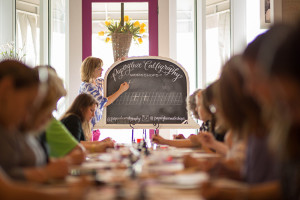 "No one else has your voice; no one else has your fingerprints.  God made you to be completely unique.  Your handwriting is the same way.  It is one-of-a-kind, just as you are."
article by Mary Napoli | photography by Martin G Meyers
Shannan Inman, Ruston resident and creative force behind Paperglaze, speaks these words to the students of her calligraphy workshop.  The group has gathered in Sue Paperie, a Downtown Ruston stationery shop that is every bit as charming and delightful as Inman's calligraphy is amazingly artful.  The room feels more like a technicolor tea party than a workshop, adorned with gorgeous french macarons, cake jewels, petit fours and other delicate treats from Social Bites and Crumbs Catering that are saturated in the colors of plum, pink, orange and shimmering gold.  Inman's students, seated at a long, festively decorated table and poised with pen and nib in hand, hang on her every word.  Her hand delicately moves and sways, as if to music, and the resulting lettering is simply perfection.  She makes it look easy, and each dip of the nib into the thick, black ink is a creative adventure.
Inman's popular workshops across the South are new, but her love for calligraphy isn't.  As a child in western Kentucky, Inman grew up with the family tradition of handwritten place cards at Christmas Eve dinner.  Seeing the names written in such elegant script year after year was an inspiration for the little girl.
"I always thought it was so beautiful, such a wonderful family tradition.  It was fascinating to see each name handwritten that way.  My sister would write them.  There would also be a handwritten menu for that night, so a guest would be able to take home beautiful, personal calligraphy as a memory of the evening.  I thought they were so beautiful; I would add them to the tree decorations.  When I was old enough, I was so excited to take over the duty of writing the Christmas Eve place cards and menu.  I loved it."
The tradition of learning and creating calligraphy is an ancient one.  Only in modern times has it been associated with weddings, special invitations or logos.  Western calligraphy is recognizable in the Latin alphabet in 600 BC.  In the 2nd and 3rd centuries, monasteries began using unical script for handwriting Bibles and other religious texts.  Unlike the typeface of the printing press, the irregularity in a handwritten character's size, style and color enriched its creative value.  As time progressed, calligraphy and formal handwriting became an art form that served as marker of the well-educated, cultural elite.  It experienced a modern revival in the 19th century, which influenced many of the modern typefaces used today.  Handwriting is something of a lost art in this technology saturated era.  However, contemporary calligraphy is currently experiencing a distinctly modern renaissance.
"So many things in life are mass produced.  Now, people are looking for things that are handmade and one-of-a-kind, " explains Inman. "Etsy (a popular website that features handmade objects) is proof of that.  A personal connection is becoming important again. People value that their purchases are made by human hands, not a machine."
True, calligraphy and the art of hand lettering are being noticed by a new generation, but it's something that has always been valued in the Deep South.  Southerners value the elegance of a beautifully scripted monogram and know that a handwritten thank you note is as much an indicator of good breeding as of genuine gratitude.
"In the South, we are drawn to the roots of it," says Inman.  "Beautiful script shows you have taken the time and have an appreciation for such things.  We love the tradition of it.  From wedding invitations and birth announcements, we celebrate the milestones with calligraphy.  It punctuates life's important events."
Through Paperglaze, Inman offers calligraphy services for any imaginable need.  She creates unique, memorable wedding invitations and addresses envelopes with a flair that is impossible to forget.  The styles range from the traditional, reserved font or a flourishing script, to a linear, modern style or block print, and capture the emotion behind the sentiment in the same way that a photograph might.
"Brides are becoming more adventurous with the fonts they choose," says Inman as she runs her fingers over several example envelopes she has created.  "Traditional is still the most popular, but I encourage people to express their own personal style.  Every event has a different feel or theme.  The calligraphy that is chosen expresses that.  It complements the style of the event in a memorable way."
Inman's business has expanded through her popular Etsy shop, which got its start through one bride's desire for Inman to create handcrafted gifts for each of her 22 bridesmaids (Yes, 22 bridesmaids.)
"She chose a Bible verse for each of her bridesmaids and gave me the freedom to create a unique gift for each one," recalls Inman.
The verses were then framed for each individual and beautifully wrapped before they were presented.  The bride gushed over the lovely, meaningful works of art, as did the bridesmaids.  Their reaction prompted Inman to create Bella Scriptura, a line of hand crafted Bible verses artfully written in a variety of fonts chosen to interpret the individual emotion and meaning of each verse. Bella Scriptura is especially meaningful to Inman, because it is an opportunity to express her own strong, Christian faith.
"It allows me to highlight the Word of God," she explains.  "It also provides a way for people to bless others with His word by giving the verses and quotes as gifts."
Inman experienced success through Etsy almost immediately.  Her cyber audience purchased the intricately crafted verses and began to request her work in different forms.  This broadened her reach immensely and resulted in clientele across the country.  Her incredible talents are in demand throughout the region, from Monroe to Shreveport and beyond.  Each envelope addressed is a personal advertisement to that location.  Additionally, the popularity of Instagram, which is primarily visually driven, provides access to another segment of the population, who share her artwork with others through the site. People identify with the quotes or verses and appreciate its extraordinary presentation. Inman marvels at the way that the centuries old art form she practices is part of a modern phenomenon.
"Its amazing to use calligraphy in ways that are fresh and new and appeal to a new generation.  Our culture is constantly looking for new ways to communicate, and there is a component of self expression that calligraphy contains that people to respond to….the style of the lettering adds another dimension to the words," she explains.
Inman's distinct talent add layers of expression to otherwise simple wording.  Emotions are articulated through the shape and size of the lettering–the nature of the angles, the manner in which the letters rise and fall, the heavy or delicate strokes used,  the shade of ink chosen.  The methods used to intricately express a message are endless.  It is no wonder that the traditional art form has lasted for centuries and continues to be the favorite form to announce a meaningful event or statement.
"People are drawn to traditional customs now more than ever, because life happens so fast. We want to experience the same traditions that our family members did, and we want to capture the moments in our lives and the lives of our loved ones in the same meaningful ways.  But now, we use our own individuality to make these traditions our own."
View more of Shannan Inman's inspiring talent at paperglaze.com, and shop Bella Scriptura and other products on Etsy by searching "Paperglaze Calligraphy."  Inman is located in Ruston, Louisiana and can be contacted via her website.