Parish Press
By Melanie Moffett
Aug 25th, 2014
0 Comments
1208 Views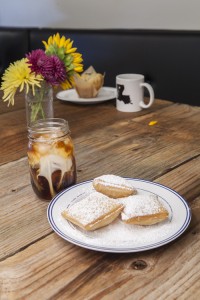 Local coffeehouse, Parish Press, opens its doors in Ruston. From delectable treats to cold-brewed coffee, this new establishment is committed to the community.
Photographed by Martin G. Meyers.
Article by Michael DeVault
Bradley and Katie Walker are no strangers to good customer service. For years, the couple have operated a pair of Smoothie King franchises in Ruston and Shreveport. Yet, they're the first to admit they never expected to end up where they have. Early in August, they opened Parish Press, a full-service coffee shop on North Trenton Street in Ruston. "I wasn't really actively looking to open a coffee shop, but this was an opportunity we saw," Bradley says.
That's not to say they jumped in without first taking stock of what they were hoping to offer. The location, which has previously been home of Crescent City Coffee and did not meet the aesthetic they were hoping to set. So they met with Ruston architect Cassidy Keim to flesh out the designs. Meanwhile, they began studying design books, photos of coffee houses, pretty much anything they could get their hands on. "We saw some stuff we liked, what we didn't, and we thought about the things we knew we wanted," Bradley says.
In renovating the space, Bradley and Katie wanted an open feel with a brighter atmosphere than what some in the area are used to in a coffee shop. They chose bright lighting and gray floors and walls. The bar and table tops all feature reclaimed wood, purchased at Rustiques. A pair of matching mid-century inspired sofas flank the entryway, a find Katie says came from Woodstock Furniture Revival in Monroe. Behind the counter, the menu hangs atop a gleaming wall of white tiles, installed to give the space a bit of "pop," according to Katie. Along the wall opposite the counter, a black leather bench runs the length of the building, providing comfortable and ample seating. "The basic look was opening it up," Bradley says. "We wanted to open the space up."
As a final touch, Katie contacted Jessica Slaughter, an artist with the Northwestern Louisiana Arts Council, to solicit art for the walls. Katie plans to swap out the art every six weeks, and if a customer likes the art, she's ready to sell it for the artist. Homegrown artists are just one of the many ways Parish Press stays close to its roots. "I'd like to get more local items in here, more locally grown things," Katie says. Both Bradley and Katie are committed to providing as much local product as possible, be it in fresh produce, baked goods or even the coffee, which is roasted just up I-20 by Shreveport-based Louisiana Roasters.
"It's all organic, fair trade beans," Katie says of the shop's
exhaustive coffee offerings. For the purists, baristas prepare fresh espresso drinks, pressed and steamed at the counter. For the brewed coffee enthusiast, Parish Press offers a fresh twist on the coffee house experience. All of their brewed coffees are cold-brewed.
That's right, cold brewed coffee.
The process of cold brewing coffee begins 24 hours before the first cup is served. A pound of freshly ground beans is placed into a filter container, which is then filled with cold water. The concoction is left to sit for a day, held in place by a cork at the bottom of the filter container. When the brew is done, the cork is removed and the coffee drips into a glass carafe and then refrigerated until use. The filter and carafe are called a Toddy, and Toddy "mix" is stout–it's usually diluted before serving. If you haven't heard of cold brewed coffee, that's okay. Many people haven't, even though the process has been around for more than 600 years.
Cold brewed coffees are less acidic than their hot brewed siblings. This lends a sweeter flavor and helps avoid some of the bitterness. Just prior to serving, hot water is added, which heats the Toddy mix and produces as perfectly smooth, savory coffee experience. It's important to note that, while cold brewed coffees can be served over ice, they are not iced coffees, per se. They are, instead, a unique twist on the traditional coffee experience, a twist that some aficionados claim is closer to the "original" coffee experience than drip brews today.
Parish Press isn't just about local coffee, though. Bradley and Katie encourage visitors to sample some of the food offerings from the menu, as well. And the menu is a delectable sampling of some of the best baked goods in the region. Hearty bagels and gourmet oatmeal begin the offerings. For the bagels, there is a selection of toppings, and the same goes for the oatmeal, too. Fresh fruit is always available, so a banana or an apple is never more than a hand's length away. Parish Press fresh bakes cookies and muffins. And those muffins are a to-die-for testament to the rich, buttery goodness that a hearty, chunky muffin should be. (Try the blueberry, not to sweet, not to blue. Ask them to slice it, heat it, and butter it and you won't regret it.) But what Louisiana coffee shop would be complete without that most "Louisiana" of all the breakfast confectionaries, the beignet!
"Our beignets are the single most popular item on the menu," Bradley says.
Each serving of beignets is prepared to-order and is delivered still steaming to the table under a fine dusting of confectioner's sugar. Deep fried to perfection, the first bite explodes with all the flavors of a New Orleans breakfast, and you immediately want to reach for a café au lait and the Times-Picayune. Fluffy, buttery and delicate, Parish Press proves itself the master of this dish, and it's pretty clear midway through the second beignet that you're going to want another helping. They also offer Mini Beignets, the same beignet goodness in small, bite-sized chunks.
Katie and Bradley say they're hoping Parish Press becomes the kind of place anybody in Ruston feels at home. "This is a great place for college groups, for the older crowd, for stay-at-home moms," says Katie. Bradley adds that Parish Press is planning to offer extended hours during finals weeks at Louisiana Tech. So all those budding engineers will have somewhere to burn the midnight oil as they cram for the big exam. Also, Katie and Bradley are hoping to offer catering services for groups outside of the shop, for meetings and gatherings where a cup of coffee and a muffin are in order. Eventually, they envision growing the menu to incorporate lunch, perhaps sandwiches, soups, and a few salads. Meanwhile, they're keeping it simple and focusing on growing the core business–and that means fostering a coffee house. After all, that's why Parish Press exists.
"I feel like there is a need for one in Ruston, trying to get away from the big chain coffee stores," Katie says. Bradley agrees, and he encourages people to drop in, drink a cup and say hello.
"One of us is always here," he says.
Even if you're in Monroe, it's worth the drive to experience this top-notch coffee house experience. But, if the drive is a little much, don't despair. The Walkers are already scouting locations in Monroe. "It's something we definitely want to do," Bradley says. Always the businessman, he's already envisioning taking the Parish Press brand to Ouachita, Caddo and beyond. "That's why we chose Parish Press for our name."
Parish Press is located at 1007 North Trenton Street in Ruston. They are open daily from 6 a.m. to 10 p.m.