People We Love
By Melanie Moffett
Feb 2nd, 2016
0 Comments
668 Views
article by Michael DeVault | photos by Martin G Meyers
No matter where we are or where we go, life in the Bayou State has one thing that nowhere else can lay claim to: our people. Our people are who make our lives feel fuller, our activities run a little smoother and our experiences just a little richer. Whenever you start making a list of our people, invariably you start seeing the names of individuals you know–but maybe not well.
Last year, BayouLife wrote about five extraordinary people we meet in our everyday lives, the individuals who touch us in some way special. Whether they were always there with a hot cup of coffee and a smile, or waiting at the counter with the perfect bouquet, the 2015 "People We Love" all had one thing in common. They each love what they do and we love them for being there when we need them.
This year is no different. The five extraordinary women who make up these next few pages exemplify all of the best parts of life in Louisiana, even though a couple of them are transplants. Looking back on the past twelve months, we quickly came to a conclusion. Life here is better, and that's why these women are 2016's People We Love.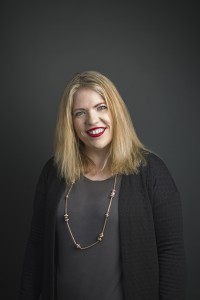 LAURA WOODARD CLARK
Commununications Officer, P&S Surgical Hospital
When you're faced with a health crisis, you want to know that you're in the right hands, that the decisions you make are being guided by the expert of a qualified, robust medical staff. For Brooksings, South Dakota native Laura Woodard Clark, being a part of that team is not just a job. It's a mission.
Working in healthcare communications is something Woodard seems born to do. So it's kind of surprising that this seasoned professional is relatively new to the P&S family, having joined the company in 2013 after eight successful years in media relations at ULM. With a degree in journalism from LaSell College, Woodard is uniquely prepared for the job. And her computer programmer husband, Tim, is a rock of support. When the couple welcomed their son, Weston, to the family two years ago, Woodard says the moment helped hone her powerful sense of purpose and empathy. "I like to think of myself as someone who has empathy and thinks of others. Having a baby has heightened all that. He's definitely on my mind all the time."
Motherhood has also helped her maintain a strong drive and work ethic. "While he is my focus, I'm also working hard to be a good example for him when he's older and to provide well for him," Woodard says.
On Her Positive Outlook
"Growing up, I was hard on myself a lot, always a worrier, wanting to do well, be perfect, that kind of thing." A diagnosis of a rare form of Thyroid cancer changed all of that in 2005. "It was like hitting a reset button. It really gave me perspective. I remember when I was at my sickest, I thought, 'as sick as I feel now, as miserable as I am, I'm going to live the best life I can when I beat this.'"
Favorite Part of the Job
A life-long student, Woodard credits boss Linda Holyfield with encouraging her to expand her horizons. "I've been pushed to learn new things by my boss. She knew my PR experience, how much I loved ULM, what I did there in media relations." When faced with parts of the job Woodard didn't know, Holyfield's instructions were simple – go and learn it. "The sky is the limit," Woodard says of the leadership at P&S Surgical. "That's their outlook, especially as far as what their employees are capable of."
Ideal Valentine's Day Gift
It's simple, really. She wants time with her husband away from work and parenting. "I'm probably saying that now because with a little one racing around time is somewhat sparse. Whether that's going to a movie and hashing it out at dinner afterwards, just time together to appreciate your relationship. That would be ideal."
Most Over-used Phrase
"You want a pop? When I got here, I was so surprised when I would say 'I would like a coke,' and then someone would ask what kind," Woodard says. "It took a while to get used to that."
Most Unique Characteristic
"I tend to get really passionate about any new project or any new thing to learn, no matter what it is. It doesn't have to be something the public can see. It's just a new thing and I want to tackle it." Thankfully for us, her enthusiasm is infectious.
How She'd Like to Be Remembered
Woodard hopes people recall her as a kind, loving, and thoughtful listener. "That's really what I strive for."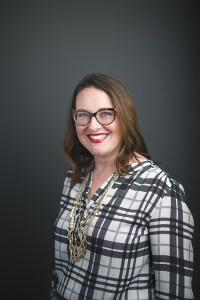 SHEILA SNOW
Vice President of Communications, Monroe-West Monroe Convention and Visitors Bureau
Sheila Snow remembers moving to Connecticut when she was a child. A Monroe native, her father worked for Howard Brothers retail chain in the graphic design department. When the company, the family had to relocate. All the while she was away, Monroe was still home.
"We came back after about three years," Snow says. After graduating from West Monroe High School in 1997, Snow attended ULM, where she majored in Journalism with a concentration in Public Relations. She found she liked working with the public, so she embarked on a career as a donor recruiter fro Lifeshare Blood Center. It was work with a mission. "I felt like I was really doing something good for the community, so that was a great experience," Snow says. Her love of the northeast Louisiana community was evident, so it wasn't too long before she found herself in a new role in the communications department at the Convention and Visitors Bureau.
"I really quickly fell in love with it," Snow says. "Not everybody has a job where they get to talk about all of the great things in their community."
For fifteen years, she and her husband, Jimmy, have raised two kids, a 10 year-old son and a 7 year-old daughter. During that time, she's learned a valuable lesson about love. "There's give and take with everything. In time, you learn when to give and when it's your time to take."
On Her Positive Outlook
As one of the region's biggest ambassadors, it's Snow's job to get out the word near and far about exciting happenings around Monroe and West Monroe. Almost everywhere she goes, people warm up to her friendly smile, and they sense she enjoys what she's doing.
She relishes the joys of small things, too, those kinds of things that make people's lives just a little better. "There's a lot to be said for the small things that are to be done, even if it just makes people smile. It's important to focus on the small things you can do for people."
Favorite Part of the Job
"I get to share the great things about Ouachita Parish, no matter what's going on." When she conveys new information about an event or happening, Snow finds tremendous satisfaction. "I get to see that little bit of spark of something that interests them. It kind of triggers a little bit more of their pride in knowing where they're from."
Ideal Valentine's Day Gift
She's a simple girl, and what would make her day is getting wedding rings resized. "Since I've had kids, I haven't been able to wear my wedding rings because my finger size changed."
Most Over-used Phrase
"It's fancy!" she says — of the cake and catering, of the new sweater, of the new advertising campaign. Any time something impresses her, it's always "fancy!" We think she's fancy, too!
Most Unique Characteristic
No matter where she goes, chances are when you meet her, you'll come face to face with her superpower: an uncanny ability to pull off any shade of red lipstick. "The right red lipstick gives a little pep to the step. It's the perfect thing to top off everything, and it gives me that little extra oomph to help make people smile."
How She'd Like to Be Remembered
Snow hopes to have a big impact through those small things, and she hopes people take away from the meeting the idea that they matter.
"No matter what was going on, when I left the room, they always felt better about themselves, that I always left things a little brighter than I found them."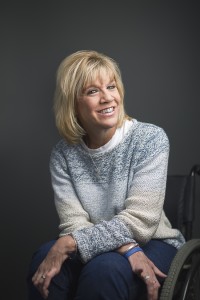 GINGER HUBENTHAL PADGETT
Operator of the Lost and Found Dogs of Ouachita Parish A.K.A. The Crazy Dog Lady
"Dogs are our children," says Ginger Hubenthal Padgett of Tess and Piper, the two rescue dogs she shares with her husband of 25 years, Cole. A Houston native, Padgett has lived in northeast Louisiana since she was 12, when her parents relocated. One day, while still a teenager, Padgett was out on the Ouachita River. She remembers that day, 35 years ago, like it was yesterday.
She dove into the water and, instead of being greeted by the endless cool of a refreshing river, she landed on a submerged sandbar. "I broke my C-four, five, and six vertebrae. Neurologically, I'm not supposed to be able to move my arms." After four months of rehab in Denver, Colorado, Padgett returned home, confined to a wheel chair. She never let the chair deter her, though, and after completing Bachelor's and Master's degrees at NLU in community counseling, she and her husband are almost singularly focused on helping the helpless. "It doesn't stop me. This chair gets me where I need to go."
Animal rescue is her passion, she thinks, in part because it gives her the opportunity to make a profound impact. "It comes from feeling helpless and hopeless," Padgett says. "I'm giving these animals a voice. They need someone on their side."
Virtually, Padgett marshals an army of volunteers who will help capture, spay and neuter, foster, feed, nurse and, eventually, transport strays to the eager embrace of their new owners. Animal rescue helps her lend her voice to the voiceless, an emotion she understands all too well. "Not that I was ever voiceless, but there was a time when I felt helpless. These animals are helpless."
She may be the "crazy dog lady," as she calls herself, but she's our crazy dog lady and it only takes the happiness and love of one set of big, dark eyes to understand just how much her work means to the region.
On Her Positive Outlook
In spite of challenges from her injuries, Padgett has never been deterred from pursuing her dreams. She drives a car and, as she puts it, "goes constantly." In fact, when the lesser among us think it's time to slow down, she's usually just getting started.
"I think God put me in this wheel chair to slow me down–not to punish me, because it's not a punishment. But He kind of put the reins on me." Those reins helped position her for the patience and stamina to engage in what she calls her ministry.
"God created animals, too, and they need as much help as humans do."
Favorite Part of the Job
Placing the animals in a loving home and seeing the animals spayed and neutered, rescuing them from the streets and other dangerous situations, Padgett feels a tremendous sense of accomplishment. One day soon, she hopes to affect the local and state pet ordinances, too. "I would like it to be law that every animal should be registered, spayed and neutered and to do away with dogs on chains.Animals should be treated with more respect and not as tools."
Ideal Valentine's Day Gift
"Anybody that knows me knows exactly what I'd say, a rescued black puppy! I would so much rather have an animal that's been rescued from the side of the road than a dozen flowers." And maybe follow that up with a romantic dinner out, if you're listening, Cole.
Most Over-used Phrase
"Spay and neuter your animals!" It's not a typical answer, but then, there's nothing typical about Ginger.
Most Unique Characteristic
Her chirpy, positive outlook infuses everything and everyone she touches. "I look for the good in everything. I start my day with God, with prayer and I try to live up to God's expectations of what he asks of me that day."
How She'd Like to Be Remembered
She hopes people see and know a loving, caring, sensitive person. "To me, that's good, quality living. If you can achieve all of those things, you're living a happy, blessed life."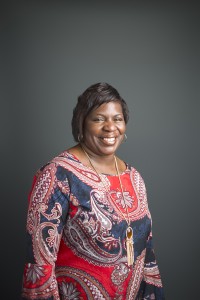 MARILYN ELLIOT
Sales Associate, The Muffin Tin
Whether you've been seeking the perfect gift for a loved one or just looking for a little company while out window shopping, chances are you've run across Marilyn Elliot, who has worked at The Muffin Tin for the last 12 years. A Monroe native, Elliot attended Carroll High School, graduating in 1984. The mother of two children — son De'Erik and daughter Aaliyah — Elliot has become as much a fixture in the lives of The Muffin Tin customers as the store itself. Being a part of a busy, successful retail establishment means a lot to Elliot, who is almost a constant presence in the store.
"I get to know a lot of people, meet a lot of people. We become close. They're like my family," she says of Muffin Tin regulars. Over the years, she's learned to watch trends, and she's grown an appreciation for how tastes change. "It's just like fashion. It changes every year."
From her perspective, Elliot sits at the forefront of those changes. Part of her job entails receiving and placing new merchandise, so chances are she'll know what's happening in the world of home goods long before you do. And that's why people have come to rely on her advice and savvy. "I'm the first one to see new stuff come in," she says.
Over the years, she's learned what people like, about their children and grandchildren, and these days, she's learning all about a new generation of The Muffin Tin shoppers, too. And that's one of the most exciting parts of what she does."Everybody is so nice and sweet," she says. We think she's nice and sweet, and our world would be just a little bit duller if it weren't for her smile greeting us when we pop by the shop.
On Her Positive Outlook
"My mom and my grandmother both always told me to be happy. Always have a smile on your face," she says. It's advice she took to heart, because she's almost never without a smile. She says her optimism and positivity come from her upbringing, and from years of hearing her mother and grandmother drill home a single message. "Never let anything get you down. Treat others how you want to be treated. That's how you get your blessings."
Favorite Part of the Job
One aspect of working at The Muffin Tin that she loves is getting to meet new people every day, helping people fulfill their needs and desires and bringing a bit of comfort and joy into their lives. "If I can be a help to people, I love doing that. That's what makes me happy," she says. Genuine interest and a sense of pride help business, too. As Elliot puts it, "The customers keep coming back."
Ideal Valentine's Day Gift
For him or for her, one thing stands out in Elliot's mind. When Valentine's Day rolls around, there's but one thing you should consider getting your love. "The Niven Morgan brand," Elliot says. "Everybody loves the scent and the smell."
Most Over-used Phrase
"At the end of the day, when I count down the register and it is where we are supposed to be – not over or short – I always say 'Kool and the Gang,'" she says. And once the pennies are counted and everything is balanced, she uses another favorite phrase, "It's all gravy!"
Most Unique Characteristic
When visitors come by the shop, Elliot goes out of her way to make them feel welcome, embraced, and, hopefully, to make them laugh. "I just say something silly and I always have them laughing," she says.
How She'd Like to Be Remembered
Precious few individuals surpass Elliot's loving and caring personality. At the end of it all, she hopes people remember that aspect of her personality. "And maybe I always had a smile on my face, making everybody happy."
It's Kool and the Gang, Marilyn Elliot. Mission accomplished.
REBEKAH GUADALUPE
Supplements Specialist at Fiesta Nutrition Center
Rebekah Guadalupe talks about growing up on Florida's east coast like it's ancient history, which kind of makes sense considering that her family moved from the area when she was 12. But that ancient history suddenly fades away when you realize Guadalupe is barely 22. Maybe it's an uncanny maturity or her sense of enthusiasm, but it's hard for us to picture Guadalupe anywhere but in the aisles of Fiesta Nutrition Center, helping guide us to the perfect choice for a healthy life.
Homeschooled through high school, Guadalupe first entertained thoughts of working in education. "My first job was actually at Geneva Academy, as a teacher's aide," she says. She followed that up with a stint at Vieux Carré Gourmet as a baker. But it didn't take her too long to find her way into Angie O'pry's world, where she's truly blossomed.
"This is really my passion. I love it here. It's not a job to me. I feel every day it's a new experience," she says of working at Fiesta. It helps that Guadalupe is a life-long student and loves learning. "This is a great place for me to learn about health and nutrition."
She'll be celebrating a birthday in February, and look out fellas, she's smart and single. And this is a young woman with a plan. According to her, she wants to take what she's been given, work hard at her job and make something beautiful out of it. "Whether I'm going to be married, have a family, be single and a missionary, or whatever, I don't know where the next 20 years will take me, but I want to take what I've been given and use it to help people, to make a difference in my space," Guadalupe says. "If we all do that, we'll make a difference in the world."
Good job so far, young lady. You've made quite a difference in our world.
On Her Positive Outlook
Guadalupe says God is her source of positive energy and optimism. She always feels blessed with her life, to be where she is and to do what she does. Part of her path is driven by that realization. "I want to be the beacon for what He's done in my life," she says. When people make an impact in her life, be it through a business interaction or while browsing a bookstore, when someone is upbeat and happy about what they do, it makes a mark. She hopes she's the same way.
Favorite Part of the Job
Stand back and watch her interact with customers, and very quickly you'll come to a realization. She's great at listening to people. "I love to hear their stories, the trials they're going through or their triumphs. I feel we, at Fiesta, are able to help people change their lives." A genuine listener, she's actively engaged in their problems and, more importantly, solving them. She credits Angie and her coworkers with the leadership and guidance that have helped her hone those skills.  "I've never worked at such a place like Fiesta. Angie makes this the best place anybody could work," she says.
Ideal Valentine's Day Gift
She's a simple girl, and she has simple desires. For Guadalupe, the most awesome and romantic day would mean being outside. Maybe it would be a day kayaking or hiking, but one thing's for certain, walls are not allowed. "I'd love an adventurous, outdoorsy experience," she says.
Most Over-used Phrase
"I say 'Howdy,' all the time!" she says. "People are always like, 'Okay…' They don't quite know how to respond." The southern greeting coming from a decidedly un-southern young woman will garner more than a few funny looks. "People think it's funny because I'm not a southerner. I didn't grow up in the deep south."
Most Unique Characteristic
Unbridled enthusiasm carries Guadalupe far. She thinks that's what people see, and it's one of the things that make her excited to come to work every day. "I love my job and I try to be cheerful everyday."
How She'd Like to Be Remembered
"I hope they remember me how I am now. The little short girl with brown hair. 'She's always so nice and helpful.' I want to be remembered like that, for sure."