Pickled, Jammed and Preserved
By Melanie Moffett
Aug 21st, 2014
0 Comments
605 Views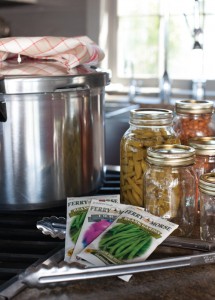 Saving Seasonal Flavors Year-Round
article by P. Allen Smith
You probably already know that preserving fruits and vegetables is a simple way to get the most out of your summer harvest, but did you know that you can do this year-round? That's right! If you're as crazy about canning as I am, you'll find yourself  looking for something to put up in every season. The good news is that you have options. Stock up on canning jars and freezer containers, so you can try seasonal recipes like pickled peppers, fig preserves, clementine marmalade and strawberry freezer jam.
Every summer I pickle plenty of peppers for spicing up dishes like black-eyed peas and turnip greens.  This mix of cayenne, hot cherry and sweet banana peppers in garlic-infused vinegar makes a great treat.
Pickled Peppers
Process jars in a hot water bath for 10 minutes.
•  2 cups cayenne peppers, chopped
•  3 cups red hot cherry peppers chopped
•  6 cups banana peppers, chopped
•  6 cups white vinegar
•  2 cups water
•  3 garlic cloves, crushed
 Instructions:  To make the pickling solution, heat six cups of white vinegar, two cups of water and three crushed garlic cloves in a large saucepot. Bring this to a boil, then reduce to a gentle boil for about five minutes. This will infuse the solution with good garlic flavor. Remove the garlic and set aside.
Layer the peppers evenly in warm, sterile jars leaving 1/2-inch head space. Fill each jar with the vinegar solution.
Run a small, plastic spatula along the inside edge of the jars to remove air bubbles.
Loosely screw the lids on and place the jars into a canner.
    Makes 6 – 8 quarts.
On my farm, I have a 'Brown Turkey' fig tree – I call her Miss Big Fig – and she's about 100 years old and produces the best fruit. 'Brown Turkey' is an excellent variety for making home preserves.
Uncle Mikes Fig Preserves
Process jars in a hot water bath for 10 minutes.
•  5 cups brown turkey figs
•  1 box pectin (1.75 oz.)
•  1 tbsp. butter
•  1/2 cup lemon juice
•  1/2 cup water
•  7 cups sugar
 Instructions:  Thaw five cups of whole figs and put them in a large stock pot. Add one box of pectin and one tablespoon of butter. The butter helps prevent the figs from foaming, and adds a nice flavor. Next add  1/2 cup of lemon juice and 1/2 cup water.
Slowly bring the figs to a rolling boil. Mash the figs to distribute the fig pulp with the juice and get everything consistent. Lower the heat to medium.
Now add the sugar and return the preserves to a full boil. Stir the preserves for a full minute, making sure nothing sticks.
Ladle the preserves into sterile, warm jars, leaving 1/4-inch head space. Screw the lids on the jars and place the jars in a hot water bath.
You'll find that fig preserves may take up to a week to "set up," as they say. After the hot water bath and you've tightened the bands, leave the jars upside down until the preserves have set up.
    Makes 3 pints.
Another fruit I love to use in preserves is the strawberry, which are plentiful in spring. I picked up and planted 10 strawberry plants, and you wouldn't believe how much sweet fruit these little plants produced in one growing season.  They can be used as flower borders and ground covers, and the bonus to these great little plants is the wonderful strawberries they produce.
Strawberry Freezer Jam
To preserve this jam, just put it in the freezer. Thaw it in the fridge when you are ready to use.
•  8 cups strawberries, hulled
•  6 cups sugar
•  1/3 cup lemon juice
 Instructions:  Combine the strawberries, sugar and lemon juice in a deep, heavy bottomed saucepan.
Boil the berry mixture for 20 minutes, stirring frequently.
Transfer the preserves to a flat pan and stir to evenly distribute the berries.
Pour the preserves into plastic freezer containers and store in the freezer.
Because there isn't any pectin in this recipe, the jam isn't stiff; expect it to be more honey-like in consistency.
    Makes 5 – 6 pints.
Although not everyone has an orange tree in their garden, homemade orange marmalade is still a wonderful condiment to have in your pantry. Mid-December when citrus is plentiful is a great time to make marmalade. For a sweet twist use clementines, a cross between sweet and mandarin oranges. This recipe is so easy, and it'll make enough marmalade to keep for yourself and to give as a gift.
Clementine Marmalade
This marmalade will keep in the refridgerator for three months.
•  24 clementines
•  4 lemons
•  10 cups sugar
•  4 cups water
•  2 small packages fruit pectin plus hot water listed on package
Instructions:  Cut clementines and lemons into quarters removing the naval end. Be sure to remove the seeds. Leave the skins on.
Using a food processor, chop the clementines and lemons fairly thin. Your food processor may not hold all of the citrus at one time; if so, do this in batches.
Place the chopped citrus in a large pot. Add 10 cups of sugar and four cups of water to the citrus and mix well. Over a medium heat, cook the mixture for 40 minutes, stirring often to prevent burning and sticking to the bottom of the pan.
When the cooking time is close to an end, mix together two packages of fruit pectin in a bowl, following the manufacturer's instructions.
Stir the prepared pectin into the marmalade and let boil for one minute.
Ladle into sterile jars and store in the refrigerator.
    Makes 6 half-pint jars.
Preserving these fruits and vegetables in the above recipes is a fun and creative process to enjoy your harvest all year long. They also make great gifts. Give it a try.
P. Allen Smith is an award-winning designer, gardening and lifestyle expert and host of two public television programs, Garden Home and Garden to Table, and the syndicated 30-minute show P. Allen Smith's Garden Style. Smith is one of America's most recognized and respected design experts, providing ideas and inspiration through multiple media venues. He is the author of the best-selling Garden Home series of books. Allen is also very active on social media such as Twitter, Facebook and Instagram. Learn more at www.pallensmith.com.