Pucci Divine
By Melanie Moffett
Aug 28th, 2015
0 Comments
527 Views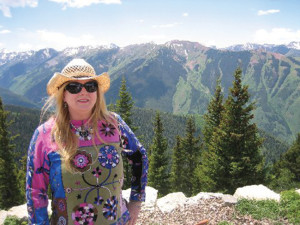 Dubbed "Pucci Divine" by the late style arbiter Victor Cascio, Martha Hayden shares her thoughts on the building of her extensive collection of Emilio Pucci designs and what it takes to be a fashion rebel.
article by Meredith McKinnie
Her walk-in closet is awash in pattern and color with floor to ceiling Pucci designs. With an estimated 500+ pieces that span from rare vintage examples of Emilio Pucci's definitive work in textiles to new Pucci designs by Christian LaCroix, Matthew Williamson and more recently by Pucci Creative Director Massimo Giorgetti, Martha Hayden, Monroe's fashion rebel, is a leading authority on all things Pucci. She appreciates design, quality and the art of well-crafted clothes and accessories, as well as attention to color combinations and patterns, traits her favorite designer, Emilio Pucci, shared through his vision of dressing the female form. With designs to accent the curvaceous woman, fans included Marilyn Monroe, Lauren Bacall, Jackie Kennedy, Jennifer Lopez and Elizabeth Taylor. All these women share an appreciation and exhibition of style, all different, but with an edge, some more reserved, some more outlandish, but all confident, well-dressed icons. Martha counts herself amongst Pucci's "small, but devoted following."
But to find her place of fashion self-awareness, if you will, Martha's meditative journey began rather auspiciously as a young, very strong-willed little girl on a shopping trip to Selber Bros. with her very fashionable mother, Jane Hayden. Jane was determined to find little Martha a dress suitable for church. If anyone remembers the children's department at Selber's, long racks were filled with little dresses in pastels. "Mother went down the racks, and I would defiantly say, 'No!' to every dress she showed me. I seems I would rather have gone naked to church than wear what she would pick for me! Exasperated, my mother said, 'Well, then, you pick a dress.' And that's how it began. From then on, I dressed myself. And I did so with the complete and utter confidence that I looked like a '10!' In a weird way," says Martha, "that evolved into a lifetime of walking a different path…in life and in fashion."
Martha's first close encounter with Pucci began in 1973, while vacationing on a Grand Tour of Europe for the first time with her parents, Jane and Lovell Hayden. Martha recounts with a hearty laugh, "My outfits looked horrendous in every photo from that trip, but Mother let me do my own thing." While in Florence, Italy, Martha's mother spotted a Pucci boutique. Inside, Jane tried on the most beautiful dress Martha had ever seen. At that moment, the ten-year-old thought, "If I'm ever old enough to afford anything Pucci, I will." Says Martha, "I have always thought of my mother as the epitome of fashion and beauty." And to see her mother in that Pucci dress must have made an indelible mark, a fashion brand upon her heart that Martha would return to in time.
he confidence and independence necessary to travel the world, shuffle her surroundings and refuse to be rooted to a certain place got an extra boost when at the age of ten, her parents put Martha on a bus to Waldemar, a summer camp in Hunt, Texas. An eye-opening experience for Martha, she was forced to make friends, adapt to new surroundings and essentially began to find herself while away from the comforts of home. A place built on pedigree and reputation, girls knew what was expected of them.  And though she dreaded going every summer, in hindsight, it taught her who she was, how to be an independent thinker and how to survive and thrive socially. The relationships she built there have served her over the years, as she would often run into the same women at sister schools, abroad and various cities of residency. As they say, the girls of Waldemar "follow the same path like fish in a stream."
Before attending college in the early 1980s in Lynchburg, Virginia at the very preppy Randolph-Macon Woman's College, Martha went to Laval University in Quebec, Canada, to study French after being selected as the top French speaking student in Louisiana.  There she had her first access to European style as a young adult, as many of the fashions of Paris were available in old town Quebec and Montreal. She stuffed her suitcases so full of cutting edge clothes that the airlines almost balked at letting her fly home.
In her third year at Randolph-Macon, Martha did a year abroad in Reading, England, and unlike the other girls, brought along her parents who rented a flat in nearby London. With Paddington Station in London just a thirty-minute train ride from Reading, Martha had all the comforts of home alongside the independence of her own space in Reading, although shared with twenty-one other girls. It was here that she realized how the edginess of the new Punk Rock fashion scene of London contrasted greatly with the drab attire of Reading.
It was also during this year abroad when Martha along with her best friend took her first side trip to Italy with no adult supervision.  Martha also had an American Express Gold Card, sent compliments of her father, much to his eventual regret, with the following note:
Dear M,
Enclosed is your "Gold" Amex Card. Please use it with discretion and good judgment. Save the receipts and after your trips, use only in case of dire need or emergency. Have fun on your grand tour.
Love, Dad
That emergency and her "dire need" came in the form of clothing by an Italian designer named Elio Fiorucci, whose dynamic boutiques inspired Martha with their punk rock roots and irreverent style. Walking into her first Fiorucci store, she recalls "heart palpitations and shortness of breath" from being immersed into a culture of fashion where patterns and bright colors merged with New Wave music and rebellion against conformity.  "As a freshman at Randolph-Macon, I tried to blend in. It was the age of the preppies. By my sophomore year, I had abandoned ship and by the time I went to study in England, I had dyed my hair magenta," says Martha.
Having been in Europe so long, it was hard to get back to the pace of Lynchburg, Virginia, for her senior year. She described the college as "stuck in the 50s, like Animal House, very conservative, right off the Blue Ridge Parkway in the Shenandoah Valley." She was quickly reminded upon her return of how much her style had expanded while in Europe and how conservative Virginia could be. Greeted with the attire of her Virginia peers, all bought from a Carol Reed or LL Bean catalogue: Sperry top siders, corduroy pants with blue embroidered whales, fair isle sweaters with turtlenecks and ray bans, she stuck out. She rolled in with her Fiorucci punk rock outfits and "knew she wasn't going to get a date." But it became more about how she felt in the clothes than how she looked to others. She was wearing art.
The paths Martha has traveled are as varied as the prints of her Pucci collection. Travel was a staple for Martha, with family trips spent fishing for peacock bass in the Amazon basin in Bogota, Colombia, or bringing history to life learning about Billy the Kid and the Lincoln County Wars in the Badlands of New Mexico and tracing Lewis and Clark's steps along the National Trail named for their journey.
That her degree from Randolph-Macon is in History with a minor in Art History should come as no shock. History was alive for Martha. Through her extensive travels, Martha experienced these places she read about in books; they were alive to her, not simply stories. She appreciates depth, both with her history and her clothes. She wants to touch it, to live it, claiming she is "never too old to learn." And she surrounds herself with books ranging from biographies, literature, art books, cookbooks and many titles on the life of the French emperor, Napoleon. She credits her thirst for knowledge from her father, an attorney, and her sense of fashion from her mother, who is always impeccably dressed.
After a brief stint at LSU in pursuit of a master's degree, more as a means of biding time before deciding what to do with the rest of her life, a friend suggested they move to Texas and share expenses. Never one to shy away from change or a new place, Martha accepted and moved to Dallas in 1987. Already having connections in Big D from Waldemar and Randolph-Macon, Martha settled in socially as a member of the Junior League of Dallas and a volunteer for the American Heart Association. After a short span at Bloomingdale's, she accepted a job with the Zale Corporation doing insurance replacement of high-end jewelry, sterling silver and crystal.
In 1993, Martha suffered a major trauma when she was mugged in front of her home in Highland Park and was pistol-whipped, requiring 300 stitches in her face. Several surgeries later over a period of six years, she emerged a better version of her old self. Says Martha, "A threatening experience like that one definitely colors your world and adds to your quirkiness." As is oftentimes the case, through tragedy emerges opportunity. Martha embraced those opportunities, becoming a spokesperson for the NRA and lobbying for the right to carry arms. But either way, a traumatic experience with a gun didn't force her to shy away from guns, but rather to learn them, eventually developing a hobby of skeet shooting. Like Waldemar and Europe, she again transformed a challenge into an opportunity to learn and grow.
Before finally leaving Dallas in 2005 to return to Monroe to help out at her parents' businesses, Martha saw the world, even more than she had before. She frequented New York for the parties and crossed off Bermuda, Alaska, Mexico, and almost all states in the US except the extreme Northeast. She even lived in Aspen, Colorado, for a spell. She admits she has had an "unconventional life."
Her friend, the late Victor Cascio, dubbed her "Pucci Divine," as she would show up at the Chateau week after week with new, glamorous pieces. Martha attended the 60th Anniversary Party of Emilio Pucci in South Beach, Florida, in a private villa located just two doors down from the Versace mansion. Large helium-filled balloons of every imaginable Pucci pattern were suspended in the air, bumping together as tropical breezes blew through the mansion's floor-to-ceiling French doors. In this magical setting, she met the current designer for Pucci, Matthew Williamson, and Pucci's daughter, Laudomia. Before this time, Martha only bought vintage Pucci from flea markets, estate sales and Ebay. Online shopping was in its infancy in 2004, and shopping designer fashion was confined to exclusive catalogues. High-end retailers didn't have websites. But on a trip to Vegas, Martha discovered a Pucci store in Caesar's Palace, and there she met Andrea, a salesgirl from Yugoslavia. After that meeting, Andrea would send Martha boxes of Pucci in her size as soon as it arrived to the store. Pucci distributed two major collections per year and two smaller collections on shoulder seasons. When the boxes of Pucci arrived, it was agonizing to only pick a few, so drawn was she to the art of the clothing. She showed me her first Pucci scarf, dramatic and colorful, Christian Lacroix's take on old Pucci patterns, her first non-vintage piece. She formed a similar relationship with a salesgirl in the Dallas shop, Tootsies, who would also send her Pucci-filled boxes, and thus her collection began to expand and her love and knowledge of the brand only grew. Her advice to collectors of any sort is to study and understand the history of whatever it is that you are trying to collect. For example, did you know that Emilio Pucci was educated in the United State, was an air force pilot in WWII, taught skiing and was a pioneer in creating modern day skiwear as well as being given the credit for designing the capri pant?
In 2011, her desire to collect newly-designed pieces of Pucci began to wane when the brand's creative forces introduced animal prints and plaids into its textile repertoire. Ever a student of the history of the brand, Martha explains that Emilio Pucci never created animal prints, focusing on patterns inspired with detailed graphic punch. When the Pucci brand brought in Peter Dundas from Roberto Cavalli, Martha feels the essence of Pucci got lost. With the animal prints being too Cavalli and the plaids too McQueen, the collections no longer felt like true Pucci. For Martha, Pucci lost its mojo, though Laudomia, Pucci's daughter, remains a fan of the evolution of the brand. Martha is strictly vintage now, back to her roots and what she feels best represents the Pucci brand, those languid prints, inspired by Mediterranean landscapes, tropical foliage and Pop Art fantasies that accentuate the curves of the female form. Luckily for Martha, the life of a collector is made easier by the advent of the Internet, which has changed the face of the vintage clothing market. Says Martha, "Prices have gone up, but pieces are much easier to find than having to scour estate sales."
These days Martha prides herself on remaining scarce, not being predictable, and not putting everything out there, with no Facebook page for her.  Her life is a much calmer pace, hanging out with Harold Woods and traveling with him, wherever his work takes them. She lives by Psalm 118, "This is the day the Lord has made, Let us rejoice and be glad in it." The passage is a favorite of both her mother, as well as her grandmother, Ida Birdsong.  Her mother, sister, niece and herself wear a silver bracelet every day with this Psalm inscribed. While the blessings may come and the clothes may multiply, remember "you're only borrowing stuff while you're here. You can't take it with you." But over the years, a love of history and fashion and her willingness to take risks has evolved into a respect for style, for grace and elegance with an edge, an evolution even Pucci himself would be proud of.