Pumpkin Three Ways
By Melanie Moffett
Sep 25th, 2015
0 Comments
410 Views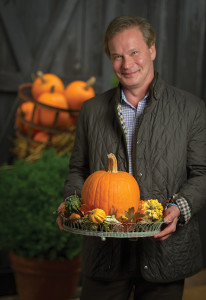 article by P. Allen Smith | photo by Mark Fonville
Autumn's turning leaves foretell the arrival of the garden's most bodacious fruit – the pumpkin. A favorite in my fall kitchen, pumpkins aren't limited to just holiday pies and spooky jack-o-lanterns. Pumpkin is much too versatile, delicious and just plain good for you—providing you with fiber, vitamin A, C and K.   An ornamental favorite here at Moss Mountain Farm, pumpkins in all shapes and forms are magnificent in the gardens as well as in a festive tablescape.
Think about it. There's a smorgasbord of creative ways to get pumpkin on your table — or in your bowl, or in your glass. It's impossible to share all the dishes I relish.  So let me serve up three delightfully delicious recipes for you to enjoy pumpkin this season—sweet, savory and refreshing—to guarantee your harvest is not wasted.
Pumpkin Oatmeal Chocolate Chip Cookies
Sharing cookies with families and friends has become a tradition and this recipe is a favorite with hot chocolate.
Prep Time: 20 minutes
Cook Time: 14 minutes
Yield: About 3 dozen
Ingredients
•    1  cup all-purpose flour
•    2 cups old fashioned oats
•    ¾ teaspoon salt
•    1 teaspoon cinnamon
•    ⅛ teaspoon nutmeg
•    ⅛ teaspoon ground ginger
•    1 ½  cup unsalted butter, softened
•    1 cup brown sugar
•    ¼ cup honey
•    1 egg
•    1 teaspoon vanilla extract
•    1 cup pumpkin puree
•    1 cup semi-sweet chocolate chips
•    ½ cup chopped walnuts (optional)
Directions:
Preheat oven to 375 F degrees and grease 3 cookie sheets. In a large bowl, mix together flour, oats, salt, cinnamon, nutmeg and ginger, then set aside.
In another bowl, whip together butter, brown sugar and honey until creamy. Beat in egg, vanilla extract and pumpkin puree.  Slowly add in dry ingredients and mix until combined. Fold in chocolate chips and walnuts.
Drop teaspoon-sized spoonfuls of the dough onto your prepared baking sheets. Space them about 2 inches apart. Then bake for 10 minutes or until golden brown.
Savory Pumpkin Quinoa
This creamy risotto pairs well with chicken or substitute vegetable stock for the chicken stock and serve it up as hearty vegetarian main course. I enjoy preparing this dish when I want a special seasonal touch for a fall gathering.
Prep time:  10 mins
Cook time:  30 mins
Total time:  40 mins
Serves: 4-6
Ingredients
•    4 tablespoons butter, divided
•    3 minced shallots or small sweet Vidalia onion
•    1 ½ cups quinoa, rinsed well and drained
•    1 cup water
•    4 cups chicken or vegetable stock
•    ¾ cup pumpkin puree
•    ¾ cup grated parmesan cheese, set aside ¼ cup for garnish
•    16 oz. cremini mushrooms, sliced
•    2-3 tablespoons finely minced fresh sage, set aside 1 tablespoon for garnish
•    Salt and ground black pepper to taste
Directions:
In a 4 quart saucepan melt 2 tablespoons of butter over medium-high heat. When butter melts, add the shallots or onions and sauté until softened, about 3 to 5 minutes. Then add the quinoa. Stir constantly as moisture cooks away. When the quinoa begins to toast slightly, add water and continue to stir. Stir constantly on low heat until water is absorbed.
Slowly pour in 2 cups of the stock and lower heat to a simmer. Cook uncovered for 8-10 minutes, or until most of the liquid has been absorbed. Stir occasionally to prevent sticking. Add another cup of stock, stir, and let it simmer for another 8-10 minutes.
Mix in the remaining 1 cup stock and the pumpkin puree. Stir again and let it simmer uncovered until all of the liquid is absorbed. Add more stock if needed. Quinoa will be tender and cooked completely. Blend in the cheese while stirring adding salt and pepper to taste.
In another large skillet, add the remaining 2 tablespoons of butter and allow it to melt over medium heat. Toss in the sliced mushrooms and season to taste with salt and pepper. Cook until the mushrooms start to brown and soften. Stir in 2 tablespoons of the fresh sage and mix. Continue cooking until mushrooms are buttery browned and fragrant.
Top each serving of quinoa with sautéed mushrooms and garnish with fresh sage and cheese.
Pumpkin Johnny Apple Cocktail
Whether I'm serving this drink at an intimate get-together, around the fireplace or festive autumn party, this refresher is always a hit.
Prep time:  5 mins
Total time:  5 mins
Serves: 2
Ingredients
•    7 ounces of unfiltered apple juice
•    3 tablespoons of pumpkin puree
•    1 teaspoon of honey
•    ¼ cup fresh lemon juice
•    ¼ teaspoon of vanilla extract
•    ¼ teaspoon of ground cinnamon
•    ⅛ teaspoon of fresh ginger
•    1 pinch of nutmeg
•    1 pinch of ground clove
•    3 ounces of dark rum
Directions
Combine all the ingredients in a cocktail shaker. Shake with gusto and pour over crushed ice.
Easy Fresh Pumpkin Puree
For recipes that call for puree, skip the canned stuff and prepare your own with pumpkin picked fresh from the patch. If you did not include pumpkin in your garden this year, pay a visit to your local farmers' market or check your area for a u-pick farm.
Once you have your pumpkin, start by rinsing the exterior in cool water. Cut the pumpkin in half with a serrated knife and discard the stem and stringy insides clinging to the meat. An ice cream scoop is perfect scraping out the inside. Save the seeds to roast for a tasty snack.
Boil the rind gently in water until it's soft or bake it in the oven with the cut side face down for 45 to 50 minutes at 325 degrees F. Then peel off the skin and mash the flesh with a potato masher or put it in a food processor. The amount of puree will vary on the size of your pumpkin.