Queen of the Table
By Melanie Moffett
Mar 23rd, 2017
0 Comments
430 Views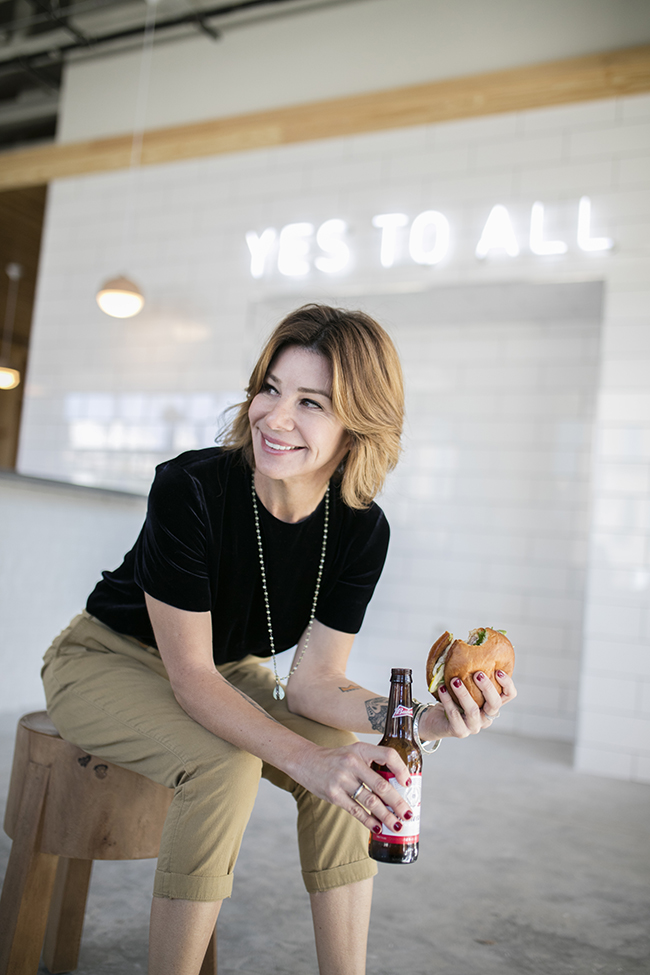 The unlikely rise of Miranda Whitcomb Pontes from Louisiana girl to Nashville restaurant titan
Article by Michael DeVault | Photography by Martin G Meyers
A brief mention detailing upcoming happenings on the Nashville food scene called Miranda Whitcomb Pontes a serial restaurateur. But that description doesn't quite paint an accurate picture. Instead, she is the Queen Victoria of the Nashville restaurant scene.
Over the last fifteen years, she's opened eight popular and hip food and coffee destinations only to marry them off later to this old Nashville food family or that up-and-coming young turk. And, like Victoria and all her children, Pontes effortlessly commands a nod of respect when her name comes up in foodie circles. She is, after all, one of Nashville's original foodie pioneers, even if she never opened a restaurant with the intent to sell it.
"They were married off as a result of something else — not because that was my motivation in doing it," she says, seeming to embrace the Victoria comparison, if only briefly.
​She's left a slew of restaurant creations, each with its own, signature, quirky twist. Rattling off the names of her restaurant children is a condensed history of the Nashville restaurant revolution. There's Frothy Monkey, Burger Up, Josephine, LB's Market, Prima. For native Nashvillians, each restaurant conjures a certain recollection of experience, as if the power of the name itself set the memory into stone. For her next creation, which she is carving one careful detail at a time out of an early 19th Century farrier's stables in the posh Germantown, Pontes doesn't have much say about the name.
​"It's been called Geist since before the Civil War," she says of the red brick outpost that has also served as the Geist family home, an office building and a warehouse. Though she insists she's just a little over a month from opening Geist, it's clear that repurposing a two-century-old building is hard work.
Fresh sawdust mingles with a fine layer of pale, sandy dirt on the century-old plank flooring, tracked up from the basement by a steady stream of carpenters, electricians and plumbers. In one corner, a pile of doors is partially obscured by a baroque mantel, its fluted column legs contorting under the weight of a hefty top.
​Late-afternoon traffic bustles by just outside of an arched window through which carriages had once entered. Sunlight streams through the skylight, that long ago provided vital ventilation to save visitors' lungs from choking coal smoke, and a dainty, crystal chandelier sways gently in a breeze. When she talks about the long history of the building and its winding path from stables to fine dining, there's a hint that she's talking about more than just a building. In fact, it quickly becomes clear that Geist is to be her magnum opus. And she shares kind of a similar story as her building.
​Pontes – pronounced "ponts" she gently corrects – grew up in the north Louisiana backwoods around Ruston, and when she graduated from Ruston High School and Centenary College, the first thing Pontes did was get as far away as she could. There was a lot of world to see and a lot of road to travel.
​She settled first in San Francisco and, eventually, in Boulder – both cities that were undergoing transformations of their own in the early 1990s. While she was there, Pontes never quite…settled.
​"I went job to job to job," she says. She seemed content enough with a gypsy's existence, until she decided it was time to begin settling down. She married and, shortly after, moved to Nashville. Life wasn't finished dealing her a series of mind-blowing changes. "I had just gotten married, just moved, and I found out I was pregnant."
​A year later, she was visiting home with a bouncing baby boy. Life's first steps were there, and it was time to make some decisions. For Miranda, that meant a surprisingly honest revelation.
​"I knew I need to do something big, and I needed to figure it out," she says. "I knew I could be a better mom, if I wasn't a stay-at-home mom."
​On the visit home in 2003, around her English-professor mother's dinner table, that something big presented itself. An old friend had opened the Frothy Monkey, a hip coffee shop that was on the cutting edge of the coffee bar boom. The owner heard her story, heard her concerns and presented the solution:
​"He said, 'Why don't you open a Frothy in Nashville?'" she recalls. "All the wild hairs on my head popped up at the same time, and I said, 'Okay!'"
​The next day, she bought a book on how to open a coffee shop. Shortly thereafter, she opened the first of many Frothy Monkey locations in Nashville's funky 12 South neighborhood. Here, she situated her restaurants and it was here that she made her name.
​"There was something about how 12 South was back then," she says, recalling a day before co-ops had thrown up seven-story condo complexes. "It reminded me of a neighborhood where I had lived in San Francisco."
After more than a decade of experience, Pontes's new endeavor is taking shape in another trendy neighborhood with a lot of personality. She says the food (she and and her partner Doug Martin along with Chef Travis Sparks are still designing the dishes) will match the atmosphere.
​"Geist is like food at your friend's house, the one who is the best cook and best host," she says, adding that the styling of the restaurant will add to that "welcome to our home" atmosphere.
​Chef Sparks believes he knows the secret to what will make Geist the next "it" place to dine. ​"I don't want to overthink dishes," he says. "I just want simple, good ingredients to be the star."
Originally from Connecticut, Sparks studied at the French Culinary Institute in New York. After stints at Aquavie, Daniel, and a half dozen other restaurants – each in a French brigade style kitchen – he moved to North Carolina with his wife and lived on her family's horse farm, where they raised organic produce and had a catering company centered on seed-to-plate cuisine.
To make Geist work, Pontes has assembled more than a century's worth of restaurant management and culinary talent, culled from the best Nashville has to offer. And, in signature Pontes style, she's not content with just opening Geist. After all, why open one restaurant when two is twice the fun?
Next door to Geist, she's set to open Lulu, a grab-and-go style eatery, catering to the busy lives of Germantown residents. If Geist is inviting guests into their home, Lulu says – no, screams – "Come here for everything you need, when you need it right at this moment."
Long, tiled bars, sleek metal tones and a gleaming tile floor stand in stark contrast to the warm, earthy Geist. What Geist is to old-world, Lulu is to modern. She laughs when she thinks about how Lulu came to be.
She and her partner were well on the way to developing Geist when the option for a second space opened up. The previous tenants – they never actually took possession of the space – backed out, and the building owners were looking for ideas.
Even though Pontes was elbows-deep in Geist next door, she raised her hand. "I'd like a go at it," she told them. Making two restaurants work at once is more than a one- or two-person job. That's where the top-shelf management team she's assembled comes into play. In addition to Sparks, Pontes has retained Rachel DeJong, who will serve as Creative Culinary Director as well as pastry chef. And her pastries will feature quite heavily into the menu at Lulu.
Take for instance DeJong's creation "just for Miranda" – a Green Tea Macha Muffin with orange and lemon zest. The muffin is a hearty, if somewhat surprising, take on a breakfast favorite. After all, it comes out quite green.
"Miranda is very fond of macha," DeJong says. "So I definitely wanted to do something honoring that in a healthy breakfast muffin."
She's about to continue describing the creative process, when Pontes chimes in and interrupts.
"This is so good!" she exclaims through a mouthful of matcha muffin. The muffin isn't the only sweet treat on the menu at Lulu. There are also Chewy Ginger Cookies, Chocolate Chip Cookies, and a Double-chocolate Gluten Free Cookie. Cakes take centerstage, too.
One of their most delicious is the Vegan Old Fashioned Chocolate Cake, in which a simple chocolate frosting tops chocolate cake. Though smoothly iced, this beautiful creation features soothing concentric circles on top that recall ripples on a placid pond. And no Nashville dessert menu would be complete without an authentic Lemon Icebox Pie in a graham cracker crust.
"We are trying to fill every niche," Rachel says. For Miranda, the overall gameplan is to continue pushing Nashville's food boundaries while at the same time remaining approachable.
Ironically, the second restaurant will open first, she says – again with a bemused laugh.
"I started thinking about what Nashville is missing and might be ready to embrace," Pontes says. "Lulu is a combination of Venice, California and New York. A healthy place — fast casual, mini-food emporium. You can get your egg and bacon breakfast sandwich, composed grain bowl – drawing inspiration from L.A.'s Bestia featuring farrow, carrots, lemon, pickled sunchokes and more – draft beer and a burger with fries. We'll even have soft-serve ice cream."
The burgers will lean heavily on a strong lineage from Burger Up. They'll feature locally sourced beef from Triple L Ranch – based in Franklin, TN – the same local source for beef that Pontes used for her burgers at Burger Up.
In fact, Sparks notes, "Most of the things that go into this burger are made in house."
The bun is locally made by Sharpier's Bakery, and it's topped with White Cheddar, arugula, an herbaceous Green Goddess style dressing, and house-made pickles. Options include bacon and a fried egg on top, among almost a dozen others.
The burger has been designed to fill that elusive, "every niche," kind of like Lulu. Of the more modern of her two restaurant children, Pontes says the mission statement is simple: Yes to all.
Lulu is set to open in early April, 2017, with Geist on target for later in the early part of the summer. You can find both restaurants on the corner of 4th Avenue North and Jefferson Street in the heart of Germantown.