Quest for the Crown
By Melanie Moffett
Jun 26th, 2014
0 Comments
747 Views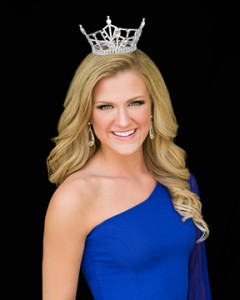 Miss Louisiana's Outstanding Teen Pageant
article by Lenore Weiss | photo by Steven Palowsky
As rhearsals were about to begin for the Miss Louisiana's Outstanding Teen Pageant (MLOT), girls laced up ballet slippers, tied on tap shoes, and shined up batons. They were dressed in a bevy of eye-catching costumes, everything from flowing gowns to white slacks and green fleur de lis T-shirts.
The pageant began ten years ago in Monroe, Louisiana. This year, thirty-three contestants gathered from May 28 through May 31 at Brown Auditorium on the University of Louisiana at Monroe campus to represent cities and areas throughout the state.
"It's the largest number of participants since the pageant began," said Don Humble, who has coordinated the pageant since its inception. He can even remember when a contestant from El Dorado, AR won the Miss America crown in 1964. Humble began his career by judging local competitions, and later was invited to coordinate the MLOT program following Hurricane Rita's destruction of the central Louisiana area.
To help reach a younger crowd, much of the pageant's advertising is done these days through social media. Humble, a man who appears to live up to his last name, explained how during the competition, contestants are housed in university dorms. "ULM views these young contestants not only as rising stars in their local communities, but as potential students." Many of the teens are at an age when they're deciding where to apply to college, he said, and they can explore what the campus offers. "It's a great partnership."
All contestants share a strong sense of motivation. I had the chance to speak with a few of the teens like Monica Whitman, 16, Miss Heart of Trenton, who attends Tioga High School in central Louisiana. Dressed in red and black outfit for a fifties dance number, Monica is interested in pursuing a career in sports medicine and physical therapy. She said, "The way to deal with nerves at the competition is to stay focused."
There was no short supply of poise and excitement. Natalie Nicholson, 17, Miss Spirit of Ruston, sat on the floor tying up ballet shoes with a tutu blossoming around her waist like a blue water lily. She attends Pineville High School in central Louisiana near Alexandria. "I love being here and meeting new friends."
Each of the teens has a "platform," an area where they wish to do community service to help heighten public awareness. Madalyn Bell, Miss Shreveport, 16, goes to C.E. Byrd High School in Shreveport. Her platform is to teach her peers how to safely use social media and said her motto is, "Count to 10 and then press Send."
One of the younger contestants, Taylor Brice, Miss Monroe, 14, begins her freshman year at Neville High School this September. "There's a lot more people here than at the local competition," she said, looking out from her seat in the packed auditorium.  Her mom's sorority sister is the director of  the Miss Monroe's Outstanding Teen pageant and asked her if she'd like to participate.
To enter the competition, teens must be between the ages of 13 and 17. The process is rigorous. First, an independent panel of educators evaluates each contestant based on leadership and academic achievement scores.  Once accepted, each event is weighted. There's an eight-minute private interview prior to Friday's preliminaries. Judges score teens based on their ability to communicate, which represents 25 percent of their overall score.  A talent performance represents 35 percent, 20 percent for evening wear, and 10 percent each for an aerobic wear competition and scholastic achievement. The top twelve are selected from this group including the winner of a "People's Choice Award" where the public votes for a favorite via Facebook. Twelve winners are narrowed down to five, and from there, judges award the winner.
This year's five judges included former Miss America (1991) Majorie Vincent-Tripp with Brenda Baudo of Brookfield, WI, Executive Director of Miss Wisconsin's  Outstanding Teen Program; Mike McDaniel of Hattiesburg, MS, morning news anchor; Darrett Amyx of , GA, CPA; and Jillian Corder, local Twin Cities reporter at KNOE and former contestant in MLOT.
Majorie Vincent-Tripp, resplendent in an off-the-shoulder blue dress, now lives in Florida. She advises young contestants, "Be yourself but give one hundred percent so you have no doubt that you've given it everything you could." Vincent-Tripp like so many of the pageant's participants, acknowledged,  "For all these girls, this represents an outstanding scholarship opportunity."
"Everybody wins," said Humble.  "All individuals receive a scholarship for competing." This year, $13,000 in awards were made available to the entire group of contestants and the pageant winner received a scholarship of $3,500.
Darris Waren, Vice President of the Miss Louisiana Organization, the umbrella organization for the teen competition, looks like a high school football coach, but instead of a whistle around his neck, he wears an identification badge. On the final evening, he was busy coordinating production elements of the competition, working out details with other staff members, all volunteers who create this experience for the young contestants.  "The Teen Pageant is a feeder for the Miss Louisiana Pageant. It helps girls find the confidence they need to succeed, including interviewing for jobs," said Waren.
On Saturday evening, Jaden Leach, Miss Louisiana 2013, emceed the performances joined by the current 2013 MLOT titleholder, Baylea Huffman. Fleur de Lis Princesses, girls from ages five to ten, escorted their contestant mentors to the stage. Once they become age eligible, many of these young girls choose to compete themselves.
The moment of truth had arrived.  Jaden Leach announced the top five and named winner: Meagan Crews, Miss Dixie Gem Peach who performed "Let It Go" from the Disney movie, "Frozen." Statuesque in a yellow gown, she will compete this August in the Miss America's Outstanding Teen competition 2014 to be held in Orlando, FL. Congratulations, Meagan!
Money for the event was raised through the sale of the program book, fundraisers, and ticket sales.  Corporate sponsors for MLOT and the Miss Louisiana Organization include: the City of Monroe, Monroe/West Monroe Convention and Visitor's Bureau, University of Louisiana at Monroe, Propane Dealers of Louisiana, Vantage Health Plan, Louisiana Campaign for Tobacco Free Living, Louisiana Tech University, The Big Whit 77 Foundation, TownePlace Suites and Laundry by Shelli Segal.