Reading, Road Trips and Rambling
By Melanie Moffett
Apr 5th, 2016
0 Comments
159 Views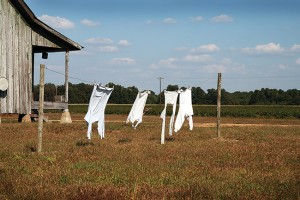 article by Kay Rector
I grew up in Louisiana but, due to a series of somewhat dubious decisions, ended up in Mississippi for a while, practicing law.  My work would often take me up through the Mississippi Delta to the courthouses of Sharkey and Issaquena Counties, occasionally farther north to Greenville, or east to Greenwood.  Though much of it is desolate and poverty-stricken, I am still drawn to that part of Mississippi.  For me, the allure of the Delta stems mainly from reading–Ellen Gilchrist, Eudora Welty, Willie Morris–and from my own romanticism of what I have seen and remember.  In my earlier travels, I used to pass an old plantation that, at least in my mind, fit descriptions penned by Ellen Gilchrist of the home she called "Esperanza" in her debut novel, The Annunciation.
Renewed interest in the Mississippi Delta as a destination is due in part to the efforts of natives, such as Morgan Freeman, who have worked to revitalize the area and share its history and their affinity for it with monied travelers.  Much of the culture and history of the Delta is centered around the Blues.  Freeman's Ground Zero Blues Club is a tribute to that musical genre and the place from which it grew, a region rich in alluvial soil, folklore and legend.
It is said that the Mississippi Delta begins at Catfish Row in Vicksburg and ends in the lobby of the Peabody Hotel in Memphis.  Both are historic, soulful places, but I believe that the best of the Delta lies in obscure spots in between.  Po' Monkeys Lounge sits in a cotton field near Merigold, south of Clarksdale, a true "juke joint" with beer and live music.  Though I have not been there (yet), I'm told it has not lost its original vibe despite becoming a tourist attraction.  Several miles south down Highway 61 is the Onward Store, home of the world's best hot tamales and the spot where Teddy Roosevelt famously refused to shoot a bear without a sporting chance, unwittingly inventing the toy known as the Teddy Bear.
The Alluvian Hotel in downtown Greenwood offers accommodations that rival urban luxury hotels, a full service spa and a gourmet restaurant.  You can enjoy a private booth and great food at Giardina's and attend class at the Viking Cooking School across the street to learn about serving up your own delicious fare.  One of my very favorite places, TurnRow Book Company, is just a few steps from the Alluvian's lobby, an independent bookstore with bonus café and art gallery upstairs.
The most authentic Delta experience can be found just a few miles away at Tallahatchie Flats.  Developed from the same concept as the Shack Up Inn in Clarksdale, Mississippi, Tallahatchie Flats consists of a row of restored tenant houses.  These shacks, complete with tin roofs, bare bulb lights and sparse original furnishings from the 1930s and 40s, are situated between a cotton field and the Tallahatchie River.  Assuming availability, you can take your pick.  Stay in an actual plantation outbuilding like "Nellie's Place," once home to the woman who served as cook to a wealthy white family.  Or, if you're feeling brave, choose the shanty where blues legend Robert Johnson is rumored to have died.  Either way, the unique accommodations provide a glimpse into life here in the not-so-distant past.
For the tourist's comfort, these shacks have been upgraded with hot and cold running water, air conditioning and modern appliances.  These modern amenities are not always found in the similar dwellings that still dot the surrounding landscape.  What you see along the roadways as you travel is home to real Delta residents.  Real people, subsisting on meager wages or government assistance, natives who may know, but aren't so much interested in, where Robert Johnson expired.  Tallahatchie Flats is an escape and an adventure, a way for folks to immerse themselves in this rich and interesting culture for a few days before returning to the world of wi-fi and granite countertops.
So, hit the road.  Roll down the windows, listen to some blues and enjoy the Delta.  Take a look at life through a different lens.