Recycling Renaissance
By Melanie Moffett
Mar 2nd, 2016
0 Comments
772 Views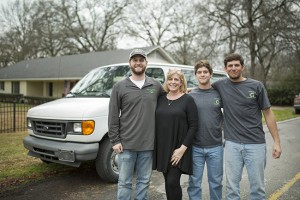 A small family affair has turned into a burgeoning new business venture, and in the process, it's changing the way people view recycling.
article by Michael DeVault | photos by Martin G Meyers
One summer not so long ago, Amy Barefoot's three sons were engaged in a storied American tradition. Just old enough to work, they were hoping to find summer jobs. But summer jobs were tight, and Barefoot had an idea.
She was aware of the social responsibility of recycling, and she knew of several people who were interested in recycling household waste–plastics, paper and aluminum products–but one of the biggest objections to consumer recycling efforts is the inconvenience. Like many smaller cities, Monroe lacked curbside recycling, which meant that anyone who wished to recycle had to cart their refuse out to the recycling plant themselves. Where there is inconvenience, there's opportunity.
"I told them, 'You guys need to tell people you'll pick their recycling up and haul it off for them,'" Amy recalls. The idea didn't go over too well with the boys, and so she let it go. Not too long later, she heard about the efforts of the Monroe Garden Study League to begin a similar curbside recycling pickup service, and she knew her idea was a good one.
Environmentally conscious, Amy was excited that someone was finally going to bring recycling to Monroe in a big way. But the Monroe Garden Study League's plans never materialized, and in spite of the organization's best efforts and a lot of positive buzz, the movement fizzled. That's when Amy approached the boys again.
"When it didn't take off, I told my kids they needed to revisit the recycling thing," she says. This time around, the boys were older and a bit wiser. They also had enough free time to make a serious go of it. So, in September, 2014, Bayou State Recycling Pickup sprang to life.
Amy knew Will, Brian, and Charlie would face an uphill battle of sorts. After all,  Monroe Garden Study League's effort was hardly the first. The City of Monroe had attempted to spur the development of recycling several times, as had other private organizations. Part of the reason: recycling is a labor-intensive, complex and expensive process.
Not only do individuals hoping to recycle have to pre-sort their refuse, recyclers themselves must be picky about the types of materials they accept. Not all plastics or paper products are created equally, after all, and that means different rules for different types of recyclables. Each time a group attempted to move the ball forward, obstacles would get in the way.
"The city and other avenues hadn't panned out," Amy says. The Barefoots knew the risks, but they also knew the benefits recycling could provide a city like Monroe. "So they thought they'd throw their hat in there and see if they could offer the service."
Operating out of the back of a pickup truck lent to them for the new endeavor by an uncle, Will and his brothers took to the streets. Bayou State Recycling Pickup was born.
And if reports of environmentalists and government scientists are to be believed, the company couldn't have started at a more important time. According to the Center for Sustainability, the average American produces 4.6 pounds of municipal solid waste, or MSW in industry parlance, a day. That means that a person will generate more than 1,600 pounds of garbage in a year or, over the course of a normal lifespan, almost sixty tons. The Barefoot family didn't have to look far to see the effects of all that garbage.
Amy recalls driving east from Monroe, past the pair of landfills that serve the region. Or, as she puts it, she smelled the effects. As materials deposited in landfills decompose, they give off methane and other odorous gasses that pollute the air and assail the senses. At the same time, so much of the waste that's going into the landfill could be repurposed, reused or recycled.
"We are building a mountain, and this is just, in our small way, us trying to not fill it as quickly," Amy says. She isn't the first to notice the growing ranges of mountains across the nation and she's not the first to want to do something about it. Recycling as an idea has been around for more than a century, but earliest efforts focused on metals and industrial-scale consumption. Even today, industrial recycling accounts for a significant portion of recycling efforts. The push for consumer recycling didn't go mainstream until the 1980s, when the modern environmental movement began to exercise its political voice more effectively. The results so far are hopeful.
In 1980, some 89 percent of MSW produced found its way into landfills. Through recycling programs, garbage reduction initiatives, and home composting, that percentage had fallen to just 54 percent by 2012. Even still, of the waste that makes its way out to the landfills today, more than 2/3 can be composted at home, producing valuable and rich fertilizer for flowerbeds and lawns. At the same time, more than 75 percent of the garbage that isn't compostable is recyclable through current recycling channels.
It's not just about aluminum cans and soda bottles, either. Paper products, plastics, electronics, batteries and any of a host of other products we use and dispose as a society can be recycled. All in, more than 95 percent of the waste we produce can be either composted at home or recycled through traditional channels, and yet we continue to build the mountains on the sides of roads at a rate of about four pounds a day per person. The Barefoots hope Bayou State Recycling Pickup can play a small part in reversing the flow.
"It was kind of a big thing for us, because when you drive past the landfill, it smells so awful, so bad, that you just hate to have to go that way," Amy says, adding that she's also environmentally conscious and tries to encourage people she meets to pick up the recycling mantel. One man's trash isn't always another man's treasure, but it sure can do some good somewhere if it's recycled. Plus, there's an added benefit. "It keeps the trash out of the landfill, off the sides of the road and out of the waterways."
If business growth is any indication, what started out as a side job for the Barefoot boys hauling bags in a borrowed pickup truck has grown. Pretty soon after they started the business, the Barefoots purchased a vehicle solely for the business's use. Today, Will and his brothers pick up recycling–don't call it garbage–in a white Ford van with the company name and information on the doors.
Will does most of the work, Amy says, though brothers Brian and Charlie help out as much as they can. All three Barefoot boys are still in school. Will is a junior at ULM and he's the engine that drives the business. Brian plays baseball for the Warhawks, so the time he can devote to Bayou State is impacted by travel schedules and practices. That's the case, too, for Charlie, who is a standout football and baseball player at Neville High School. Still, Bayou State Recycling Pickup is a family affair. Even Amy, who works as a flight attendant for Delta Airlines, is involved, handling all of the burgeoning enterprise's paperwork and fielding calls from current and potential customers.
The process is remarkably simple, too. That's part of what makes Bayou State Recycling Pickup an attractive avenue for individuals who might want to start recycling but find the notion of carting their recyclables around in the car a little off putting.
For a nominal fee of $20 a month, Bayou State Recycling Pickup will make two stops a month at a customer's home. For their part, the customer presorts and bags recyclables. The company accepts 1- and 2-grade plastics (though they're looking to expand this in the future), paper and cardboard products, and aluminum. Signing up is as easy as a phone call or an email, and for those individuals who would like to save a little money or cut down on their monthly bill writings, Bayou State Recycling Pickup offers a discounted quarterly rate of $50. The entire experience is barely different from the normal garbage pickup associated with tossing a bag into the can.
"The client puts it out, and we haul it off to the recyclers," Amy says.
Now entering its 18th month of service, Bayou State Recycling Service is continuing to grow, benefitting from both the boom in interest in recycling and the efforts to educate the market about their service. Those efforts haven't been without challenges, though. One obstacle has been consumers themselves. Many people are not willing to change their routines until they see the benefits of the service and how easy recycling has been. That's where the Barefoots have found the most success. "We've grown steadily," Amy says.
Unlike other silver-bullet environmental efforts, recycling household waste is an individual decision and one that requires consumers to consider the full impacts of consumption. While larger industrial recycling efforts, such as the Sparta Reuse Project in West Monroe, focus on single-user and single-point corrections of larger problems, recycling that soda bottle is a personal decision because, after all, it's just a soda bottle. How big of an impact can a single bottle really make?
Hint: it's not until we begin to think about all our single soda bottles that we begin to fully grasp the scope of the challenge posed by municipal waste. All the garbage we produce has to go somewhere, and for an ever-increasing number of people, that somewhere is becoming an answer to reducing the destruction of the natural environment. Which is kind of the mission of groups like Bayou State Recycling Pickup.
The Barefoot's ultimate goal is to build a business that provides a service to environmentally conscious individuals who want to do their part to cut down their garbage production. So far, Amy says they've taken on customers from all walks of life. Also, she acknowledges that many individuals locally undertake their own recycling efforts. For the Barefoots, Bayou State Recycling Pickup is just one part of the recycling ecosystem. It's just one that makes the whole thing remarkably simple.
"If that makes you recycle because it makes it easier for you, that's our main goal," Amy says. "We offer the convenience and the hope that, because they can do it this way, it makes it a more appealing prospect to recycle."