Reigning Supreme
By Melanie Moffett
Jun 5th, 2017
0 Comments
312 Views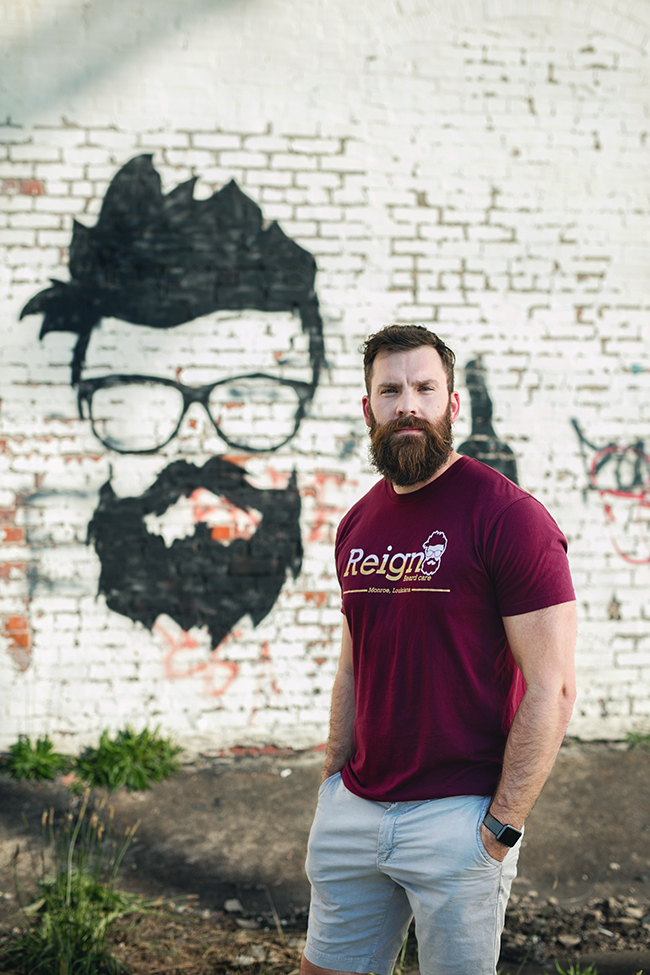 Parker Dash takes this beard thing seriously. His love for taming frazzled crustaches helped in the development of quality beard balms and his company, Reign Beard Care.
article by NILS I. BORQUIST | photography by MARTIN G MEYERS
A false assumption exists that the rise of the beard surfaced only recently. One can look over at the motorcyclist at the red light with a raccoon bestriding his face. Pass by the grizzled old man, leaning at the waist, sporting cypress moss from his jaw. Witness the youngster adorned in camouflage with
a thorny thicket spread from one ear to the next. These images conjure memories of a Shel Silverstein poem, "My Beard," wherein he wrote "My beard grows to my toes, I never wears no clothes, I wraps my hair around my bare, and down the road I goes." The fact is that the beard has existed in glorious fashion for millennia. Literary giants like Charles Dickens, world leaders like Abe Lincoln, legendary artists like Leonardo di Vinci and nearly every major religious figure anyone can think of – Jesus, Moses, Muhammed, Maharishi Mahesh – harnessed the power of the beard. So, what makes the beard so special today? Perhaps it is not necessarily the beard itself but instead how the beard can be tamed. Parker Dash, the man behind the beard behind Reign, is seeking to help all man-grove neophytes to properly learn to befriend their whiskers by creating a line of products that can turn even the most frazzled crustaches into the kind of facial hair that would make every man believe he was a turn of the century strongman. Except if his name is Barnaby. Then he probably is a turn of the century strongman.
Parker Dash takes this beard thing seriously. His own beard resembles chain mail: thick, shiny, and able to stop arrows and knives, as long as they come from a straight-ahead angle. Born and raised in West Monroe, Dash currently resides in Swartz where he lives with his wife and two young children. He works fulltime in IT after spending several years chasing his dream of becoming a film actor, a pursuit that, by his own admission, is exhausting and financially draining for a person who does not permanently live on the West Coast. While working in Monroe a few years ago between stints in Los Angeles, Dash met his to-be wife and his life changed. He stayed in Louisiana and began down his current career path in the technical world, never foreseeing what was to come concerning male grooming products.
On Halloween 2015, Dash met up with friends, as tradition dictated, for beers. These particular friends, along with Dash, sported beards and even used the same products. The men unanimously declared that while the products they had used for the past few years were okay, no brand of various oils and balms stood out. Offhandedly, Dash remarked that he should simply make his own, and the rest of the crew said that it would certainly be cool to start their own beard company. When Halloween 2016 rolled around, a similar conversation took place. That year, the idea stuck. As the next day passed, then the next week, that announcement lingered in Dash's mind as a real possibility. Researching the ingredients and process required to create beard balms, Dash realized that he could, indeed, give it a legitimate shot.
Over the course of the next month, Dash eventually produced the first batch of scents to be given as samples. As it was late in 2016, he believed Christmas scents would be the best option, so he created three balms: Christmas Tree, Orange Spice and Candy Cane. He began by delivering samples to local barber shops and friends with beards to get their perspectives. The response was overwhelmingly positive, an outpouring of optimism that encouraged Dash to continue. Shortly thereafter, the day before Thanksgiving of the same year, he officially sold his first product, and Reign was formally off and running, face locks a'flowing and a'bouncing in the breeze.
Recognizing that merchandise needs to be updated and perpetually fresh on consumers' minds, Dash set out to keep the Reign train gaining momentum. Early in 2017, he joined with Friday Ellis, proprietor of Governor's Pipe and Cigar, to create the Governor's scent, a blend of cherry, vanilla and tobacco. Immediately, that scent emerged as one of the favorite scents Dash has produced. In February, the King Cake balm arrived, and people loved the smell, cinnamon and vanilla, as well as the regional link. The Guinness balm, lovingly entitled Enoch's as a tribute to the Monroe pub of the same name, was generated for St. Patrick's Day. Additionally, just after the March holiday, Dash introduced beard oils to his line in April so true beard connoisseurs would have a supplementary tool for keeping their face foliage not only smelling alluring but also sculpting a healthy, strong, granite-like, lumberjackian hair bridge that would make Michelangelo quit his art in shame and humiliation.
As Reign continues to gather speed, being found at several barber shops and the aforementioned Governor's, Dash proceeds to think about what to invent next. Most recently, a root beer scent, given the apt moniker Root Beard, landed, and so far, the feedback has been nothing but positive. On the horizon: in homage to the HBO show – Game of Thrones – White Walker, a combination of spearmint, wintergreen, and lavender, promises to be a hit, even for those not particularly interested in the series. For the Fourth of July, an apple pie scent will be unveiled. In October and November, Dash is providing two special and secret scents that are respectively, and respectfully, associated with the Netflix series Stranger Things and Ernest Cline's science fiction novel Ready Player One. During Christmas season, Reign will reinstate the Candy Cane, Christmas Tree and Orange Spice scents. With all of these planned products, along with some that may simply come about as Dash sees fit, the remainder of 2017 appears to be hectic for the Reign Man. Dash, though, would have it no other way. Finding the success of the company ascending, he is blown away. He stated that he really intended to make something he and some friends would enjoy. He had no plans for a business in the beginning. But he also said he's ready and excited for whatever comes with the adventure, and he's having a great deal of fun trying to make an interesting and quality product.
Perhaps Dash's most impressive idea will be revealed for Father's Day. As a proud father himself, Dash wanted to offer buyers the chance to do something distinctive for their own fathers, brothers or children and buy a specially made Reign beard care box, which may also include handsome steel handmade scissors embossed with the Reign logo. Those who purchase the box can also buy balms that have a World's Greatest Dad label. This is a project that also brings Dash much happiness. When talking about his children, his face exudes happiness and a constant smile, though the smile part is very difficult to prove; with the massive beard, a Leviathan of follicles, if you will, actually seeing a smile proves a daunting task. In any case, the excitement over the plans is not imagined.
Parker Dash's idea for Reign began as many notions do: he needed to find a product to use himself, yet nothing out there existed that truly fit what he wanted. While he did not by any means invent beard balms or oils, the use of several different brands proved to be fruitless. As the saying goes, "necessity is the mother of invention." In this case, Dash did something that many with good ideas fail to accomplish: he worked and studied, experimented and created, and tinkered and tested until he developed the recipe that delivered the results he desired. Better yet, he's sharing the fruits of his labor, the beard babies born like mogwais bouncing forth from the sweat of his hard work and labor. Parker Dash is having fun; he enjoys his company, he enjoys his friends and family and he enjoys his beard. You should, too.