Renaissance and Revival
By Melanie Moffett
Feb 2nd, 2016
0 Comments
666 Views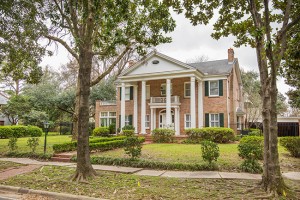 Hudgins Breathes Life Into Historic Home with Recent Restoration
article by Maré Brennan | photography by Martin G Meyers
When the historic Bancroft family home, located on St. John Boulevard in South Monroe came onto the market, it was fortuitous that an entrepreneurial investor, who loved marvelous older homes and had the wherewithal to see the potential for saving such an iconic residential conclave, was in the market for just such a home.
Says the homeowner, "I love everything about this house. I love old homes and this is one of the best. All my past homes have been older. I lived in the Garden District and had attended Masur functions before, but I had never seen this neighborhood until I saw the listing for this home. What really drew me in is the peacefulness of the neighborhood. You never hear traffic or trains."
This grande dame of a home is located on a spacious corner lot and was built by Toby Bancroft, Sr. in 1927 as a home for his family, just a few years after he founded his company, Bancroft Bag, in 1924. The gardens surrounding the home are filled with mature plantings including towering magnolias, a pecan tree, light pink and white azaleas and ancient camellias, their trunks huge and gnarled, which were planted by a local camellia enthusiast. That same camellia expert is rumored to have given camellias to Emy-Lou Biedenharn for her gardens, as well.
Upon obtaining the property, which is located near local treasures, including the Masur Museum, the Cooley House and Layton Castle, the homeowner enlisted help from local designer Gregory Hudgins and contractor Thomas Woods to bring the house, which had seen better days back to the life it deserved. Says Hudgins' of the project as he walks through the spacious foyer, "This is more a restoration than a renovation."
A generous brick-paved walkway lined with mounding boxwoods leads to the entry porch featuring four large Corinthian columns with terracotta caps, which were restored before the present homeowner acquired the property. The pedimented entry with full and half columns is regal in proportion. Explains Hudgins, "What I like about the house is that the scale is right," a sentiment echoed by the homeowner. A leaded glass fan light above the front door along with sidelights is unique in its crosshair details, which is mirrored in the crosshair detail on the balcony railing and the oval leaded glass attic window. Hudgins replaced the porch light with a substantial blown glass fixture.
First things first, the electrical and plumbing systems throughout the historic home underwent a complete overhaul. "We did a lot – more than originally planned. The home was structurally sound but we had to modernize the plumbing and electrical systems," says Hudgins. Upstairs, an integrated central heat and air system was installed. However, downstairs, the least intrusive system for temperature control was to turn to unobtrusive, European-style ductless minisplit air conditioning units, which preserved the home's gorgeous 10 foot tall ceilings. At first conflicted about how far to renovate the kitchen, Hudgins and the homeowner debated about tearing out the original marble slab flooring. In the end, the huge slabs of marble, which had been part of an old bank building downtown, were replaced with oak flooring to retain continuity throughout the downstairs spaces.
Original oak floors throughout were refinished with a rich, walnut stain. In the foyer, a round, marble-topped clawfoot table, a recent find from Traditions on Trenton, is positioned beneath a cloud-like blown-glass fixture. Distinctive Georgian pediments above double-folding French doors on either side of the foyer lead into the home's living and dining rooms, which are mirror images of each other. Hudgins installed matching chandeliers in the living and dining rooms, as well as shutters to control light.
An unusually flattering hue, Dead Salmon, was chosen for the living room walls, offsetting a grid-like grouping of nine small paintings of pecan leaves in various stages of fall color by local artist and the homeowner's friend, Adam Davenport. A pair of sofas were acquired from Mrs. Curry, a next door neighbor of the homeowner. Once a feminine pink brocade, Hudgins had the pair reupholstered in a classic grey tweed and added pillows sourced from Sleepy Hollow. A pair of brass and mirror cocktail tables are from Traditions on Trenton and hold objects dear to the homeowner, including a Bible which was carried by his uncle in World War II. Above the living room fireplace hangs a large abstract canvas by Margaret Moses. A pair of Egyptian Revival brass funerial urns add interest to the fireplace hearth. An antique bookshelf from the Neville House features an inlaid marquetry garland. A colorful Mexican fertility mask is paired with a band poster by Kevin Martin, part of the homeowner's collection of graphic posters.
Doors on either side of the fireplace lead to a bright sunroom with terracotta tile flooring overlaid with a natural jute rug. Eight enormous floor to ceiling windows topped with eight-paned transoms bathe the space in light. The small brick fireplace and the large plasma television above the mantle prove a focal point for the cozy space. A large wrought iron chandelier provides illumination at night.
Hudgins chose Hauge Blue by Farrow and Ball for the dining room walls with the trim painted a crisp white, West Highland White, which Hudgins calls "one of the best whites for a bright white." An original fireplace is accented with marble. On the dining room table, Faience urns with goat head details are a find from Traditions on Trenton. The mirror, table, chairs, buffet and china cabinet were acquired from a local family. Laughs the homeowner sarcastically, "Plaster walls are a dream to hang on. It literally took three guys, including two engineers, to finally get the mirror hung!" A friend of the owner painted the Modigiani-inspired portrait above the buffet. A pair of arched built-ins trimmed in crisp white molding and an arched opening into the butler's pantry and breakfast room add a graphic punch to the room.
The breakfast room, painted a light shade, similar to light blue sea glass, retains its original glass fronted cabinetry and marble countertops from the 1920s. A dropleaf Duncan Phyfe table is positioned to take advantage of the light from a large bay window. The seat cushions were reupholstered in a grey Sunbrella fabric "just in case there is spillage," says Hudgins. A painting by Adam Davenport, of St. Louis Cathedral in New Orlean's Jackson Square, is positioned above a small china cabinet.
The breakfast room/butler's pantry leads directly into the reconfigured kitchen. Hudgins' redesign called for removal of a wall and incorporating space that had been used for a pantry. Counters are topped with Original Treasure granite, a bold choice with gold, cream, dark brown and subtle hints of metallic grey and opalescent hues. Timeless Shaker-style cabinets that reach to the top of the ten foot ceiling, created by Justin Wisenor of Woodlands Custom Cabinets, keep with the era of the home yet add an air of modernity. GE Monogram appliances, including a six burner gas range, make this a culinary dream of a kitchen. Hudgins sourced the eclectic, distressed green painted island from Woodstock Furniture Revival.  A petite Moroccan run in bright colors anchors the rug and adds an additional pop of color in the space. Fruit and vegetable paintings by Adam Davenport echo the bright colors of the island and rug and are placed above the  kitchen windows. Hudgins chose a Shaw Original farmhouse sink with an arched fixture in chrome. White subway tile creates a simple, era-appropriate backsplash.
The back hallway features a blown glass and silver fireplace with a gilt Federal eagle bullseye mirror above an original fireplace mantle.
Kudos to Hudgins and the daring homeowner who brought dignity back to this historic residence. May they lead the way to a South Monroe residential renaissance as there are many more structures and neighborhoods of historic merit which are more than worthy of saving.