Return Engagement
By Melanie Moffett
May 8th, 2017
0 Comments
346 Views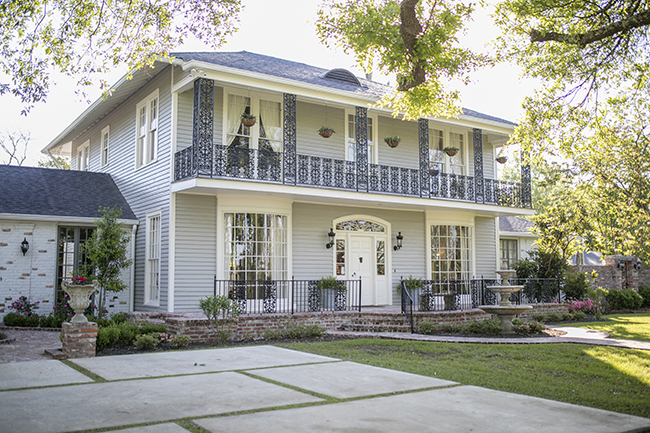 CHRISTIE AND MICHAEL ECHOLS' HOME GETS NEW LIFE AFTER A MAJOR RENOVATION. THE COUPLE'S LOVE OF PRESERVATION AND RESTORATION MANIFESTS ITSELF AT THE HEART OF THEIR FAMILY HOME.
ARTICLE BY MARÉ BRENNAN
FLOWERS BY CLINTON DOWNING
PHOTOGRAPHY BY MARTIN G MEYERS
The love story that is Christie and Michael Echols' home renovation began years before when the beautiful Tech architecture graduate met the energetic young professional and they realized they shared a passion for historic architecture and, in turn, each other.
Says Christie of her husband, "He impressed me. He had redone a house in Monroe's Garden District, and it oozed perfection." Together, this modern-day power couple find themselves as parents to adorable girls, Amelia Rose and Everly Iris, while shouldering the load of three companies which focus on architecture, contracting and historic restoration. In addition to his duties as Director of Business Development at Vantage Health Plan, Michael is District 1's Representative on the Monroe City Council, working from the inside to improve the city. Together this dynamic duo is making their devotion to the preservation of downtown Monroe and the historic Garden District a cornerstone of their professional careers and it's no wonder that their love of preservation and restoration should manifest itself at the heart of their family home.
First, a little history of this grand home on Riverside: Built in 1927 by the Herrington family, the home served as a boarding house, where many a young person learned to play bridge and the latest dance steps. Subsequent owners included Sophia and Edel Blanks, then fine art photographer Deb Luster and her then-husband, Mike, who had developed the Folklife Festival. Deb Luster hired noted architect Lestar Martin in 1995 to design a workspace studio and dark room, a soaring space which is filled with natural light. Michael bought the home in 2008. Says Michael, "Christie and I were dating, and my house on Erin sold in under a week. We closed really fast, and I rented a storage unit. On my way to the storage unit with my furniture, I made the corner and saw this house. It had been on the market for five years. I called my realtor and learned that a closing had just fallen through, so it was back on the market. Christie, her mom and my mom came over to look. Within 37 minutes I had made an offer that was accepted. I was able to just move my furniture in and skip the storage facility." Six months later, Michael proposed to Christie in the home's library. Says Christie, "Michael bought this house for us to have a life together." Unusual features on the home include the original floating front porch which is held up not with columns but with an elaborate hidden tension support system in the attic space and original twin arching bay windows on the front of the home. During her tenure as the home's owner, Deb Luster added lovely antique doors throughout the home.
When the tornado of 2015 ripped its way through the Garden District, the winds left a swath of destruction that included upended trees and shattered roofs. When one of those century old trees found its way through the sunroom of the Echols' pristine Garden District gem, the couple found themselves with a tragedy that begat one of those opportunities that the Echols are known for. Says Christie of the renovation and additions, "This was a great challenge. Michael was the client in a way. We both had different design ideas, so it was a 'give and take.' I was desperate to get it right and Michael was desperate to get it put back together," Christie laughs in recollection. The couple negotiated a more formal downstairs with a more casual upstairs,  devoted to the couple's children and their spaces. Adds Michael, "Through a lot of destruction came a lot of rebirth." The resulting renovations to the Echols home included attaching the studio to the main home, the addition of an outdoor living area, defining the property with new fencing and rebuilding the former sunroom as a master bedroom and en suite bathroom.
During the renovations, the young family retreated to the studio which they converted to their temporary living quarters; the photographer's dark room became their bedroom. The Echols added a closet and replaced raw concrete throughout with warm wood floors instantly adding life to the very industrial space. Laughs Michael, "I lived in the studio with my three women and a kitchenette. Now that was entertaining!" Now, both professionals love to work out of the light-filled studio space, where a large conference table beneath a vaulted ceiling offers ample room to roll out blueprints for projects. Michael reconditioned and hand-painted the three chandelier which hang in the grand central space. "I love working in the studio," says Christie. "The large metal windows make it easy to see the girls playing in the back yard." The metal windows were repurposed from a decommissioned school house when the studio was originally built by the Lusters. Christie added new light fixtures to the studio bathroom, which she already adored with its unusual tile flooring and swoon-worthy minimalist shower, which inspired Christie's master bath choices. A painting that depicts the Ruston coffee shop where Christie was a barista is a reminder of fun LA Tech college days. The studio kitchen is a study in Christie's carefully-crafted space planning. Tiny in size, measuring only 7' x 11', the kitchen packs in a wallop of storage and efficiency. Adds Christie of the light filled space, "This kitchen reminds me of one you'd find in a Paris flat with its small appliances. This is where I do all my flower arranging." The counters and backsplash are of Carrara marble, but with a twist. "Michael turned the chevron pattern on its end and it created a clean, stair stepped edge with the resulting design. I love how Michael finds a way to expand my experience," says Christie.
The new connecting breezeway from the main house to the studio seamlessly bridges the space and uses many of the windows from the sunroom, which were damaged in the tornado. Copper-clad school house doors lead from the hall into the studio. The hallway features a unique tray ceiling that is illuminated with hidden LED lights which can change from bright white light to different festive colors, like purple or green, depending on the mood or the celebration. The walls are filled with a collection of art that spans work by regional artists to paintings done by the homeowner when she was in high school, and more recent work she did to honor the camellias that were lost during the home's renovations. A formal home office space for Christie and Michael is located here with easy access from the front gardens, which are paved and lined with brick reclaimed from an old warehouse. The office ceiling is reminiscent of the ceiling Christie designed for the couple's master bedroom, with elegant moldings that graduate to a central rectangle, punctuated by a graceful wrought iron chandelier. Built in cabinets and his and hers desks maintain order in the duo's workspace.
From the breezeway, one passes through a large mudroom complete with built-in lockers on the way to the home's kitchen. Renovations to the small original kitchen included the addition of upper cabinetry, an elegant marble subway tile backsplash that coordinates with new countertops and a newly designed inset bar area that replaced a previous open space. A raw wood china cabinet, original to the home, was stained a rich color. A large arched opening was added to expand the entrance to the kitchen. A convenient undercounter microwave adds functionality and keeps equipment off of countertops. The chef's kitchen is complete with a Viking range and hood, where Michael takes full advantage of showing off his culinary prowess.
A petite half bath with a Parisian toilet in the hallway leading to the library is a jewel of a space.  A pair of Joli Livaudais fine art photographs of lilies were a wedding present. The vanity was a find on West Monroe's Antique Alley and was retrofitted to hold a sink.
A bright sun porch just beyond the kitchen was enclosed. The couple added new marble hex tile flooring. A pair of natural linen wingback chairs and a drop-leaf table provide a breakfast nook for two beneath an antique Empire chandelier.
A chandelier dripping with crystals is reflected in mirrored cabinet doors and shelving, which were added to original built-in cabinetry in the formal dining room. The dining room table and chairs had been part of noted interior designer Greg Jordan's estate.  Large windows throughout the space are dressed in voluminous silk curtains. Nooks are filled with items the Echols have found attending area estate sales and a treasured ceramic vessel made by Christie's mom.
The central staircase gracefully climbs to the second floor, where the girls' bedrooms and play area are located. Amelia's room is "unapologetically feminine" with a "pink on pink on pink" theme, says Christie. Adorable school projects and crafts are featured prominently on the walls. Painted shiplap on the walls creates a more informal feel. The ceiling in Amelia's room is a stained wood which adds to a very authentic materiality of the space. The upstairs office, which had been the master bedroom before the renovation, is located off of the girls' playroom. Originally the space had been the home's open-air sleeping porch and feels like a modern day treehouse.
Back downstairs, the formal living room features the home's original chocolate marble fireplace surround. A cozy conversational area is created in front of the large arched bay window.  A room-sized sisal rug adds softness to the light-filled room, which opens into the library through double doors.
The library is a study in tradition with ostrich covered lounge chairs with a matching ottoman providing the perfect spot for afternoons curled up with a book. Built-in arched bookcases are filled with every genre of book imaginable.
A hallway leads from the living room to the couple's new master suite. The master bedroom's ceiling features a series of stepped moldings, designed by Christie to add dimension and detail to the tall ceilings and a porcelain tile floor that appears, even on close inspection, to be natural slate. An estate sale mirror creates a focal point above the upholstered, button-tufted linen bed. The fireplace surround was salvaged from a Garden District home. The mirrored cabinet above the mantle disguises audio and visual equipment. Double French doors that lead to bathroom and the master closet
were repurposed French doors from the demolished sunroom. An enormous wet room double shower in the master bath incorporates floor to ceiling marble hexagon tile. Christie found ample room to include a resin oval soaking tub. His and hers vanities are topped with Carrara marble counters and undermount sinks. Large beveled mirrors reflect light back into the space.  Michael, known for his love on antique lighting, had Mr. H.L. Brown refurbish the chandelier that illuminates the bathroom. "What can I say?" laughs Michael, "I have a thing for light fixtures." A stacking washer and dryer are a handy addition to the spacious and well-planned master closet. With a strip of LED lights around the top of the closet shelving, Christie says she and their girls love to have "disco dance parties" in the closet.
An outdoor living room just beyond the master bedroom is accessed through French doors. Michael repurposed concrete pavers, laying them on a large grid and filled in-between with crushed gray granite to create a patio space where the couple can relax and enjoy a morning cup of coffee or time spent watching the girls play outside. The existing wall that runs along K Street was increased in height to 6 feet to ensure privacy for the homeowners.
Outdoor living is something the entire family loves. The girls enjoy the pond, spending lazy days catching minnows and watching goldfish flit below the murky surface. A pair of cypress trees provides shade. The outdoor kitchen and patio is one of the family's favorite gathering places. Decorative, antique wrought iron columns which had been part of a porte-cochere define the corners of the space where Amelia and Everly love to draw with chalk while their dad grills.
Says Christie of her own home and of working on historic preservation projects, "I like being submissive to historic buildings and respond to what it is telling me – what it wants to be. This home was already beautiful." Each succession of good owners left their own mark on the property. The Blanks had noted interior decorator Speed Lamkin install mirrors surrounding the formal living room's fireplace. Deb Luster's minimalism created gallery-like white-walled spaces with track lighting. The Echols, with their boundless supply of energy, ideas and enthusiasm for historic properties, are creating their own legacy. The couple listened and responded to the home's needs and to the needs of their family. "I think one of our greatest accomplishments so far is that we are still married after living through the renovation of our own home," says Christie. "Having to design my own home pushed me creatively and I was determined to get it right." With an attitude of "anything is possible," Michael and Christie have turned their shared passion for historic preservation and architecture into a solid foundation for future success. With their sights firmly set on preserving the history of Monroe, this can-do duo is sure to realize their dreams.