Road Trips
By Katie Sloan
Jul 10th, 2017
0 Comments
186 Views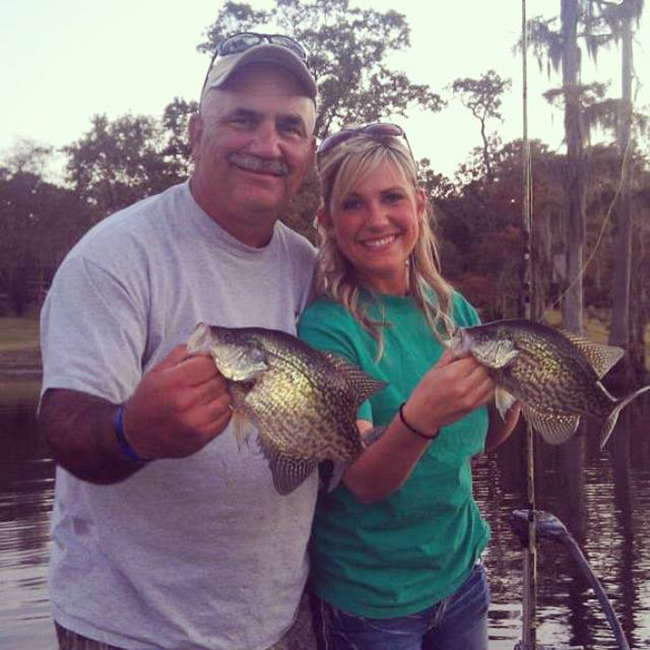 article and photos by Dan Chason
If I had a nickel for every time I have heard "I don't know what to get you"….Whether it's for a birthday, Father's Day, anniversary or a holiday, it is not quite that hard to find something that dear old Dad or hubby would love.  One thing most of us enjoy is a good day outdoors, regardless whether we are hunting or fishing.  What I will try to do this month is give you some direction as to my first hand experiences of where to go and when.  The first five (in order) are out of the area and the last five are weekend spots I have learned to love that are right here in your back yard.
Number 5
Toledo Bend Reservoir
Toledo Bend is noted as a fantastic bass fishery.  However one thing that most overlook is the exceptional crappie and bream fishing that happens every year on the "Bend." One great trip to schedule is a crappie trip during the spawn.  You don't need a guide necessarily.  The best time to catch some really nice crappie is the last week of March/first week of April.  I stay on the south end of the lake and concentrate on the 6 mile/Housen area.  You can usually get out of the March winds easily and can even launch on the Texas side to avoid rough water.  Look for shallow brush/button willows where you will find true 1.5 plus crappie.
Number 4
Sam Rayburn Reservoir
There are very few lakes in America where I can honestly say "that's where I would retire."  This lake is huge and offers some of the best bass and crappie fishing anywhere.  Rayburn Country is my choice of lodging as you can carry some golf clubs and make it a golf/fishing outing.  Only 4 hours from Monroe, this lake offers hydrilla gorillas by the tons.  Best month to go for me is February.  I love fishing the grass flats with a "Rayburn Red" rattletrap and a Carolina rig.  One year I caught a 6.9, a 7.5 and a 9.8 in three casts.  Rayburn is that good.
Number 3
Calcasieu Lake, Hackberry LA
If speckled trout and redfish swim in your dreams, look no further than the Hackberry Rod and Gun Club.  I am not a huge saltwater fan, but this place and these guys are world class.  They offer various packages to assure you get that itch scratched if line stripping red fish are on your bucket list.
Number 2
Lake Tawakoni (East Texas)
Overshadowed at times by my number one pick, this lake is unreal in the summer time for striped bass, sand bass and hybrid bass.  June, July and August are my favorite times, and you can bet if I want my string stretched, this lake is one of my choices.  It is not uncommon to catch 50 plus fish in a morning.  The lake is not hard to navigate, but be forewarned:  If it is windy, there is no retreat as it is wide open.
Number 1
Lake Fork
No surprises here, if you know me.  This is absolutely my number one of all time, grind me up, cremate me and spread my ashes here favorite place in the world.   Lake Fork is notorious for its bass fishing, but the most overlooked feature of this lake is the crappie fishing.  Huge crappie can be caught year round with my favorite time being in the middle of summer.  I like to key on the bridges in the shade, riding in the comfort of a party barge and load the boat.  My good friend, Lee Livesay from Monroe, is a full time guide there (903) 812-2069 and is probably about the best guide I have ever spent time with on a boat.  7 pound fish hardly raise an eyebrow here with my largest being 10.29.  The best time for me is July with a big crank bait or top water.  The best month to fish overall is October, as the shad run starts the schooling action of big fish.  This is the only lake where I have seen 6-9 pounders school up.  If your loved one doesn't like the heat, you cannot beat Fork in the spring with a rattle trap.  Big fish, great places to eat and comfortable lodging can be found at Lake Fork Marina or Oak Ridge Marina.  Both places are surprisingly comfortable and modern with full guide services, gas and food.  And don't forget the night fishing.  Just find the lights and the bass will meet you there.  Be cautious when running as this lake is FULL of stumps.  The safest option is the area near the dam where you can navigate with ease.
Area lakes that can easily be fished over a weekend are listed in order of my preference.  No nasty letters please, as "to each his own."  Here are my favorite area lakes and some tips on each:
Number 5
Poverty Point Reservoir
Don't overlook the premiere catfishing opportunities here in May.  Find a mud levee on the north side and hang on for hot action.  Best crappie months are December thru April.  After that the crappie and bass are hard to come by, but the State Park offers great lodging and the lake is a ghost town during the summer.
Number 4
Ouachita River (Felsenthal)
Get away from the crowds in the summer to see a truly beautiful body of water.  The bass fishing is incredible during the summer.  Watch the river levels and catch the river on a slow fall and hold on.  The bream fishing is great, as well as crappie fishing, year round if you can stand the heat.  There is lodging at Huttig in old railroad cars remodeled into a motel room.  Very clean, with satellite TV and all the comfort of home.  Call George at 870-943-2973.  Nice guy.
Number 3
Lake Bruin
If you don't mind jet skis and ski boats in your fishing diet, this is the lake for you.  I opt to night fish, as the crappie and bass fishing is extremely good after dark.
Number 2
Lake Claiborne
Probably the most underrated lake in North Louisiana.  Striper fishing, bass fishing and crappie fishing are all exceptional.  My favorite month is February here with a Carolina rig or jig for bass.  Come in the winter for some line stretching crappie in deep water, as well.  The lake is not hard to navigate, and the State Park there offers prime lodging.
Number 1
Lake D'Arbonne
You just can't beat the "bone" when it comes to fishing for anything that swims.  My favorite area is Corney Creek and lodging at the State Park.  There really is no bad time to fish this lake, whether you are a perch jerker or a bass master.  D'Arbonne Lake will always be my favorite in North Louisiana and continues to dominate the leader board in plenty of good water to fish.
Guide trips as gifts are a great way to tell that special man (or woman) how much they are loved.  Typical pricing ranges from $250-$400 a day on most lakes and includes two anglers.  Remember to tip your guide if he does a good job, and be very clear on your abilities and what tackle you can use.  Most tackle shops can lead you to a reputable guide.  So this year, when you think you can't find that right gift, think about an alternative and use this list as my insider tip to put you on the right lake for a trip you will remember forever.