Rods: The Simple Side of Them
By Melanie Moffett
Apr 27th, 2016
0 Comments
345 Views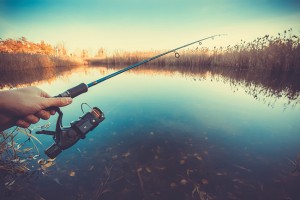 article by Kenny Covington
In a world that is full of technological advances, it is hard sometimes to wrap our minds around just what it is we are looking for, what we need or even what we want. These upgrades go from the simple to the complex and reach all aspects of everyday life. They even apply to the fishermen.
Back when I was introduced to this great sport, the standard setup for the time was a 5 ½ foot Lew's speed stick rod teamed up with an Ambassadeur 5000 reel. This rod/reel combination was used for every type of fishing situation; worm fishing, crankbait, topwater or whatever the technique. My how things have changed.
In today's fishing world, the rod and reel choices are endless. Now it seems that you can find a rod for every technique you can name. It has almost become overkill. Drop shot, shallow cranking, deep cranking, topwater, flipping, pitching, Carolina rigging, frogging, shakey head, spinnerbait, chatterbait and the lists goes on and on. The question begs to be asked, "Do we really need all these types of rods to be successful on the water?" The answer is yes and no.
To the tournament angler, having multiplerods for several techniques is as vital as a full set of clubs is to a golfer. To the casual angler, this may seem extreme, but it can be argued the need for multiple outfits for even the occasional trip to the water. Multiple rods allow for multiple choices of lures, and multiple lures allows the fishermen to quickly cover the water spectrum to find and catch more fish.
So when it comes to choosing the correct rod, what are we looking for? Some people buy strictly by name brand, while some base their decision on the rod's factory warranty. Some fishermen will go as far as to buy whatever their buddies are using or have had success with. While there is nothing wrong with any of those reasons, here are a couple of things you want to keep in mind when making a rod purchase.
First of all, ask yourself this, "What am I going to use this rod for? Will it have multiple uses?" Many times fishermen will buy a 7 foot medium/heavy action rod for flipping and pitching but also use the same rod for throwing a Carolina rig. Or maybe purchase a 6 ½ spinning outfit for drop shotting but also in turn use it for shakey heads and other light tackle. The more you can do technique wise with your rod purchase, the more valuable it will be.
The next thing you need to ask is, "How much do I want to spend?" Every fishermen has a budget. In all of the years I have fished, I can't recall ever paying much more than $100 for a rod and often times much less. There are those who will give you the "you get what you pay for" argument, but I tend to disagree. Many rod companies are manufacturing good products with reliable warranties as well as maintaining good customer service and all the while keeping their prices affordable. One thing to always remember, the cost of the rod will not make you a better fisherman.
Here are five rod set ups every fisherman needs to have:
• A 6-6 ½ medium action spinning rod for throwing lighter lures or when throwing shakey heads or dropshots. Make this setup even more effective by using a 6/20 or 8/30 braid for your line.
• A 7-7 ½ medium/medium heavy casting rod for Carolina rigs, swimbaits, deep crankbaits or even heavier topwaters. This can also be used for flipping and pitching and is also versatile enough to use different line sizes and types, such as fluorocarbon and braid.
• A 7 foot medium/medium heavy casting rod for spinnerbaits, squarebill crankbaits, and buzzbaits, but this can also be used for Texas rig worm fishing and other soft plastic applications.
• A 6 ½ medium action casting rod for throwing topwaters and smaller crankbaits, as well as Rat L Trap style baits.
• A 6 foot medium/heavy rod for using in tighter quarters where a normal cast isn't feasible. This rod is also good for spinnerbaits, buzzbaits and heavier walking topwaters, such as a Spook.
With these five choices, I can cover 98% of the techniques that will catch bass on our area lakes.
Fishing, or gearing up to go fishing, shouldn't be a complicated matter. Hopefully when it comes to purchasing your next rod, we have offered you a few tips that will make your next choice an easier one. Please take care on the water and catch one for me! See you next month!