Rookie of the Year
By Admin
Aug 1st, 2016
0 Comments
325 Views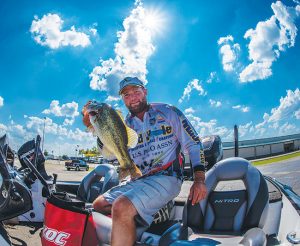 Local Angler Brett Preuett Sets the Bar High
article by Dan Chason
If you look at the list of legends of fishing in North Louisiana, some will bring up old names from the River's Ford Bass Circuit while some will tout the successes of a Greg Hackney, Dana Walker, Ross Cagle, Allen Butler or Jim Dillard. That list is growing and it is growing due to a young gun who was birthed into the world of fishing via the various College fishing organizations. I know this first hand as I first met this young man, Brett Preuett at ULM. He and a friend approached Chief Larry Ellerman and I and asked us to serve as sponsors/advisors for the first ULM fishing team. The Chief and I readily accepted and I will admit, there wasn't a lot of pushing that had to be done.
Brett Preuett came to ULM from Tioga High School with high hopes of playing college baseball. Having been chosen an All-State third baseman, this was a reasonable dream. However, in his senior year in high school, a freak accident cost him the sight in one eye. The first time I met him, I immediately like Brett. A very respectful and focused young man who absolutely was enthralled by bass fishing. Brett admits that he was a novice. Not knowing how to read a depth finder or structure, he was limited to fishing exposed cover and cypress trees. That was about it. Brett was like a sponge. He read everything he could get his hands on and was a constant fixture in my office, gleaning what fishing knowledge I could share. He teamed up with some talented ULM anglers and being a good student, soon became a top gun on our fishing team.
Brett soon became the partner to draw. I think he spent more time reading Bassmaster's Magazine than he did his school books, but luckily he was able to balance both and maintained high grades both on the water and in his studies at ULM. Not only did he do well in school, he was well respected by his peers and instructors. This hard work paid off in the second year of the team, where ULM ranked #2 in the nation in college fishing. That was not good enough for Brett as he and the team learned from costly mistakes. The third year, ULM was the number one college fishing team in America. The same year Brett and his partner, Paul Clark won the FLW Championship on Beaver Lake. Brett did so well in the Carhartt Bassmaster College Series, that he qualified for the 2015 Bassmaster's Classic presented by GoPro, as he had won the Carhartt Bassmaster College Series Classic Bracket. Quite an accomplishment in a short period of time.
Not long after the Classic, he again fished with the big boys in Bassmaster and pulled off 3 Top 12 finishes helping him to qualify for the Bassmaster Elite Series. In January 2016, Brett and partner Tyler Craig dominated the field at Toledo Bend by winning the USA Fishing Trails Division #1 Championship with 5 fish weighing 25.88. Not bad for a guy who didn't know how to fish anything but shallow water. He continued with a good showing finishing 27th on Lake Texoma in June. This is only his rookie year and he is still finishing well ahead of noted veterans.
With all of his fishing accolades, Brett still managed to get his MBA from ULM. It is not all fun and games on the fishing circuit, but Brett finds time to spend with his fiance' Sarah Purvis and his loving and supportive family. But Brett will tell you quick that the biggest change in his life came recently when he became a Christian and was baptized. "I am now more focused, more involved in my personal relationships and zoned in on what God has in store for me, than what I have in store for me." Quite a statement and a lesson for all of us, whether we fish or not.
To put Brett's accomplishments in perspective, you need to understand that just to reach the Elite Series is a life-long goal of many anglers. The Elite Series is not a tournament series that you can just put up entry fees and fish. You must qualify through performance, THEN pay upwards of $40,000 just in entry fees. That performance goes like this: There are Open tournaments in various regions. You must finish in the top 5 overall after three tournaments to qualify. Only the top 5 anglers gain access to the Elite's each year from each division. An average field in an open tournament is 200 anglers. Consistency is the key and is rewarded. Remember, the top anglers in the world who fish FLW or the Elite series also fish the Opens which makes the achievement of making the top 5 over 3 events a monumental task.
Brett was fortunate to garner some key sponsors who stepped up to help him on his way. One of local sponsors is the JPS companies. Brett proudly drives a JPS Ford and pulls a wrapped Nitro boat with a 225 Mercury. Remaining true to his origins and alma mater, the boat promotes his University with a giant ULM Warhawk displayed on a national scale. "Without my sponsors like the U.S. Polo Association, JPS, Creme Lures and Mudhole Tackle, there is no way I could do this." Traveling to waters as far as the Great Lakes and the Potomac River, Brett has flown our flag on the national stage and is highly regarded as an up and coming professional angler.
With the demands of travel, high expenses and the wear and tear on an angler both mentally and physically, Brett maintains his composure through his faith, family and his tenacity. Getting up most mornings by 4 a.m. and fishing until the sun sets may sound like fun. But over time, it can be a grind and the fun becomes a job. This job, however, came to Brett in a different way. He had a great team of anglers at ULM and competing on the college level gave him a quick lesson in strategy and methods to catch bass in every type of water you can imagine. "It's unreal how much lakes differ in each state. Smallmouth fishing is so different but when you find them, it can be unbelievable as they love to stack up by the droves," says Brett. This showed to be true on Lake Erie where Brett landed 39 pounds of smallmouth bass in two days, finishing in the top 20 in the tournament. He went to the tidal waters in the James River for his first time and again, finished in the top 20. He missed DOUBLE qualifying…that means twice in two different divisions by a mere ONE fish.  He still finished in the top 10 overall. Not bad for a Louisiana boy that is accustomed to cypress trees.
Brett continues his quest this year as he competes in his rookie year. He has a waiver for 2017 meaning he is qualified to fish next year regardless of his performance in 2016. I would wager that 2017 will be a stellar year as this young gun gears up to represent all things good about the young anglers of today. If there is a fantasy pick available for 2017 on the Elite Series, my money is on Brett.