Ruffin It
By Melanie Moffett
Apr 25th, 2014
0 Comments
803 Views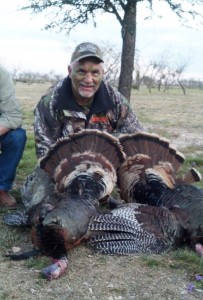 Spring Turkey Hunting at Ruffin Ranch
article by Dan Chason
After a long weekend at the Duck Commander 500, I was joined by friends Allen Butler, William Hatten and Jason Bullock of JPS fame on a jaunt over to Eden, TX with the General Manager of Ruffin Building Systems, Jimmy Worley.  We were met at the airport by the Shelton "Red" Ruffin and his wife Patsy who led us on a short drive to the Ruffin Ranch.  I had high expectations as stories of giant deer and exotics  which were only exceeded by the videos of our prey for this week:  The Rio Grande Turkey.
I have turkey hunted on a few ranches in Texas and had seen the differences displayed by these birds versus the turkeys that call Louisiana home.  The Eastern Wild Turkey is a skittish animal with everything in the woods looking to eat it.  They are shy, wary and if they could smell, I don't think any of them would ever leave the woods in a turkey vest.  In contrast, the birds of West Texas are plentiful and a bit less wary.  When I say plentiful, I mean unbelievable.
I asked our resident turkey pro, Will Hatten, to take Jason, as he had never killed a Spring turkey.  Truth is, neither had I, as most of my turkey hunts had ended with a bird hung up and never presenting a good opportunity.  I had hunted with world champion turkey callers and with my own professional, who happens to be my son, Andy.  But this trip, I wanted to achieve something on my bucket list:  Harvest a turkey on my own, sink or swim.  So Jason and Will went north and Allen, who volunteered to video my hunt, went south.
Upon arrival, a hen ran across the road where we were let off.  At least I knew there were birds in the area.  Allen and I watched the truck leave with a "what do we do now" look at each other, as both of us were novice turkey nimrods.  We talked a minute and decided to set up where the Ruffin's had put a ground blind in proximity of a deer blind.   The set up was good, but I feared that we would end up having to move a lot as that was always the case in my previous adventures.
I sat in the blind, and let things quiet down.  I was amazed at the amount of doves in the area and looked down at the deep valley to my right and thought about the old days, days where covered wagons came down these same rocky hills towards the Chisholm Trail in the 1800s.  I envisioned gold miners on their trek west to the mines of California.  My thoughts were interrupted with the distant sound of a gobbler.  I honestly thought I was hearing things.  I picked up my "Uncle Si's Mouth Call" by Flextone and gave a yelp.  Instantly, the hills came alive as not one but five gobblers replied.  I could feel the hair on the back of my neck stand up.  The first gobbler was close…about 200 yards and the wind was carrying my sounds towards him.  I was nervous but confident, as I felt like I could call him on in.  Every time I would call, all 5 would reply.  It was absolutely enthralling.
I started a short series of purrs and then just got quiet.  About 10 minutes later, I could see the head of a hen easing through the tall grass, coming up the hill from the direction I had heard the gobble.  One, two, three, then four hens came out and started working through the grass without having a clue I was there.  I thought about the times where I was sitting against trees in the Tensas woods and how much my back would hurt.  It was pretty nice to be comfortable and concealed in the Primos "Club" pop-up blind.   The hens worked around me, and I decided that live decoys were much better than any call I could make.  So, I just shut up.  Suddenly, I could hear the distinct "thump" of a drumming gobbler.  Through the grass, I could see the signature red head as this gobbler started his dance for his group of ladies.  Back and forth he worked, less than 30 yards from me.  I knew he wasn't in Allen's view so I waited.  Spitting, drumming and fanning just like I had seen on outdoor TV shows…but this was my first time seeing it in person.
Out of the corner of my eye, I saw other movement coming down the fence line.  To my amazement, here came not one but THREE gobblers.  Behind them, another younger gobbler was approaching.  I had called up 5 gobblers on my first attempt at calling live birds.  The three coming down the fence never made a sound.  They were running to the hens, but this was not to the pleasure of the strutting gobbler, who already had his hens herded.  He spit, drummed and cut up until the three came within gun range.  That was far enough, and I had my trophy, a 21 pound bird with a 8 inch beard.
After a lot of high fives and dances that would embarrass my wife, Allen and I sat back down in our concealed hideaways.  In Texas, you can harvest multiple birds on a trip (not to exceed the county limits with a state limit of 4 per season) and so far we had been in the blinds less than an hour.  There was lots of time to play.
I reached into my bag and retrieved my "Uncle Si Flextone Box Call" and gave it a whirl.  Nothing.  I waited another 10 minutes and again, hit the box call which was much louder than the mouth call.  Nothing….or so I thought.  It wasn't but about 10 minutes, and I detected movement to my extreme left.  There he was.  Another huge gobbler was easing towards the exact spot, where I had harvested my first.  That was close enough, and it was over.  Here I was with not one but two turkeys on the ground, and it was only 6:30.
I am told this was a typical day at the 5500 acre Ruffin Ranch.  After being picked up by Jimmy, I was told that Jason and Will had scored and Jason had his first bird.  We took our photos and spent some time at the lodge with Mr. Red and his wife Patsy where we sat down to a great meal of hushpuppies and white perch that we had brought.   Mr. Red showed us photos of world class whitetails, exotics and then to our rooms.  They were roomy, clean and even boasted satellite television wired to big screen televisions.  You talk about nice.  I was impressed by our host, who was most non-assuming and casual about this oasis in the Hill Country.  But as impressive as our hosts were, my mind will always go back to that first echoing call that returned from deep in that canyon, as I was able to notch off one more item on my bucket list.  And I was surrounded by folks that made the hunt as enjoyable as any I have ever encountered.  It is a place I knew I would always remember and a place I will look forward to returning to hunt.  To book a hunt on the Ruffin Ranch for turkey, deer or exotics, go to www.ruffinranch.com.  In my opinion, it is the best kept secret in Texas.