Rumo's Has It
By Melanie Moffett
Aug 28th, 2015
0 Comments
616 Views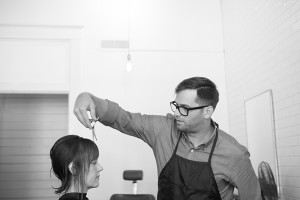 RUSSELL MOORE ON HIS DRIVE TO SUCCEED, THE CREATION OF A PHENOMENAL HAIR PRODUCT LINE AND THE QUEST FOR THE PERFECT NAME.
article by Michael Devault | photography by Brad Arender
He doesn't look quite like what you'd expect of a hair entrepreneur who some have described as a maestro. He's younger than most of the individuals who've achieved his level of success in the competitive world of salons and styling products, due in part to a natural youthfulness and somewhat playful attitude. After just a few minutes in a chair at Rumo's Barber on Stubbs Avenue in Monroe, it's easy to see why Russell Moore is one of the region's most popular and successful stylists.
"I've been doing this a little more than 15 years now," he says. "I started in the hair business, when I was 19 years old." But those years and the countless experiences of a well-seasoned professional aren't what led him to create Rumo, a line of natural hair products. Instead, he credits his sister.
"I come from a family of entrepreneurs. So doing one thing isn't enough," he says. For example, in addition to her career as a photographer, his sister launched a line of handbags, which inspired him to follow suit. "We want to do that one thing–and then do ten others."
About the same time his sister's handbags were taking off, serendipity stepped in for Moore, as well. "A phone call came in from a potential investor, and that opened the doors," he said. A few months later, Rumo's haircare was on the shelf of his salon. Sulfate free, paraben free, gluten free and DEA free, Moore says Rumo's products are as close to all natural as the products can be. "We're as clean as any hair product on the market, actually cleaner," he says.
If usage is any indication of the product's cleanliness and effectiveness, Moore is onto something big. After a week of daily shampoos, hair feels lighter, fuller and healthier. Whether rinsing in hard water or soft, the hair rinses clean of suds and sticky residues, while at the same time providing a nourishing blend of natural oils for a silky, conditioned feel, without conditioners. It's quite a feat for a boy from Ruston who first moved east with an eye to a career in music.
"I was trying to be a rock and roll star, but I guess you could say hair found me," Moore says. He was living at the time in Huntsville, AL, a stone's throw from Nashville and the bright lights of Music City. A drummer, he had come to Huntsville to join a band. In spite of some success, the band wasn't paying the bills. So he turned to cutting hair.
Working in Huntsville at what he admits was one of the better salons, Moore honed a knack for styling and a natural talent with scissors into the skills necessary to succeed in a competitive industry. It didn't take him long to realize he had found his true calling. Leaving music behind, he embarked on a new journey. "After a year of being really serious, we decided to go out and open our own place," he said.
There was one challenge he hadn't considered: what to call the new salon. For a while, he and his wife pondered that question. Driving across Huntsville one day, it struck him. In a city of some 300,000 people, there was not a single salon named after the owner. Just like that the Russell Moore Salon was born.  At 26, Moore was on his way.
"We really reaped the benefits," he says of naming the salon after himself. Something was amiss, though, and it didn't take long to see just what it was. When new customers turned up–and they turned up almost every day–they came in and asked for Russell Moore. It makes sense on some level. After all, his name was over the door. But his success meant two things: he was really busy all the time, and the crew who was there to work with him wasn't.
While facing this challenge, Moore embarked on a new part of his life-journey. He and his wife were expecting a child, and family was important. They had a decision to make. "I was 26, I was playing big ball over in Alabama," he says. "Once we had our first child, though, we decided to come back to Louisiana."
He and his family would return to Louisiana, start over and make it all work again. This time around, he knew he would have to make some changes. First, he wanted a more casual, more personal salon where customers felt comfortable but individual stylists could grow into a career as he had. That meant no more "Russell Moore Salon," and again, he found himself back where he started: in want of a name.
"I read a story about Adolf and Rudolf Dassler," he said. The two German brothers were at the heart of a ferocious family feud, made worse by Adolf's decision to start a clothing company to compete with Rudolf's Puma brand. For the name of his new enterprise, Adolf couldn't use the family name, as it could create confusion with his brother's lines. At the same time, he wanted something unique. Combining Adi, his nickname, and "Das–" from his surname, Adidas was born. "I thought, 'Why don't I try that?' Rumo's sounded friendly and approachable. So Rumo's it is."
A Ruston salon sprung up and quickly got its feet solidly on the ground. Not wanting to rest on that accomplishment, Moore decided to try his hand in the more competitive and more lucrative Monroe market. They began looking for a location. "At first, I was going to just go get a chair," he said, referring to the unique fee-for-space relationship common in the hair salon industry. As word spread he was looking to come into the Monroe market, Salon Couture reached out. They had a room available, and it would be perfect.
Now, with the Rumo's product line just hitting the market, Moore is set to open a new salon on Antique Alley in West Monroe. It's a move he anticipates will help drive customers to the hair products he's carefully crafting. And by crafting, that is to say still inventing.
Current offerings include a shampoo-conditioner combination in two formulations for fine, thinner hair, and for coarse, thick hair. Fragrant Rosemary merges with citrus oil and mint to produce an invigorating experience. The shampoo, free of heavy additives and harmful chemicals, leaves hair healthier than other shampoo offerings. The conditioner rejuvenates hair, adding both volume and sheen. The combination anchors the line, which has grown to include a single styling product so far. Called simply Salt Water, the styling product is a mousse-sea salt concoction that combines the effects of a light mousse with the brittle, just beached look of salt water. Combining the two products was a stroke of inspiration. Moore explains.
"Salt water sprays have been around for a while," he says. "But those products always left hair looking too brittle or the salt caked on the sprayer and flaked." So instead of a mister for delivery, Moore wondered what would happen if they combined the sea salt, which provides that whispy beach feel, with mouse, which gives the user the ability to provide style and shape. The combination not only worked. It was brilliant. "It's just a really great product," he says.
While he's building out the salon, he's not losing sight of the Rumo's products that will eventually fill the shelves. He's mum on what is coming next, but there are clues in the Rumo's salon experience, especially for men, who should do themselves a favor, carve an hour out of the busy work day and ask for the full Rumo's experience, which includes a wash, cut and style and a barbershop-style hot towel shave.
The experience begins with aromatic shaving oil, applied by hand to the dry face. A wet towel packing follows. The towels are heated to high temperatures, placed steaming on the customer's face, and packed into layers. After a few minutes, the towels are removed, a custom shaving cream brush-applied and towels are returned. Then, the towels are removed, more shaving cream is added, and the shave begins. For those who've never experienced a straight razor shave, it's an exercise in trust and relaxation.
The customer can not only feel every stroke of the razor, but he can also hear it. Tiny imperfections in the skin and coarse facial hair provide ample sounds during the shave, which takes about 25 minutes. Once completed, Moore then deftly cuts and styles the customer's hair, avoiding what he says are fads. "I aim for age-appropriate haircuts," he says. "The haircut should fit the man, not the man trying to fit a look or style."
And what of that shaving cream? Where can the customer get it? The short answer is they can't. And in that moment, Moore plays coy. While no release date is planned yet–emphasis on yet–Moore believes Rumo's is positioned to uniquely benefit from the end of the Lumbersexual craze and its fascination with heavy beards. "I think the beard phase is on its last breaths of air," he says. "And yes, we'll be there for you when you want to shave your beard."