RV Fun
By Melanie Moffett
Jul 24th, 2015
0 Comments
456 Views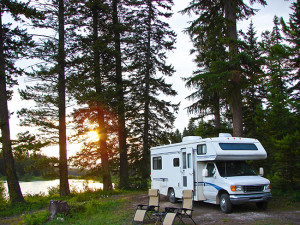 Embracing the Outdoors
article by Dan Chason
My wife doesn't fish nor does she understand why I love it so much.  But she tolerates it.  Same way with hunting. I once talked her into getting into a box stand with me.  The weather was cool but not cold.  I never spent so much time prepping for a hunt.  Hand warmers, heaters, a comforter, magazines and any other thing I could think of to make the hunt enjoyable.  It was very enjoyable to spend some quiet time with my lady until she made this statement.  "I don't mind going hunting, but you better not shoot anything.  I can't handle that."  Needless to say, I didn't shoot anything, and thank goodness a big buck didn't walk out.  One thing I did learn early on in our relationship was that she loves the outdoors if there is a lake or beach involved.  Whether it is boat riding or getting on any kind of floating device and just sunning, she is in her element.  It is not exactly my cup of tea, but with every marriage, you find a neutral ground and try to build upon it.  Such was the case as we decided that camping was a neutral ground.  I knew that camping locally or going camping at the beach would require air conditioning.  Neither she or I are die-hards, and a tent was out of the question.  That led to a search for our new home on wheels.
When looking for a RV or travel trailer, there are a couple of things I learned the hard way.  I will try to disclose some of them, so you don't fall into the same situation that I did.  We opted for a travel trailer. The first thing to consider is what kind of set up will you have at your choice of camping areas.  Louisiana is blessed with some very modern State Parks that offer not only all the hook ups for water, electric and sewer, but also bath houses.  I will get into the reason that is important later.
The most important thing to consider when looking for a travel trailer is the size and what kind of towing vehicle you own.  Not every travel trailer is made for a half-ton pick-up.  The towing weights for a half-ton truck determine not only how easy you can pull your camper but how safely you can do so.  NEVER get a camper without sway bars for your hitch.  This prevents jack-knifing and swaying.  What most won't tell you is that towing a camper on back roads is much different than the Interstate.  You will learn what wind drag is all about, as well as what kind of wind an 18 wheeler pushes.  Without sway bars, you can lose control and a disaster is imminent.  Your hitch should be level.  I don't mean an eyeball level.  Take it to a professional and have it leveled before taking it anywhere.  I was lucky enough to find a good RV dealer at Clay's RV.  Mike Clay not only showed me the ropes, he gave me some insight that saved me a lot of headaches.  I purchased my travel trailer from an individual and Mike still treated me like I had bought it from him.
Travel trailers operate on gas (propane) or electric (12 volt and 110 AC).  What you need to remember is to keep your propane tanks full and your holding tanks empty.  These modern campers have a grey water tank (shower water and sink water) as well as a sewer tank (toilet).  There are TWO valves that have to be opened for both of these to drain.  I learned that the hard way.  If you don't drain these tanks after your trip, the added weight can cause towing issues.  This is the reason I like parks with bath houses.  You can bathe and use the facilities there without having to fill up your tanks or drain smelly lines from the camper.  It is a big plus, especially if you bring grandkids or friends along with you.
Most importantly when looking at a used travel trailer or RV, take your time.  It doesn't matter how many "older couples" are chomping at the bits to buy it if you don't.  Plug it up.  Turn on the gas.  Check hot water temperatures. Check the refrigerator to assure it freezes and cools.  Check the electrical outlets.  If need be, take it to a RV park and plug it up to assure you have ample power to check the air conditioner.  Remember that the air conditioner is designed to drain.  If the trailer is not level, it will drain inside and not outside.  Most importantly, do some homework.  Call the previous owner if the seller is a secondary buyer.  Check the tires and jacks.  Once you are assured everything works, pull up the NADA price and compare what you are buying.  Then make your decision.
Once you arrive at your camping area, plug up your RV first.  There is no need to drain your battery with electric awnings and jacks with electricity present.  Level your camper and use a level, not your eyes to determine that it is perfectly straight.  An unlevel camper is a nightmare.  There are levels on the tongue and rear.  But the most important place to check level is at the center of the inside.  Pull out any slides, awnings and jacks and get ready to kick back.
Camping is a regular routine for us now, when my wife is off work.  We have enjoyed Caney, Poverty Point and Lake Bruin to name a few.  Poverty Point is by far the most modern but lacks good shade.  Lake Bruin has the nicest lake for playing but the roads are narrow and access is difficult pulling a trailer.  Caney Lake is nice but crowded on the weekends.  It is crowded in the park and on the lake as well.  It reminds me of the movie "Caddy Shack" with all the jet skis and ski boats, so fishing can be a challenge. Still in all, our current place on a private lot at Lake Bruin is top shelf.  It is quiet, restful and a place where Mama and me can spend some private time, catch some rays and I can slip off and fish while she takes a nap in the air conditioning.  So find some neutral ground.  You can enjoy the great outdoors and have your own retreat for thousands less than purchasing a lake house for those weekend getaways.