Seven Sisters Style: The All-American Preppy Look
By Melanie Moffett
Aug 21st, 2014
0 Comments
753 Views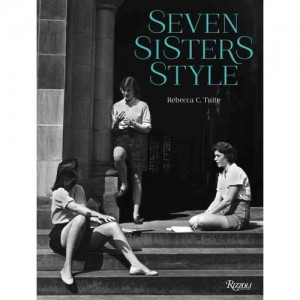 by Rebecca C. Tuite (Rizzoli | review by Casey Matthews
ashion is one of those great, fluid enterprises that takes from and inspires others. For some, fashion is more than articles of clothing; it is an art form all its own. In Seven Sisters Style: The All-American Preppy Look, fashion historian and Vassar graduate, Rebecca Tuite, explores a powerful influence that shaped American fashion. Seven universities—Barnard, Bryn Mawr, Mount Holyoke, Radcliffe, Smith, Vassar and Wellesley—collectively referred to as the "Seven Sisters" colleges, became the nucleus for women's fashion and gave life to one of the quintessential American styles: Prep.
In her book, Tuite chronicles the development of what she refers to as the "collegiate look," a look for these young women that was inspired by the boys (letterman sweaters, scarves) but was made feminine and stylish by the girls. The look accompanied this new "American Girl"- a girl who was "brimming with youthful athleticism and vigor." These Seven Sisters women were not afraid to get their hands dirty on the playing field and were not afraid to replace restrictive hoopskirts and crinoline with softer and looser layers, and for them, this was just the beginning.
By the late 1930s and 1940s, Seven Sisters women pushed fashion boundaries by incorporating baggy denim jeans into their everyday wardrobe. While many people were shocked by the sight of women in such casual wear, these women fought against tradition and created unwritten rules of "denim etiquette," such as stating that the best jeans were those "borrowed" from a boyfriend or brother and these jeans needed to have a worn-in look. Of course, women's denim today is a direct reflection of this style revolution- the "boyfriend" jean and the "destroyed" denim look are now staples in the denim section any department store. The Seven Sisters women also made sweaters more popular. These sweaters were similar to men's sweaters, except they were now softer with a more feminine silhouette.
Major department stores, such as Macy's and Lord & Taylor, and traditional menswear clothiers, such as Brooks Brothers, began marketing and selling clothing directed not only towards women who attended one of the Seven Sisters colleges, but these stores introduced this look to mainstream American women. Fashion magazines begin to include this trend in fashion spreads, and Hollywood followed in the 1970s (think Ali McGraw in Love Story).
Presently, there are many American companies who have made their fortune selling this "American Girl" look. Ralph Lauren, Tommy Hilfiger and J. Crew are all companies who blend traditional men's looks of blazers and plaid with feminine silhouettes and more attention to detail. Television shows, such as Mad Men and Gossip Girl, have also revitalized these looks, and websites like Etsy and Modcloth have provided a place for American women to purchase these styles to indulge their inner prep.
Seven Sisters Style: The All-American Preppy Look is a book meant for fashion lovers, especially because this original "prep" look can be incorporated into other styles of fashion (the "grunge" look of the 90s loved plaid!) and is in no way limited to the East Coast or Ivy League colleges. What Tuite also thoroughly demonstrates in her book is how these young women who were trailblazers inspired decades of American fashion design that are found in so many women's closets around the world today.
   Casey Posey Matthews graduated with her Bachelor of Arts degree in English Education from University of Louisiana in Monroe and her Master of Arts degree in English from University of New Orleans and is now an English teacher at Beachwood High School in Cleveland, OH.