Signs of Spring
By Melanie Moffett
Mar 2nd, 2016
0 Comments
363 Views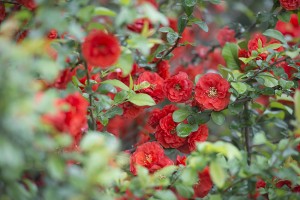 article by P. Allen Smith
Though the weather is often fickle this month, March typically signals the coming of spring, and with that we see the first signs of life coming back to the garden. March is an exciting time at Moss Mountain Farm as more than 300,000 daffodils emerge to greet the season along with our many visitors. Their blooms fill the view with breathtaking, vibrant color and offer cheerful inspiration for the spring planting season right around the corner.
Daffodils are spring's signature flower. They are one of the first to emerge — often through the snow — to signal that warm days are just ahead. I think daffodils make the best impact in large, sweeping clusters. There's nothing more serene than gazing over a field of sunshine-colored daffodils on a crisp spring day.
Daffodils like lots of sunshine and well-drained soil, so consider this when you pick the location in your garden. Plant daffodil bulbs in the late fall — at least two to four weeks before the first freeze. Choose large, firm bulbs for better blooms, and plant them at a depth of no more than three times the height of the bulb, and between three and six inches apart.
In the late winter or early spring you'll be delighted with the appearance of these showy yellow and white trumpet-like flowers. Take good care of them and they will come back year after year.
Planting crocus is an easy way to add an early rainbow of color to your bleak, late winter landscape. These petite perennial bulbs come in purple, orange, blue, pink, white or yellow, and their bright colors help wake up bees and sleepy gardeners from their hibernation. The great thing about crocuses is that they spread and with proper care will come back year after year. Since their blooms are rather small — just two to four inches — these tiny cup-shaped flowers look fantastic clustered along the front of the flowerbed or blanketed across the lawn.
Find a sunny or partially sunny, well-drained area and plant these bulbs in the fall at least six to eight weeks before the first frost. Plant the bulbs pointy end up at least three to four inches deep and spaced the same distance apart. If you choose to let these flowers blanket the lawn, wait until the foliage dies before your first mow of the season.
A spring garden isn't complete without a smattering of tulips. These graceful perennials come in a variety of stunning colors and shapes. If you plant your tulip beds with a good mix of early, mid and late blooming varieties, you can enjoy flowers throughout the spring season.
In warmer climates, such as zones 7 and 8, look for pre-chilled bulbs or refrigerate your bulbs for about 12 weeks before planting. Tulips need a substantial cold period before they emerge in spring. Aim to plant the bulbs in the fall, about six to eight weeks before the first hard frost, and when the soil is below 60 degrees. Tulips need to be planted at a depth of about eight inches and four to six inches apart. You'll also want a nice spot with morning sun and afternoon shade in zones 7 and 8.
Good drainage is essential to the wellbeing of your tulips. Water bulbs right after planting and then lightly once they begin to bloom. Excessively wet soil can cause the bulbs to rot and develop fungus. Once they blossom, don't be afraid to snip a few and display them in your home. I love the look of a single tulip in a bud vase to really showcase the beauty of each individual flower.
Spring flowering shrubs are a great way to pack a colorful punch in your garden. There are many shrubs that produce beautiful blooms once the frost begins to clear, and one of my all-time favorites is the quince variety Double Take™ 'Scarlet Storm' from Proven Winners®. This scarlet-red flowering shrub adds a burst of color with its double blooming, camellia-like flowers.  This quince grows to a height of up to 5' and a width of up to 4' inches, so consider this when picking a spot for it in your garden. The size makes it a great statement toward the back of a flowerbed or lined along a fence or walkway in larger numbers. Plant Double Take™ 'Scarlet Storm' in a sunny or partially sunny spot and watch it bloom throughout the spring.  The bold red flowers are fantastic cut and presented in vases throughout your home. Double Take™ 'Scarlet Storm' is thornless, so pruning isn't the painful chore it is with other quinces. Tackle this task after the flowers have faded to achieve the size and shape you desire.
Forsythia is a classic, early-flowering spring shrub that has become a gardening staple. It adds a bright yellow burst of color to any landscape, and with a little maintenance can achieve a beautiful weeping shape littered with tiny sunshine-hued flowers. These shrubs love sun, so stake out a sunny, well-drained spot with plenty of room in your garden. Forsythia buds form on old wood, so wait to do any pruning until flowers fade in the summer.
Spring blooming spirea is one of the loveliest, easy to grow flowering shrubs available. I love the bridal wreath spirea (S. prunifolia)— one of the largest — for its romantic, cascading white blooms. I like to use these shrubs as hedges at the back of flower borders for a seasonal focal point and a green backdrop in summer. Spirea prefers lots of sun and well-drained soil to really blossom. It's best to plant them in the spring or fall, and wait to prune until after they bloom.
Any of these beautiful spring-blooming flowers and shrubs would be great to shake off your garden's winter blues. Start preparing now to get your garden checklist in order, and with a little planning, your yard will be one of the first to announce the coming of spring with vibrant, invigorating blooms to greet the season year after year.