Simply Lou: Don't Sweat It
By Katie Sloan
Jul 10th, 2017
0 Comments
67 Views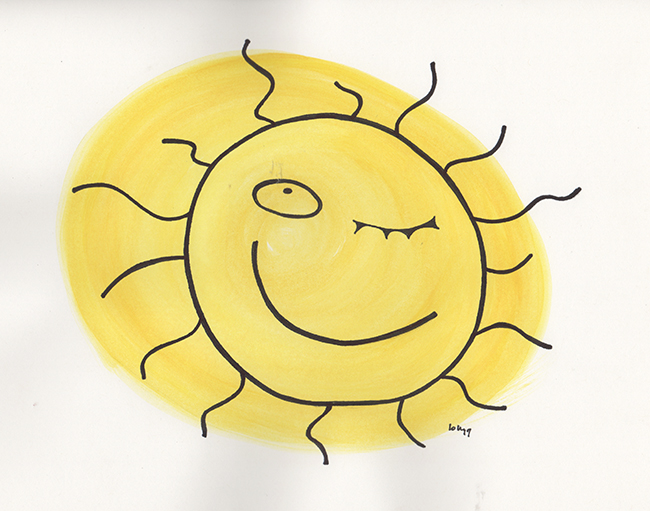 article and illustration by Lou Davenport
When you read this, I'm sure the "long hot summer"  will be upon us.  Right now, it's raining and has been for several days.  After so many rainy days, I begin to feel the need for some "solar power."  But, I won't complain.  I'll wish for these rainy days in the months ahead, when it's "hotter than a snake's ass in a wagon rut."
Between rain showers, I've been attempting to "uncover" my backyard.  I became distracted and let the leaves get ahead of me.  Layers of wet leaves will give you some healthy earthworms!  I had no idea I was doing some "organic gardening" on my deck until I faced the music and began to clean up.  My laziness created a "worm bed!"  All of that rich organic matter has been recycled into my flower bed now.  My deck is clean and the worms seem happy.
There are so many dead branches and sticks out back, if I could sell them, I'd be financially secure for years.  That ain't happening, so it's me against them!  Between rains, I gather sticks and break them up and put them in bags.  When I start to feeling overwhelmed, I just throw them!  Good therapy for me and my little bob-tailed cat, "Lil Rod" chases after the sticks.  He may think he is a dog.
I really want to tell you how to get prepared for that "long hot summer" ahead,  how to stay cool when those summer temperatures won't let us do much of anything except go from one air conditioned place to another.  I gave in to becoming a recluse last summer and binge watched some great series. No sweat!  I'm going to share a few of my favorites and why they are worth your time!  Alert! No spoilers ahead!
Breaking Bad:  I was late to the party on this one, but I'm glad I could watch it in back to back episodes.  I doubt I could have lived with the anticipation from week to week about what "Walter White" would do next.  Just fasten your seat belt and hang on for one continuous wild ride!  (Netflix)
Justified:  This one had it all for me.  It's funny sometimes, action packed sometimes and the two male leads, "Raylon and Boyd" are great looking all of the time! The writing is excellent as is the entire chemistry of the cast. I didn't want this one to end.  Go on up to "Harlan County, Kentucky" and enjoy your stay! (Amazon)
Mad Men:  If you like "period pieces," you will love this one.  Set in the late 50s/early 60s, the attention to detail in the sets, wardrobe, and hair dos just blew me away.  Who knew the advertising world could be so intriguing?  This series is character driven and slowly builds, so, relax and enjoy!  And ladies, "Don Draper."  Enough said. (Netflix)
House of Cards:  If you like Kevin Spacey, you don't want to miss him as "Francis Underwood," a power hungry career politician.  Oh, he is such a low down dirty dog, but you will find yourself loving him for it!  I've been watching this one since it first came on and it's now an annual event for me when "Francis" returns!  Check out his monogram, "F U."  (Netflix)
Boardwalk Empire:  This is another "period piece" that weaves fact and fiction. Steve Buscemi plays "Nucky Thompson" who rises to be a criminal kingpin in the early days of Atlantic City.  There's too many interesting characters to mention, but Stephen Graham as Al Capone is chilling and hilarious at the same time.  He stole the show for me!  There's all kinds of gambling, bootleg liquor and "seedy" goings on!  (Amazon/HBO)
Poirot:   If you like mysteries, check this one out, please!  "Hercule Poirot," the self proclaimed "world's greatest detective" is played to perfection by David Suchet.  He uses "his little gray cells" to solve each "who done it." "Poirot" is always impeccably dressed and lives in a beautiful Art Deco apartment.  He loves to correct those who think he is French, saying, "I am 'Belgian!'  But, I did learn quite a few French words from him, "Mon ami!" (Netflix)
Six Feet Under:  My daughter, Paige, got me to watch this one.  I think I had reservations because it's about a messed up family that owns a funeral home.  It's that but so much more.  It rates as being one of the best series I have ever watched.  The series slowly builds to a surprising end!   (Amazon)
Stranger Things:  There's just one part of this series right now but the second part is coming out soon.  It is well worth your time!  I can't wait to see what situation the kids are going to be in next!  You will also think you are back in the 80s!  (Netflix)
Trailer Park Boys:  Go on and watch all 10 seasons, and see if you can hang with Ricky, Bubbles and Julian at the trailer park! My cousin, Loretta, insisted I watch this!  I am so glad she did!  It has to be difficult to write "stupidity" so "intelligently!"   Ok, it's inappropriate humor, but so what?  I'll just rate it:  "OMG!"  (Netflix)
The Walking Dead:  If you aren't already a fan, like me, just binge all the seasons!  Then, you can be ready to camp out in front of your TV every Sunday night with all the rest of us fans to bite your nails!  And remember, they are "walkers," not zombies!  Go on and get to know Rick, Darryl, and "bad" ol Negan!  Be forewarned though, you will go into withdrawals when a season ends.  My friend, Don and I have a running Facebook conversation each week about the show and then about our "withdrawal pains!"  But, as of right now, we still haven't found a show more fun to discuss! (Netflix)
Vikings:  Who would have ever thought The History Channel would bring us such a great series as "Vikings?"  It's another one that you can binge and catch up with for the new season ahead.  Go on and check out those brawny, rugged wild men!  My cousin, Margaret, and I love this show so much, we answer our phone calls with "Shield Wall!"  The stories and characters are based on historical fact.  I am very impressed with how the writers combine fact with fiction and make the pieces fit so well!  (Amazon)
Avoid these next two "like Monroe mosquito's!" (you didn't think I'd just give you the "do's" without the "do nots!")
Bloodline:  don't even waste your time.  Should have been great, it wasn't.  (Netflix)
The Affair:  just forget about it!  Boring! Unlikable characters. I don't care how their stories end.  (Starz)
If you aren't into "binge watching" and like good movies, here's a few I have found.  Sometimes it's difficult to find good movies, but, I sure liked these:
Trumbo: with Brian Cranston playing "black listed" screenwriter, Dalton Trumbo.  (Amazon)
Hitchcock: Stars Sir Anthony Hopkins as "Hitch," himself while he was making the movie, "Psycho."  Helen Mirren plays his wife. (Amazon)
The Dressmaker:  A most interesting, twisting story with Kate Winslet playing the lead.  (Amazon)
Bridge of Spies: You can't go wrong with Tom Hanks. This one is based on a historical event that happened during the Cold War.  Starts slow, but stay with it!  (Amazon)
Long Hot Summer:  My Mama's favorite movie starring a young Paul Newman and Joanne Woodward.  What's a "long hot summer" without watching it?  I figured out why it was my Mama's favorite one year as I watched.  Paul Newman in his undershirt! Ohhh Mama!  (Amazon)
It's beginning to look like the rain is going to let up, maybe.  I'll be out back again, after I spray myself down with my "summer perfume," Deep Woods Off.  I am glad I have another day to fight the dewberry vines and Virginia Creeper that want to take over.  My reward for all this work will be that I can plant four giant calla lily bulbs.  I hope they will grow as well as those earthworms.
I don't want to give the impression that all I ever do is watch TV, although I do love a good series!  I also read, draw, paint, write and work in my yard.  I keep up with my kids and my cousins.  Oh, yeah, I have to do housework, do laundry, cook and all that normal stuff. Now, if it's a good show, all that "normal stuff" can wait for me.  As long as I feed my four demanding cats,  I can treat myself to a good series, especially when those temperatures hit 90+!  I'm just going to say that I hope I am providing a "public service" in helping all of you "keep your cool" this summer!  We'll let it go at that!