Simply Lou: Just an Old Fashioned Love Story
By Melanie Moffett
Feb 1st, 2016
0 Comments
423 Views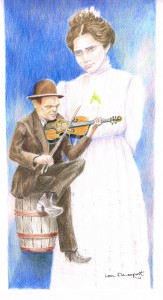 article and illustration by Lou Davenport
Sometime during 1906, in Liddieville, Louisiana, she met him. Probably just a simple twist of fate. He was an orphan and a widower. He was 23. She was barely 13. Sparks flew. Her parents forbid her to see him. She had other plans. He did, too.  A secret romance blossomed.
Those two were my grandparents, Phillip Williams and Lily Anders. In her pictures, she was a beautiful young girl wearing starched and ironed cotton dresses trimmed in lace. She had "Gibson Girl" styled dark hair and blue eyes. In the few pictures I have seen of him, he was handsome, with high cheek bones, twinkling eyes, always wearing a dapper little derby.  I can see how she fell for him and he had to have been quite smitten by her as well. He played a fiddle. Handsome and a musician! He must have been quite an outlaw by Liddieville standards. Like Waylon Jennings sings, "Ladies Love Outlaws!"
The Anders were not wealthy, but they were comfortable. Surely, they had other plans for their youngest daughter. It would have been scandalous for them to allow her to court that widower!  He had came to Liddieville because he had cousins who lived there. He had a job with the railroad and his cousins gave him a home.
Somehow, the young couple "courted" in secret for nearly two years. I have often wondered where they would meet. How did they keep things so secret?
They made plans to elope. My grandmother's older sister had married years before and lived near Jonesboro and that was where they went. Quietly, they loaded a wagon in the middle of the night and jostled along rutted dirt roads for two days to get there.
I can only assume that my grandmother's sister and her husband called a Justice of the Peace and were most likely their witnesses.  So, at the age of 15, my grandmother became a wife. She was disowned by her parents. She now faced life with a man 10 years older than her, who had much more experience at life than she had. I wonder what her thoughts were back then.  Did she have regrets? Was she frightened? Was she happy? I have always heard love conquers all.
The newlyweds made their way in that wagon to Magnolia, Arkansas. My grandfather found work. My grandmother became pregnant with their first child, my Uncle Jack. When he was born, her parents made the trip to Magnolia to see them. All was forgiven. Learning she was no longer disowned, I am sure my grandmother was happy. Lily, Phillip and little Jack returned to Liddieville.
Settled again back home, my grandfather became a sharecropper. He worked a plot of land between Winnsboro and Liddieville. The family began to grow. Eight children were born to Lily and Phillip. My aunts, uncles and my father. Life was hard. Feeding 8 children and a wife was tough on my grandfather. He played his fiddle at juke joints on Saturday nights and cleaned up the church on Sundays for extra income.
One night as my grandfather was cleaning the church, he found a ring. No one ever claimed it. He could finally give his bride the ring she never had. It was a tiny, delicate gold band that she wore until the day she died.
From what I have been told about my grandfather, he loved to have fun. He loved Miss Lily and his children. He played his fiddle and everyone danced. He had red hair and freckles. All his children thought he hung the moon! I know I would have adored him, too.  Some of his children, grandchildren and great grandchildren inherited his musical gene and there are a lot of redheads in my family,t too!
One of my aunts told me about how their family barely survived the Flood of 1927. My grandfather got the family to Crowville to a patch of higher ground until thae water finally receded. They lived in tents and barely had enough to eat. I have always wondered how much damage was done to their home. And, then, The Great Depression came.
Things only got worse. While working in the fields, my grandfather collapsed from an aneurysm in his brain. He died shortly thereafter, only 46 years old. Her life was going along like any ordinary day, then without warning, her beloved husband was gone. I cannot imagine what my grandmother must have felt at that moment. She was alone with eight children to care for.
My Uncle Jack and the rest of the older children tried to keep sharecropping. It was extremely hard on them. One of my aunts told me she threw down her hoe one day and said she was never working the fields again. Shortly after that, my Uncle Jack found work in Bastrop. He brought the whole family with him. Those old enough to work, got jobs. They all pitched in to keep the family together and take care of their mother. A few got married but even that did not keep them from looking out for their mother.
My grandmother lived through two World Wars. She had to have been in constant worry when my dad lied about his age and joined the Navy. He was right in the middle of the Pacific. Two of her son-in-laws served in Europe.  As always, everyone rallied around one another and kept vigil. Fortunately all three of them made it back home. How relieved she must have felt!
Slowly, more of my aunts and uncles married and moved out of the house to begin families of their own.  Still, they all helped take care of their mother. They all saw to it that she never did without one thing.  They made her life easier. When my parents got married, my grandmother came to live with them. Their house was home and weekly gathering place for the entire family because their mother was there.
By the time I came along, my grandmother was getting older. Don't get me wrong, I loved her, but I was downright terrified of her! She was tough! She would have me go get her a switch and tear my little butt up if I misbehaved! She was a quiet, stern, no nonsense woman. I can't remember her ever talking to me about her younger days and all the hardships. Maybe it was just too difficult. But, how she must have missed her Phillip.
She never played with any of us grandchildren. We just tried to stay out of her way. We even wondered if she even liked kids! But, maybe she never had the time to play with her own. There was always so much work to be done and they all had to pitch in.
Her room was a source of great mystery to me. She had beautiful furniture, a big high bed with four tall posts and a dressing table with its own little satin covered stool. She always wore dresses and always had on her gloves for church. She kept her silver hair in a bun with the sides held in place with little combs. She grew several houseplants and called them "her flowers." She never missed "her stories" (soap operas) after her nap. You better not wake her up during her nap either! There'd be hell to pay!
She made string quilts from her scraps of fabric. She just called them "cover." Those quilts were no big deal to her, but, I loved them! She made the most delicate crocheted doilies. She embroidered pillow cases and dresser scarves. She made the best fried pies in her black iron skillet. I am now the proud owner of that skillet.
She loved "Uncle Earl Long!" She loved to watch westerns, Perry Mason and read Mickey Spillane novels.  And, she dipped snuff. And, had a spit can. I always seemed to kick that nasty thing over and when I did, I had to clean it up. YUCK!
She still had one more hardship to endure when one of my uncles died. Within a year, she died as well. She just seemed to wither away. Her doctor said it was leukemia. But, to me, she died of a broken spirit.
It has been 47 years since she died. I have learned to respect and admire her. She was a rebel! She defied authority! She survived the natural child births of eight babies! She endured a flood, near starvation, a depression, wars and losing her beloved husband. She never remarried.. Her eight children unabashedly loved her. Because life was never easy when she was a young wife and mother, I believe her children gave her the life that my grandfather had wanted for her.  That's some kind of powerful love! Her children buried her beside her Phillip in Liddieville.  She lies near my uncle, the son she had to bury.
Liddieville, that little village where they first met, secretly courted, eloped and raised an amazing family during the worst of times. She is home. Just an old fashioned love story, about a "lady and an outlaw," that left behind an incredible legacy, forged from great love, poverty, hardships and strength. My precious family.