Simply Lou: Maters
By Admin
Aug 3rd, 2016
0 Comments
198 Views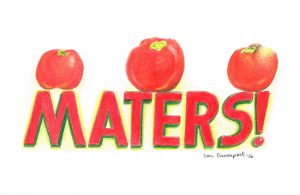 article and illustration by Lou Davenport
I  think we can all agree that it's hot.  Real hot!  Summers in Louisiana "ain't for sissies."  When I lived in Vicksburg, MS, I used to say it was the hottest place in the world.  I've changed my mind, it's definitely hotter here!
It's that time of year that I stop trying to water plants. It doesn't help. The air temperature just burns them up. So, I have gone into my annual "only the strong survive" routine.  I'm always surprised at what plants actually make it!  And, thankfully, many do.  You gotta be a tough plant here in North Louisiana.
But, that's enough griping about the weather!  Just turn that thermostat down and stay inside.  Dear Yard, I'll see you in the fall!  P.S. Make that late Fall.
The one thing that does help make our summers here somewhat tolerable are those real, homegrown tomatoes.  I could eat mater sammiches everyday,  three or four times a day!  When I was about five years old, I discovered how good they were and ate so many, I broke out in a rash.  Just give me some fresh tomatoes, mayonnaise and white bread and turn me loose!  They are so good that songwriter Guy Clark wrote a song about them…
"Homegrown Tomatoes, Homegrown Tomatoes, What'd life be like without Homegrown Tomatoes.  Only 2 things that money can't buy and that's true love and Homegrown Tomatoes!"
The song goes on to proclaim, "plant 'em in spring, eat em in the summer, all winter without em's a culinary bummer!"  No truer words!  Those things at the grocery store taste about as good as cardboard.  Does this make me a tomato snob?  I guess I am, so I enjoy as many of those precious red jewels as I can!
Living in Vicksburg, I learned that tomato sandwiches are a true art form and if you live there, you need to make 'em right or just don't show up at a gathering IF you were assigned to make them!  There are RULES!  As the story goes, a young lady had moved to Vicksburg and was asked to a ladies' tea.  (They LOVE teas in Vicksburg)  This poor girl was assigned to bring the highly esteemed Vicksburg Tomato Sandwich.  Nobody bothered to give her the special recipe. I guess they just assumed everyone knew how to make the proper tomato sandwich.  The girl showed up with her sandwiches on unsliced bread with the crusts on and used store bought mayonnaise.  AND the greatest faux pas of all….she did not peel her tomatoes!  Ah, the shame!  She was ostracized for two years. They take their Vicksburg Tomato Sandwiches seriously.
I learned how to make them and I must say, they are delicious.  They are just too damn little.  I could eat an entire stacked up tray of them.  It's hard to keep bein' a lady when those things are served!
So, I am going to share with you all THE recipe!  You might end up living in Vicksburg (which I do really still love) and I sure wouldn't want anybody being ostracized!  (Now, that I don't live there, I slap some good ol Hellman's or Duke's mayonnaise on a whole slice of white bread, pile on the tomatoes and give it a little salt and pepper and top it with another slice of white bread, crusts intact!  I use enough mayonnaise to make it get all "drippy" like a good hamburger should be!  You know the ones. They drip down your wrists and you have to use a lot of napkins!)
THE OFFICIAL VICKSBURG TOMATO SANDWICH RECIPE:
First of all, you have to get ripe, smallish size tomatoes (so the slice of tomato won't hang out the side of the sandwich!)  Boil some water, then dip the tomatoes in for just a few seconds.  Those skins will slip right off!  Then you slice them  fairly thin, but not too thin.  You want to really taste that tomato!  Lay them out on paper towels to drain some while you cut out the bread.
Day old white bread is mandatory. Trim off all the crusts. Then, you use a small round cookie cutter or a small jelly jar to cut sweet little circles of bread.   Supposedly, day old break cuts better.
TRUE Vicksburg Tomato Sandwiches use homemade mayonnaise.  I'm not that much of a purist.  Just start slathering on the Hellman's or Dukes.  (I believe MORE is MORE for this step)  Put it on both sides!  That way, the tops don't fall off!  Now, if you do want to go all out and be extra fancy, there's a lot of recipes for homemade mayonnaise!  I'm just not that fancy.  And the proper pronunciation of mayonnaise is…."MAN AISE!"
The very truest artists of the Vicksburg Tomato Sandwich grate a little onion on the tomato before they top it with the bread.  (I never take the time for that and besides, onions make me cry).  And always add a little salt and pepper.
After you assemble all your pretty sandwiches,  dust the tops with a little bit of paprika.  You are done and safe from being ostracized if you ever get asked to make these for tea in Vicksburg!
One more tip.  If you are going to have to wait and take them to your occasion, you need to put layers of them in some  Tupperware and between each layer of sandwiches, a damp, NOT WET paper towel!  Put in the refrigerator until you are ready to go.  Oh, and put the top on that Tupperware!  You sure don't want to show up with DRY Vicksburg Tomato Sandwiches!
When I was growing up, my mother and grandmother would put up (can) fresh tomatoes.  From those jars, my Mama would make the best soup! Sometimes they would even put all kinds of fresh vegetables in a huge pot and cook it, then put it in the freezer.  Mama called it her soup mix. Vegetable soup on a cold day with homemade cornbread!
My grandmother made a tomato relish that I have yet to find one that can compare. It was so good, I'd sneak the jar out of the refrigerator and eat it with a spoon! Just a little bit of her relish on some fresh black eyed peas and you were off to nirvana! (I had no idea what nirvana was back then, but I do now and I also like using that word to describe how good that combination was!)
And, I sure can't not mention Fried Green Tomatoes! Oh my, oh my!  They are so good they have reached appetizer status in a lot of fancy restaurants!  Finally, they get the respect they deserve!  I've been eating those since I was a baby!  I may have "slapped my Mama" they were so good.  It's probably the only thing I can really fry well.  I've never mastered that art.  They are best fried in an old black skillet!
Back to those mater sammiches. Bacon and lettuce on your tomato sandwich is a good choice!  Those two ingredients can almost make one of those cardboard tomatoes taste…well, okay!  Bacon with anything is good.  And if you are going to cook up some of the fine fresh vegetables we have right now, you have to save that bacon grease!  Everything tastes better cooked in that!  One of my favorite writers, Rick Bragg, said "bacon grease runs through his veins."   He's from the South.  WE know what he means.  You know we do!  But, I bet I could eat more Vicksburg Tomato Sandwiches than him!
Stay cool ya'll!  See you next month when I am going to tell ya'll about "Ridin' with the Duke."  Stories from the road with my Daddy.