Simply Lou: Revenge Can Be Sweet
By Melanie Moffett
Mar 24th, 2017
0 Comments
233 Views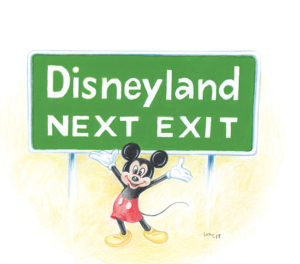 article and illustration by Lou Davenport
The following is a true account of traveling with my dad. It may sound fictional, but I can say it is "the facts, nothing but the facts." I will go as far as taking the oath, "the whole truth, nothing but the truth, so help me God." No names have been changed "to protect the guilty" either!
My daddy's nickname was "Duke." Not sure how he got it, but Duke fit him well. He loved big cars, Oldsmobiles and Buicks, to be specific. I believe he just loved to drive and drive he did, like a "bat outta hell." He was one who "did not care for the journey, just the destination."
Whatever the journey was, Duke had his own rules of the road. That meant that he was solely in charge of the radio, usually a baseball game. He would let you have a "coke" with ice, but, don't dare "rattle the ice!" Do not crunch potato chips! Bathroom stops were made ONLY if he needed to get gas.  He could smoke all the unfiltered Lucky Strikes he wanted with the windows up. The foremost rule was follow all of HIS rules.
Listening to baseball games was pure torture for me. Duke spoke of Dizzy Dean and PeeWee Reese like they were two of his best friends. I actually thought he knew them personally. We drove through Wiggins, Mississippi once, and when Duke announced it was "Ol' Diz's" hometown, I thought we were going to stop and visit!
"Driving through or by" was how you traveled with my Dad.  It didn't matter where you were going. You got there and drove back. And, you rode at speeds way beyond the speed limit. My grandmother would fuss at him about how fast he drove. One of his Buicks had a "governor" that signaled if you were over a certain speed. He told her, "Mama, I have it set on 45." Truthfully, he set it at the end of the speedometer. She kept waiting for it to go off, so she could fuss at him. No disrespect, but Duke would sometimes "lie like a rug on the floor."
I don't have the space to tell all the places I traveled with my Dad, but I have chosen a most memorable one for this month's column. Most deserve a column of their own, so from now on, I'll write a full account of them in future "travel issues."
Duke loved going places. That wasn't the problem. I got to see many historic and beautiful places. "See" is the operative word here. You didn't get to stop at the historic sights, you rode past them, quickly. I have a lot of blurred photographs to prove it.
We struck out for Modesto, California once to take my Mamaw Mae to see one of her cousins. My cousin, Judy, was along and I have talked to her about this, and we both still agree on the details. Like I said, some of these stories might sound hard to believe.
Duke owned a big, gold Buick Wildcat during this particular trip. It was a good thing, since there were five of us piled in that big old "land yacht." My mom fancied herself as "the navigator," but Duke didn't use maps. He seemed to always know where he was going, and if he took a wrong turn, he wasn't about to stop and ask for directions. He just "back road-ed" it, and somehow we got where we were going. And it didn't matter if we ran across some interesting sight, while we were "lost." We better look at it from the window as we sped by!
My grandmother's cousin lived in the middle of an almond orchard. Since California was even dry back then, concrete irrigation canals ran all through the orchards. We got to go swimming in one of those canals and even picked some fresh apricots off a tree! I never knew how delicious fresh apricots were and just about made myself sick I ate so many!
The visit ended. The Wildcat was packed, and off we went. The plan was to travel down to Ocean Side, California, where a friend of ours was stationed. My most vivid memory was all the wholesale floral fields along both sides of the freeway. I also was well aware that there were lots of cars, in many lanes and they were all going as fast as Duke was. I thought about earthquakes and wasn't sure if I really liked California.
I am not sure who saw it first but, as we were approaching Anaheim, a sign said DISNEYLAND! The Original! The one Walt Disney himself opened! The home of Mickey Mouse and Cinderella and Snow White! We all were on high alert!  All of a sudden we could see where to turn!
Now, in all the excitement, I don't think I heard my father say anything. But, he knew, for his own good, he better take that exit. My mom was a peaceable woman, but I think he knew he better not "accidentally" miss that turn. (Little did I know, he was coming up with a diabolical plot.) At that moment, I believed with all my heart we were about to GO TO DISNEYLAND! We all did!
Duke drove into the parking lot. And stopped the car. Disneyland was right there. We could see the castle! "Mickey" beckoned us, and I think "Tinkerbell" flew by! The anticipation was almost too much to bear!
Then, the "spell" was broken when my father said, "It's getting late and we could just go on down to Oceanside for the night. We can come back tomorrow…and spend…the whole day."
Well, that sounded like a workable idea. So, goodbye Disneyland, we will see you in the morning! Back in the Wildcat and on to Oceanside we innocently rode. All was right with the world.
The next morning we were all up and ready to go…to…. DISNEYLAND! We were still oblivious to his "evil master plan." He waited until we had all eaten breakfast and my mom had gotten "coffee-ed" up. In the Wildcat, all ready to go, he dared speak these insidious words…..
"I think we need to head on home and not go back up that busy freeway today. There's going to be so much traffic and we still have a long way to go."
We just sat there with our mouths open in disbelief. When the weight of his words sunk in, the "veil of silence" fell and the chilly winds blew. Icicles should have formed above him in that Wildcat Buick. If looks could kill, Duke would have been found dead in a hotel parking lot and foul play would indeed have been suspected. I seriously think my mother wanted to give him a big roundhouse punch. My grandmother, a forward thinking woman, probably thought of ways we could leave him stranded in the desert. Nobody spoke to him for days. He didn't care. He continued to listen to his damn ballgames!
You would think he would have apologized. He did not! (and never did) What he did do was "drive through" Las Vegas, right down the strip! Yes, he did! Did we stay in Las Vegas? Of course not! The mission now was to get back home as fast as he could drive that Wildcat.
Years later, Duke passed away. I like to think of him in a big Electra 225, driving at some ludicrous speed, down an endless freeway for all eternity. Maybe he has "Ol Diz" and PeeWee with him. As for me, I inherited enough to buy my family a mini van. Then, we planned a trip to DISNEY WORLD! No expenses spared! No "rules of the road" allowed! Just, Orlando or Bust!
Every morning we drove to the parking lot, caught a shuttle to the river boat and rode over to the Magic Kingdom! Every morning, we were packed onto that boat with countless others as excited as we were. Every night, we drug ourselves back on that boat, exhausted and quiet with countless others from having way too much fun. In four days, we saw it all, rode it all and enjoyed every minute. We were there when they opened and shut 'em down every night.
We went to Sea World one day and got splashed by Shamu, watched dolphins dance and petted the sting rays. That place was hot, but, we forged ahead in pursuit of F-U-N! Next stop, Destin, for beach time and some well earned rest!
As we made our way towards Destin to meet cousin Judy and her family, Larry suggested we go ride the "glass bottom boats." We all groaned. Adam, who was 7 at the time, summed it all up, "But Dad, I am tired of going to all these places we are supposed to have fun."  We had truly "over dosed" on fun and not one "evil master plan" was hatched.
I have never returned to Disney World. Once was enough. I finally "righted" a terrible wrong. And, I learned that revenge can be sweet-sometimes. Oh yes, it can.