Simply Lou: To All The Cats I've Loved Before
By Melanie Moffett
Jun 3rd, 2016
0 Comments
294 Views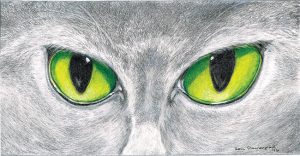 article and illustration by Lou Davenport
Cats. I can't think of many times in my life that there hasn't been a cat around.  I don't go deliberately to get a cat, yet they find ME!  When I was about four years old I found two white kittens that I believe someone left in our yard.  I begged to keep them and so Blue Eyes and Green Eyes became residents. (I wasn't very good at original names for pets back then). Lo and behold, those two had one kitten, and I named it Spot Head. They stayed around for a while, then wandered away as cats do.
A cast of characters came and went around the "Williams Home for Wayward Cats."  There was James, Lionel, Anita, and many others. Things were okay until my dad came home from work and found Anita having kittens on our living room couch.  Not good, very not good.  I had to find Anita and her babies new quarters ASAP!
Up in Aberdeen, MS, we acquired Elvis. Since Aberdeen was so close to Memphis we got all their TV channels.  When Elvis died, we were  at Ground Zero for all  the reports.  My daughter, Carolyn, was about four and must have been deeply affected by Elvis's death because she named that little kitten, Elvis. He was a great cat, and we had him several years.
(Side bar about those Memphis TV channels.  When Jerry Lee Lewis was near death in a Memphis hospital, they gave a daily report on what "stars" came to see him each day!  I kid you not!  And thankfully, "The Killer" is still around!)
Next came, Kitty Boy. He was a real "lady's man" and stayed beat up.  A friend of Larry's from work had a farm and offered to take Kitty Boy to be his barn cat.  About a month passed and I heard some meowing at the front door.  There was KITTY BOY! He had returned!  I know it was at least 7 or 8 miles from our house to that barn!  Larry just said, "Well, if he likes us that much, I guess he can stay."
When we moved to Vicksburg, I had three little Davenports and a "cat in a box" loaded.  Not a mile down the highway, Kitty Boy got out!  I feared he would freak out, and there would be blood shed!  But, he stretched out and acted like he had ridden in a car every day of his life!  Once in Vicksburg, he continued to be the "lady's man" and lived a long, fruitful life!
We ended up having a cat menagerie in Vicksburg.  They came, and they went.  There were several memorable ones though.  Marvin,  Judy,  Loretta, and the infamous Earl.
Bless Earl's heart. He was one of my favorites. He liked to get up in my van though, in the motor.  On my way to work one day, I turned the key and heard an awful noise.  And, somehow I knew what had happened.  Sure enough, Earl lay lifeless on the concrete. I knew I didn't have any time to bury him, so I got him in the shade and went on to work, thoroughly shaken that I had killed my cat!   A few hours later, Adam called and said, "Something is wrong with Earl!"  I said, "He's NOT DEAD?"  I guess he had been knocked out!  The kids got him to the vet and he ended up having a broken leg.
Not having a crate, I asked Larry to make a box.  Oh, he made a box all right.  It was HUGE! It looked like a casket sitting "in state" in the living room!   Earl recovered but got up in the van again several months later.  This time, he lost his leg.
Oh, it didn't slow him down one bit!  There were kittens running around all over the subdivision that looked like him!
Once this little mama cat ran in the house straight to my closet, had kittens and straight up DIED!  She had three babies and all I knew to do was….go to the vet.  Our vet was a likable but gruff, "manly man" kind of guy.  I think he really hated cats.  He told me "They'll probably die, but you can try!"  He handed me a book, a bottle and a can of kitten formula.  I thought, oh hell no, MY BABIES are going to LIVE!  I was going to show HIM!
I made them a warm bed, got them to take the bottle and they made it!!  I learned  how to be a real cat mama because you have to take care of their bodily functions just like the real mamas do.  They grew into the prettiest cats!  And, that vet and Larry were shocked.  I was so proud of my babies, but once was enough.  I don't think I want to raise another litter!
After several years, most of our cats died or moved on. Larry passed away.  My daughter brought me a cat.  I took one look at that silly ol' cat, and I had to keep him.  I named him Charles, and he was my constant companion.   But, Charles had feline leukemia, and I had to eventually let him go.  I was a crying, snotty fool at the vet's office.  He had loved to play in the ivy in the back yard, so that is where Paige and I buried him.
I eventually sold my house, packed up and moved to Monroe.  I didn't have a cat!   Well, Albert the serial killer found me.  He just showed up in the carport and never left.  He killed all the baby birds he could find.  And, he was a grouch.  But, he was welcomed on in.  I ended up taking him along when I got remarried, and he liked hunting down there!  Something must have gotten him out in all those woods for he just disappeared.
Paige lived in a house with a doggie door and one night, a lovely yellow cat came strolling in like she owned the place.  Paige had three dogs then and this new kid was not going to fit in!  So, you know where she ended up.  ME!  I named her Alice and she was one tough cookie! Soon I could tell I had taken in an unwed teenage mother! Paige and I birthed those babies, and they were beautiful.  The last one was so tiny I named her Peanut.  I had to end up bottle feeding her.
Then, a feral mama cat had about 10 black and white kittens outside our house.  She wouldn't let me get near her or those babies.  But, a fox found them and killed all of them but one.  It shook me up so bad, I just grabbed that last kitten that had somehow survived and brought him inside.  He is Otis Lee and he is a spoiled brat.
So, as my story goes, my marriage broke up, and I packed up again.  I brought Otis Lee with me and  by my thought processes at the time  (they were NOT normal), I left my sweet Peanut behind, thinking that it was the only home she had ever known.  I was back over there in a week's time "cat napping" her!  What in the world was I thinking?  She and Otis Lee now run my house.  They let me live here.
I love the little house I live in but what I didn't know was I had just landed at the Kit Kat Klub! Cats everywhere! I've helped to feed them, and the cast of characters is always changing.  I have fed Paul Newman, John Wayne, Betty Davis (who ended up being a boy) Mooney, Grumpus and many more.  I figure if I feed you, you have to have a name!  I prefer people names, too! Sitting on my deck one day with visiting kitties, one decided to have kittens right under my feet!  Why me?  WHY?
Last year, it was raining cats, and I kept hearing a kitten. In the middle of a big row of lirope, I found it.  A black and white kitten, crying loudly!  I scooped him up and brought him in, dried him off.  I could tell he was about five weeks old, so I got him to eat.  He turned into a dandy of a kitten, and I can see why his mama left him out in the rain!!  He is bad!
I named him Bo Bo, and it fits him well.  He is a man of the world, or so he thinks.  He has become a teenager and discovered the ladies. For the past week, he doesn't want to come in any more.  He just stands outside and sneers at me!  Yes, I call him not so nice names, too!  He even takes his chicks up in the attic!  I guess he thinks he has a penthouse!
SO….maybe the curse has been broken, and cats will not find me anymore.  Bo Bo dumped me!  I think I am…insulted.