Slice of Heaven
By Admin
Aug 1st, 2016
0 Comments
291 Views

Looking for the Best Pizza in town. BayouLife asked our favorite restauranteurs to cook their tastiest piece of pie. So, the next time you're craving a mouth-watering slice of heaven, look to these local eateries.
photograph by Martin G Meyers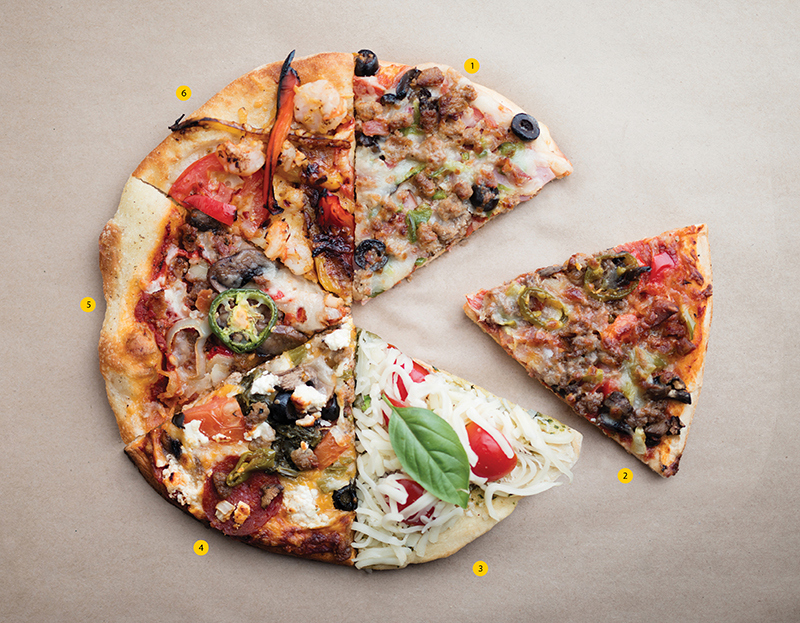 1) MAMA DELUCA'S
Stop in Mama DeLuca's and try the "Butcher's Best. This delicious pizza comes with pepperoni, Italian sausage, ham, bacon, and beef with olives and bell peppers.
2) PORTICO RESTAURANT & BAR
If you love a pizza covered in delicious toppings, you'll crave this "All the Way" pizza from Portico Restaurant & Bar. Loaded with pepperoni, sausage, red onions, bell peppers, mushrooms, tomatoes, mozzarella, Asiago and Feta Cheese, this pizza has something for everyone.
3) GENUSA'S RESTAURANT TRATTORIA & WINE CELLAR
There is no doubt that the experts at Genusa's can whip up a mouth-watering pizza. If you want a fresh pizza teeming with flavor, try the  Pizzetta. This pie is free-formed with fresh mozzarella, basil and tomatoes.
4) TRIO'S
Trio's doesn't just have the best gyros in town, they also serve one of our favorite pizza, too. The Trio's Pizza is made with sausage, hamburger, pepperoni, spinach, black olives, mushrooms, jalapeños, onions, bell peppers, tomatoes, garlic and all cheeses including feta.
5) VIEUX CARRÉ MARKET
You can't go wrong with anything on the menu at Vieux Carré Market, including this savory pizza. The Special Pizza features red sauce, provolone, mozzarella, Italian sausage, andouille sausage, bacon, sautéed mushrooms, roasted red bell pepper, sliced shallots and jalapeño slices.
6) NEWK'S EATERY
The spice is right with Newk's Eatery's Spicy Shrimp Pizza.  This delectable pizza is made with broiled plump shrimp, red and yellow bell peppers, ripe Roma tomatoes, house-shredded mozzarella, grated Parmesan and crushed red pepper flakes over our crust brushed with chili oil and garnished with fresh cilantro.