Soul Survivor: Leo Grayson
By Admin
Jun 27th, 2016
0 Comments
667 Views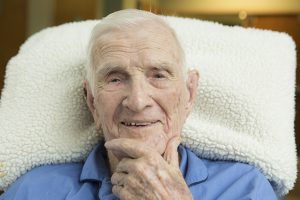 The Story Of D-Day Survivor Leo Grayson
article by Barbara Leader | photography by Brad Arender
Leo Grayson of West Monroe vividly remembers what it felt like to step off the U-Boats into the waters off the coast of Normandy, France on D-Day as a young soldier facing a formidable enemy and an uncertain future.
Injuries he sustained during the invasion nearly robbed Grayson of his hearing, but not his memory.  His voice is strong and his mind is sharp and full of memories of that painful day and the weeks that followed.
Resting in his room at the Northeast Louisiana Veterans Home in Monroe on the 72nd anniversary of D-Day, Grayson, now 102 years old, shared thoughts about D-Day, stopping many times to reflect and slowly shake his head before continuing.
"They put us out, with water about up to here," Grayson said gesturing to his upper chest.  "On the way to shore there was a boat of pretty good size.  We called it a heavy cruiser.  Every time it turned, it would let out a blast. Would you believe the water would shake with vibrations from the explosions?"
The explosions caused much of Leo's hearing loss and has made conversation challenging.
About 10 years ago, Leo's family gave him a tape recorder to capture his memories. Up until that point, he hadn't shared many stories of World War II with anyone.   The stories of war weren't easy for him to tell.  But, Leo would sit out in a swing made of horseshoes under a fig tree in his back yard and dictate into the recorder.  Much of this account comes from that priceless recording of his memories.
THE GREATEST GENERATION
"We descended big rope ladders that were let down on the sides of the ship into assault boats called LSPs (Landing Ship Personnel)," Grayson dictated into the recorder. "We were loaded with ammunition, a Garand rifle and food for three to four days, a full field pack and all totaled about 60 pounds of equipment.
"These ships carried us to shore. When we got near the shore, probably a half mile from the shore, the water became shallow.  The LSPs would drop the front of the boat and we unloaded into the water, breast deep with all of this gear, with ammunition, about 60 pounds or more.  The front of the boat then pulled up, it backed up full throttle and left us."
"You've often heard the expression 'these brave men that fought at the beach'," he recalled. "Well, let me tell you something – I don't think there was a brave man in the group, including me. Here we were – we couldn't go back to sea and drown.  We had only one option.  We went to the shore and you went just as fast as you could.  That's exactly what we did.
"All of us were scared to death of course, but we hit the beach and took up the fire fight.  I will never forget the first man that I walked over.  I was so tired and worn out that I felt my heart was going to burst.  We had run in water for a half mile and if you don't think it's hard to push forward in water, try it."
"When we reached the shore, we were exhausted, all of us," he said. "Well, I was just about to collapse from exhaustion when I stepped over a man.  When I looked down, I saw that he was a German and it did something to me.  I suppose my adrenaline kicked in and I felt like a new person.  I had the urge to push forward and that's what we did.  Had it been one of my boys, I would have given up on the spot."
D-DAY WAS "HELL ON EARTH"
"In the first 48 hours of hitting the beach… we lost 6,500 men and about 20,000 were wounded," Grayson recorded. "We did establish that beach, of course, but we had fired our weapons until they were half worn out and we were almost out of ammunition.  Our gun barrels actually became so overheated from continuous fire the settings weren't accurate.  You couldn't hit the side of a barn they were so worn.  Three days later, the military dropped reinforcements with new weapons and new ammunition.  "
Within that drop were men who delivered instructions to Grayson's group and then continued on deeper into the territory.  Grayson and his fellow patriots took up the constant fight there for several weeks.
"Our mission was to push forward and find an American unit that had been engaged in a fight with Germans," Grayson said. "There was a huge inundated area with a bridge across it.  Well, we were supposed to display an orange flag so they would recognize us as Americans and realize we were not the enemy.  We started this reconnaissance and we traveled two to three miles and we came up on these people.
"Never in my life have I seen such a beat up bunch of men.  They fought a battle across the road where it started on the east side and went to the west side of this huge swamp.  Some of us were trying to get across and these men were to keep anyone from crossing and they did.  The commander of this unit wound up being a 1st lieutenant, all of the senior officers had been killed.  When they saw us, they were the happiest people you have ever seen in your life."
Grayson told about marching and continually fighting behind waves of bombers — aircraft that could carry several dozen bombs. He was a platoon sergeant in the Intelligence and Reconnaissance platoon of the 8th regiment 4th infantry division.
"As a matter of fact, they were so close to us and in front of us that some of the bombs fell near enough to us that it would shake you up.  We were told that approximately 3,000 aircraft took part in these raids.  We worked our way back through this and took up chase of the Germans.  It was everything but good."
Grayson's group was responsible for taking Cherbourg, a city right against the tip of the Cherbourg Peninsula, where the ships came in and loaded.
"The Germans retreated and we had them bottled up and pushed them right back to the ocean where there was a fortification right on the water," Grayson recorded. "This was built for the war and turned seaward.  These big guns being turned seaward and not toward the land became our salvation."
The group left a regiment there to keep the Germans out on the peninsula where they would either have to starve or surrender.
In pushing toward Paris, Grayson's group was actually nearer the enemy than they realized.   "We had a mission to contact the enemy and we found out that we had actually bypassed the enemy and gotten behind him," he said.  "Well we reported our position back to headquarters and were told, 'Boy, you are behind the enemy and they are coming your way retreating.'  We hid ourselves in haystacks with our vehicles and stayed in those haystacks until the Germans passed through this town.  At this time we came out and joined our original unit."
Grayson said he spent many nights underground in holes, created by using TNT, to avoid enemy fire.  "If you were above ground, you didn't live," Grayson said.
After about three months of fighting, Grayson said his platoon was the "grimiest looking group you'd ever seen. We had on dirty clothes, were unable to bathe, although most of us had shaved" he said. "I lay in a foxhole many a night dug in after we had posted the guards and sentinels, licked my palm, wiped my face and shaved with my spittle.  We were issued a quart of water a day and you didn't waste it on your face.  You drank it."
THE HAUNTING MEMORIES
"During one of our missions, we captured a high-ranking General, some of his high ranking officers and with him were a bunch of female German soldiers," Grayson recorded. "We were in the process of taking these captives back to be interrogated when one of these women seized a rifle to defend her officers.  One of my men who had a Tommy gun cut her in two when he saw her do that.  Her intent was to kill us, but I've always wondered why we couldn't have overtaken her instead of cutting her down with a Tommy gun.  He was probably given an award for it, but I've always thought of it as a bad thing.
"We were pushing the Germans rapidly as they retreated.  As a result we were in columns moving forward.  We broke over a small hill with a small village in the valley below.  We received automatic fire when we broke the crest of the hill.  We retreated about 50 yards back and deployed.  A decision was made that we would not assault the small town."
Instead they called up two support vehicles, a tank destroyer and a tank that fired phosphorous shells.  The support vehicles fired and destroyed the village.
"The (tanks) tore the buildings down and the phosphorous shells set them on fire," he said. "I still have nightmares today about this.  When we entered the town, half of it was destroyed and burning.  At that time, the German nurses met us and were frantic.
"We had burned to the ground an old folk's nursing home killing and destroying everything in it.  The nurses called us all of the names they could think of. 'Murderers' was one, which we were.  This was collateral damage caused by the war and it will bear on this man's mind the rest of his life."
Grayson was in five of five combat campaigns from the day he hit the beach until the war was over.  He served in three branches of the military.  He was in the Army then the Army Air Force and then the Air Force Reserve.  During the Korean War, he served in an advisement group in Korea, advising the Korean people and retired as a Chief Master Sergeant after 30 years in the military.
A PURPLE HEART
During the war, Grayson was hit by a small piece of shrapnel in his left side – it clipped an intestine. He was evacuated back to England where he was stitched up and recovered. He rejoined his unit near the last part of the war.  The Purple Heart was only one of many medals that Grayson received while he was in the military.
"Those things, purple hearts, they are for service," Grayson said from his wheelchair at the Veteran's Home. "They ain't worth a dime to anybody but you."
Grayson's great grandson, Hank Cordell, proved that to be wrong by choosing "Pappy" to honor in a 2015 Veteran's Day essay.  At 12 years old, he recognized the significance of what his great grandfather had done on the shores of Normandy.
"After hours and hours of fighting, the allied soldiers finally got off the beach and headed into Normandy," Hank wrote in his report about Grayson. "This very victory caused a complete turning point in the war. Now allied forces (could) send supplies, armor, guns and soldiers.  I honor him and respect him for what he did.  He and others (are) the reason that we are free."
Grayson was married twice. His first wife, Eve died of cancer.  His second wife, Mattie Tisdale, is now also deceased.  Mattie had two children, Tommy Smith and Cheryl Lynn Smith.
Tommy's daughter, Misti Cordell, said that later in life her grandfather still has strong opinions about war.   "When the Iraq War started, I said 'Pappy, what do you think about it?" Cordell said. "He said, 'War is never good, but sometimes it's necessary. It changes a man and many times it changes them for the worst. But he said, 'If you don't fight them over there, you're going to have to fight them on your own turf.'"
"YOU CAN'T FORGET"
On the 72nd anniversary of D-Day, Grayson was surrounded by family and visitors at the Veterans Home in Monroe.  He hadn't realized it was June 6th.
When asked about his thoughts on the invasion, Grayson didn't really want to discuss it, but he did – to a limited degree, pausing periodically and thoughtfully to interject his emotions while he slowly recalled the horrific battles playing over and over in his mind.
"I don't like to talk about it. It doesn't do any good to talk about that stuff.  All it does is aggravate you," he said. "I try to forget all that.  If you remember, you remember.  Some of those things you can't forget."