Soup's On
By Melanie Moffett
Oct 26th, 2015
0 Comments
895 Views
article by Meredith McKinnie | photography by Martin G Meyers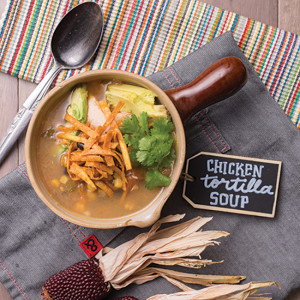 Vieux Carré Market
Vieux Carré Market is a full service market and deli open Tuesday & Wednesday until 7 pm and Thursday-Saturday until 9 pm. They love to cater parties and create baskets for gifts stuffed with wine, cheese, cuts of meat and various liquors. Customers rave about their pizzas, particularly their scrumptious crusts. Just tell them what toppings you want, and they'll make it.
Don't forget Vieux Carré on your Christmas lists. Gifts include: wine, cheese, cutting boards, local goods and local cookbooks, including all the cookbooks from famed New Orleans chef, John Besh. Some upcoming events include a wine and cheese party featuring the Cypress Grove Cream Line later this calendar year. Early next year, a beer and wine tasting will be featured with chef brothers Adam and Tommy Waller from The Oyster Bed in Ponchatoula, Louisiana. Vieux Carré enthusiasts can also shop daily in the market featuring local produce, seafood, and of course, only the best meats and cheeses.
Chicken Tortilla Soup
2 tbsp extra virgin olive oil
1 sm yellow onion; diced
1 bay leaf
8 whole black peppercorns
6 cloves garlic; minced
2 sm jalapenos; sliced
1 15.25 oz can corn; drained
1 15.25 oz can black beans; rinsed and drained
4 sm tomatoes; cut in halves
7-8 cups chicken broth
3 lb whole chicken; cut into quarters
1 cup cilantro leaves; rough chopped
1 lime; juice
Directions:
Add EVOO to stock pot on medium high heat. Add onion, bay leaf and peppercorn. Saute until onions become somewhat translucent. Add garlic and jalapeno; stir for 30 seconds. Add chicken broth and chicken; turn to high heat. Boil 30-40 minutes until the chicken is cooked. Remove chicken; set aside to cool. Add cilantro and lime juice; stir for 30 seconds. Turn off heat. Shred chicken and add back into pot; discard the bones. Garnish with avocado slices and tortilla strips.
Trio's Dining
  Having been in business for the last twenty years, Trio's has become known as your local neighborhood restaurant and bar. With an eclectic menu featuring pizzas, pastas, steaks, sandwiches, fish, and even food with a Mediterranean flair, Trio's has something for everyone. The seafood gumbo is served daily, and two soups are rotated each day including: the loaded baked potato featured here; homemade chicken noodle; tomato basil; chicken, spinach and artichoke; and broccoli and cheese.
Trio's provides a family friendly atmosphere throughout the day and early evening. Later on, it becomes the hotspot for local and out of town patrons who routinely call Trio's their meeting place. The restaurant provides an ambiance of elegance and sophistication while still having the cozy elements and familiarity of home. Trio's invites you to "make friends where friends meet."
Loaded Potato Soup
2 potatoes (peeled)
1 cup of chicken broth
1 quart of heavy whipping cream
¼ cup of green onions
¼ cup of bacon
¼ cup of cheddar cheese
Salt and Pepper to taste
Directions:
Peel and dice potatoes. Boil until tender. In a pot, heat chicken broth to a boil. Add whipping cream and drained potatoes (save the starch water and add a small amount to desired thickness). Heat to a boil and reduce heat to simmer. Add green onions, bacon, cheddar cheese and salt and pepper. Simmer for 15 minutes.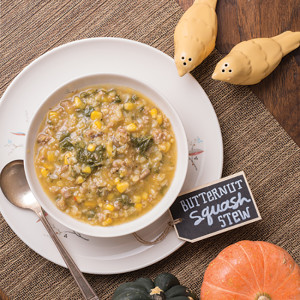 For His Temple
While For His Temple Family Foods is new to the Antique Alley area in West Monroe, only having been open for a little over a month, Dana Milford has created a healthy, tasty alternative to standard cuisine. Her passion for food and cooking is combined with helping people who are busy eat better. The meals provided by For His Temple are gluten-free and close to 100% organic. All meats are pasture-raised, toxin-free, with no antibiotics or hormones. Dana provides various clean food options focusing on allergen-free, dairy free, soy free, limited dishes with nuts, and she is careful about cross contamination.
For His Temple is open Monday-Friday from 10:30 am – 6:00 pm, all take-out, with chef specials each day. Standing menu items are provided with full nutritional details, along with a small market of snacks, grocery items and dairy items along with the same meats she uses in her meals and purchased from local farmers.  In the not too distant future, organic produce will be available. With new customers arriving daily, Dana is filling a much desired need for the public: "This is the answer to prayer…You have no idea how I've been waiting for this," are some of the comments. One customer at a time, Dana Milford is proving food "can be good for you and still taste good."
Butternut Squash Stew
1 large organic Butternut Squash
2 tbsp coconut oil
1 large organic yellow onion; finely chopped
1 lb pasture raised breakfast sausage
1 ½ tsp red pepper flakes
12 oz frozen organic corn*
2 cups cooked organic brown jasmine rice
5-6 large organic mushrooms; sliced (about a cup)
2 1/2 cups organic Kale; stems removed and torn in bite size pieces
32 oz pasture raised/organic chicken broth
Salt and pepper to taste
Directions:
Slice squash in half lengthwise.  Scoop out seeds.  Place cut side down in a baking dish.  Add 1″ water.  Bake on 375 for about 45 minutes until soft.  Let cool.  When cool enough to handle scoop all flesh out of the peel, set aside.  Discard peel.
In a Dutch oven, heat coconut oil over medium heat.  Sauté onions until soft, about 5 minutes.  Add sausage & red pepper flakes, cook until brown.  I leave the sausage in pretty big chunks; I like big sausage bites in my stew.  Stir in the corn, rice, mushrooms, kale, chicken broth, squash and seasoning.  Simmer for 30 minutes.
Serve with gluten free cornbread or crusty rolls.  Thick & chunky belly warming stew.  Sooo good. Freezes well
    *Note:  Can substitute 2-3 large carrots, peeled & chopped fine or English peas for the corn.  
Trapp's
Located at the foot of the Endom Bridge in West Monroe, along the scenic Ouachita River, Trapp's has been luring Louisiana food enthusiasts since its recent opening in March of this year. General Manager Colby Mardis describes the menu as "legit Cajun," with patron favorites such as the seafood nachos, the gumbo, the seafood platter and the shrimp platter. The coveted seating on the patio provides a view, both soothing and natural, almost as if one is dining on a boat with the current drifting by.
Trapp's is the perfect blend of Cajun flair that explodes on your taste buds with each bite. Colby took his culinary degree and created the special Trapp's gumbo recipe featured above. Both Mardis and owner Joey Trappey knew the Cajun theme at Trapp's required a gumbo staple. And the rave reviews have sealed the approval with comments such as: "this tastes like gumbo from down South." If you haven't sampled the Cajun cuisine, come let the eager to please staff suggest some menu favorites, and treat youself to a genuine taste of Louisiana.
MawMaw's Classic Chicken and Sausage Gumbo
3 yellow onions diced
3 green bell peppers diced
3 bundles of celery diced
8 cloves of garlic chopped
4 pounds of andouille sausage
5 pounds of chicken thigh meat (can use breast as well)
4 tbsp Dry Parsley
4 tbsp Dry Thyme
Garlic powder tt
Onion powder tt
Cayenne pepper tt
White pepper tt
Black Pepper tt
Salt tt
4 Bay leaves
Directions:
 Chicken stock: In a stock pot, add whole chickens with onions, celery, carrots, black peppercorns, salt and bay leaves. Cut veggies in big pieces. Cover with water. No need to dice since this is the chicken stock.   Bring to a boil then simmer for two hours. Pull the chicken out and de bone. Set chicken aside.
Roux: Equal parts fat and flour. Use vegetable or canola oil. I use more flour than oil to get a thicker roux. In a cast iron skillet combine fat and flour and heat on medium high. Stirring constantly. Cook until it's a little darker than peanut butter. I go darker but you have to be very careful not to burn it. Could take up to 45 min.
 Big pot: Sauté veggies until tender add water and stock to pot bring to a boil, add roux stirring until its well incorporated then add the chicken and sausage. Simmer for 4 hours stirring occasionally. Now, you don't have to cook it that long. It will be ready to serve after an hour. Just know the longer it simmers the better it will be! Serve over rice and enjoy!