Spring Into the Grow Season with Seeds
By Melanie Moffett
Feb 1st, 2016
0 Comments
336 Views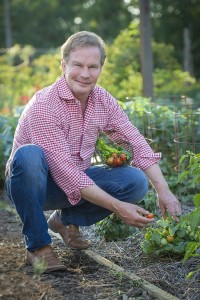 article by P. Allen Smith
Spring is just around the corner, but if you are like me, cabin fever has already set in and you are counting down the days until you can get back into the garden. Seed starting is a great way to get a jump on your garden plans, and keep your green thumb busy during those last, long winter months. You can easily gain four to eight weeks in your garden starting seeds indoors and transplanting seedlings in the spring. The process is easy, and there are many great vegetable varieties that respond well to seed starting. Here are just a few things you need to know before digging in…
Containers. You can sow seeds in almost any container you have on hand. Keep it simple and use plastic flats or trays from last year's planting. Clay pots or compressed peat pellets will work as well. If you want to DIY your containers consider using egg cartons, cut-off milk cartons or plastic jugs. Just drill drainage holes in any container you select. Also, wash all containers thoroughly in soapy water and disinfect them in a solution of one part bleach and nine parts water before planting.
Soil. It's best to use loose, fertile, disease-free soil for seed starting. I recommend the packaged potting soil — it works well and is super easy. Slightly moisten your soil in the potting container before sowing the seeds. Then, evenly space seeds onto the surface of the mix, and cover the seeds to the depth indicated on the seed pack.
Timing. Gauge an approximate time when your climate will have its last frost, you can find this out by checking with your county cooperative extension service or local garden center. After you have determined the last frost date, check on the back of your seed packets and find out how long each variety will take to germinate. Mark the last frost date on a calendar, and then count back the number of weeks needed for germination and that is the date to start the seeds.  If you want the seedlings to be larger and stronger when you plant them, you may want to start them indoors earlier than recommended. This time frame will vary from plant to plant, so if you are planning to start many different plants, you may be sowing seeds at different times. I find it helpful to keep a journal or calendar, and have all of the seedlings labeled to minimize confusion. Seedlings will be ready to transplant into larger individual containers when they gain their first set of true leaves.
Temperature. Soil temperature is critical when seed starting. Soil that is too cool halts germination, so you want to aim for soil that is around 75 degrees until the seedlings have emerged. To maintain this soil temperature, I use an electric grow mat under my trays. There are many online sources for these, and they start at $20 or so. The air temperature in the seed starting room should be between 70 and 75 degrees during the day, and no cooler than 60 to 65 degrees at night.
Water and Light. Once your seeds are planted, water the soil gently until water drains from the bottom of the container, but be very careful not to wash the seeds away. Cover the soil surface with plastic until the first seeds begin to sprout. Once the seedlings emerge, remove the plastic cover and move containers into the light.
Now that you have the basics on how to start a garden of seeds indoors, here are a few of my favorite vegetables to get an early start on.
Cool Season Plantings
Baby Broccoli 'Aspabroc' (Broccolini®)
Branded as Broccolini® in the produce section of your grocery store and on restaurant menus, 'Aspabroc' resembles a broccoli raab with an asparagus stem, and offers a mild taste. This petite broccoli is a must because it is so easy to grow and requires very little space. (50-60 days to maturity from transplant)
Broccoli 'Green Magic'
This early spring through fall traditional broccoli has a semi-domed, tight head. (75 days to maturity from transplant)
Cabbage 'Stonehead'
'Stonehead' is a purple and green early, medium–headed variety with tip burn tolerance, and excellent flavor and texture. (45 days to maturity from transplant)
Warm Season Plantings
Okra 'Jambalaya'
'Jambalaya' okra matures very early in the season and offers a high yield. The compact plant is ideal for home gardens. Harvest often. (50 days to maturity from transplant)
Eggplant 'Shikou'
'Shikou' produces a long Asian–shaped eggplant with dark, glossy fruit, tender skin and very few seeds. (70-80 days to maturity from transplant)
Tomatoes
Cherry Tomato 'Sweet Treats'
'Sweet Treats' produces a large, round cherry tomato with a deep pink hue and rich flavor. (65–67 days to maturity from transplant)
Cherry Tomato 'Red Robin'
This compact, well-branching plant produces high yields of bright red, one-inch cherry tomatoes. (55 days to maturity from transplant)
Grape Tomato 'Sweet Hearts'
'Sweet Hearts' offers high yields of bright red oval fruit with excellent flavor and good shelf life. (60 days to maturity from transplant)
Tomato 'Red Pride'
This consistent performer produces large, deep red fruit with a good blossom end. (78 days to maturity from transplant)
Tomato 'Charger'
This low maintenance plant produces large, deep red colored fruit with great texture and excellent flavor — perfect for slicing. (72 days to maturity from transplant)
Peppers
Pepper 'Jalafuego'
It doesn't get hotter than 'Jalafuego'! This is a vigorous plant with high yields of extra large, smooth, dark green fruit. (70 days to maturity from transplant)
Pepper 'Cheyenne'
This early-maturing plant produces very attractive cayenne peppers on a compact plant. (65 days to maturity from transplant)
Sweet Pepper 'Right On Red'
'Right on Red' matures early and delivers continuous high yields. (65 days to maturity from transplant)
Sweet Pepper 'Majestic Red'
'Majestic Red' produces a fantastic bell pepper that matures to a large, smooth fruit with bright red skin and a thick, crunchy texture. (75–85 days to maturity from transplant)
Sweet Pepper 'Grenada'
This variety boasts large mild-flavored fruits that are perfect for frying, grilling or stuffing. (80 days to maturity from transplant)