Style in the Bag
By Melanie Moffett
Aug 25th, 2014
0 Comments
788 Views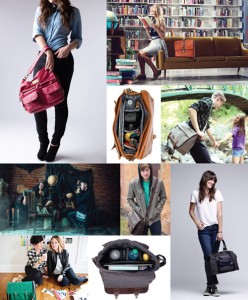 article by Tamour Allen
I am sure it was a skilled fashionista who once said that the only thing that separates us from the animals is our ability to accessorize.  The purse being the star attraction in this fashion arena can make or break a personal statement.  Another aspect of the accessory quandary is finding – the practicality of carrying everything that we need in this busy world – in one simple bag.   Happily for us, noted Ruston-based photographer Kelly Moore, developed the perfect solution to both of these vogue problems in one delightfully beautiful accessory.  Kelly Moore Bags in Ruston shows us how to be classy yet functional with designer bags that were meant to inspire.  What began as an idea to provide herself with the kind of operational bag a professional photographer needed, add that with the sensible features that a mother would require – and it quickly became a sellout success.  It all began in 2009 as a dream Kelly and her husband (also named Kelly) had.  As things moved quickly from their modest concept to the nuts and bolts of design, she explains while she could sew a button on, she had no experience with manufacturing or any knowledge what so ever of making purses.  Kelly admits that aside from sounding slightly clichéd, she and her husband felt that it was similar to the belief of having God in one's life. If things were meant to be, they would happen, and if not, everything would still be alright.  Starting out not having the vaguest notion of how to bring their vision to fruition, they simply asked friends if anyone knew of someone who could assist them in their novel endeavor. Then, almost as if by a small miracle, someone gave them a name of a man who might be able to help with the creation side of their conception. They called him and as she explains, "We immediately hit it off.  At first he was slightly perplexed as to our somewhat unconventional notion, although I was very happy that he was quickly able to take the picture that was in my mind and transform it into an actual object." She also says they had such a great meeting of minds that he is now actually a business partner, although she quickly adds she fully owns the Kelly Moore Bag business.
Everything else is history as they say and within a year they launched their site.  They took orders on the first style of Kelly Moore Bag and sold out in two months. By 2010, they were shipping orders from their garage.  They have since grown by leaps and bounds, and in January 2013 they purchased and renovated a 100 year old building in historic downtown Ruston, that is now their headquarters and showroom store.
While everyone desiring a Kelly Moore Bag is the accessory crafters desired effect, true happy success is achieved when a designer gets notice and adoration from those in the celebrity set.  Recently, the Cooking Network's country style kitchen show, The Pioneer Woman host, the lovely Ree Drummond, has become smitten with Kelly Moore bags as well.  She raves about her Kelly Moore Bags purchases from her wildly popular blog and brags especially on The Libby Bag, saying this, "Though the bag is gorgeous on the outside, the real beauty is its interior. And, in terms of quality, I've had the same bag for a while now, and you can hardly tell it isn't brand spanking new.  And the (satin) lavender interior…well, it's just gorgeous.  So if you need a really, really good bag for travel or business or just everyday run-around-town use, you can rest assured this will stand the test of time. I really can't imagine using a different bag anytime soon." Ree also adds that, "This bag garners more compliments when I'm out and about than any bag I've carried in recent history! It's purty."
If you happen to be of the male species reading this, please don't let the previous woman talk make you feel left out. Kelly Moore Bags are clearly not just for women. For one, Kelly Moore has designed the Kelly Boy bag (named after her husband) that a photographer, traveler, professional or student would appreciate, minus the featureless, boring style of most career bags. The pragmatic features of the Kelly Boy bag include a magnetic front flap and three padded Velcro dividers that can be configured to fit specific individual needs, such as a camera and all the accessories.  Of course, by way of pockets it also has all the bells and whistles that working men need to stay organized as well. Additionally, the Kelly Boy bag's water resistant exterior comes in brown, caramel and the perfunctory black.
The Kelly Boy bag is not the only bag Kelly Moore bags have designed for men.  There are also gender neutral bags that have the capacity to make both men and women feel well packed and ready for whatever comes their way.  One such bag is the Jude Bag that has a showy exterior of gray canvas and black leather trim and sports exclusive antique brass hardware, reminiscent of old school doctor bags.  The spacious interior can carry quite a lot of gear efficiently with the adjustable eight pocket Velcro compartments.
The latest bag that Kelly Moore is thrilled to bring her devoted fans and customers is the "A Beautiful Mess" Bag. Collaboration began when Kelly Moore got together with Elsie and Emma, a vibrant and lively pair of sisters who run A Beautiful Mess Blog.  Together they own the woman's lifestyle company with the altruistic dictum of blogging on "creating happiness through a homemade lifestyle." Their sprightly home spun company also features apps, books and online courses. The entrepreneurial trio collaborated for over a year and devised an innovative yet lovely bag. They desired something similar to the vintage style satchels that they adored so much, but with the ability to fit their photography equipment and laptop, but also all the small objects that roll around in our purses.  So, they came up with the A Beautiful Mess bag, which includes adjustable exterior straps and also accommodates all the aforementioned objects, including iPads as well as baby things.  The bag's generously spacious interior accommodates lens holder, camera and all additional pieces and has removable and adjustable Velcro dividers, also in the pretty striped lining.  Elise says the bag works very well as a carry on for airplane travel since it easily fits under the plane seat. The Kelly Moore A Beautiful Mess bag has a very roomy interior, and Elise brags she even used it recently as the sole bag on an extended trip.
Kelly says that while they have been blessed with a thriving business, she and her husband feel that staying humble in the face of success is the only way to go.  The couple and their three children still live in Ruston on their small farm and enjoy the simple existence that comes from small town life.  She believes that while there are a lot of bags on the market today, customers appreciate and gravitate toward the merchandise that is not mass produced and more importantly has an actual face behind the product.  Just speaking with her gives one the instant impression there is much humility and unpretentiousness in such a young and yet successfully imaginative couple. Kelly and Kelly Moore seem to be able to remain down-to-earth, while still fashioning this grand idea to provide customers with an outstanding and useful product.
With creativity and an innovative spirit, Kelly Moore has shown how to carry all accessories with sophistication and flair, as well as offering effortless functionality!  Kelly Moore Bags supplies bags for women, men, professionals, students and just about anyone who needs to carry everything from hiking equipment to laptops to school books and all the way to baby gear.  For those wanting to make a hued fashion statement, most bags come in 50 striking colors to match any season or mood. With free shipping on all bags to boot, who could ask for anything Moore!