Sugar and Spice
By Melanie Moffett
Nov 30th, 2015
0 Comments
644 Views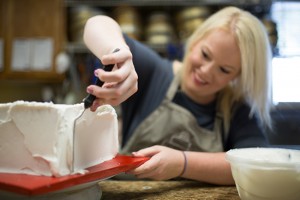 From cake camp to creating confection masterpieces, Morgan Garrison is continuing the tradition that her mother started at KaCee's Sugar and Spice.
article by Tabby Soignier | photos by Martin G Meyers
It's the most wonderful time of the year.
If it were up to Morgan Garrison though, Christmas would be year-round. Only then could she live out her first idea of a dream job. "I just want to decorate Christmas trees," Garrison said with as much animation as a kid seeing what's under the tree on Christmas morning. "My mom said, 'That's not a year round job. Let's get a little more realistic.'"
What mama says, daughter does and that doesn't just go for the obvious career advice. After growing up watching her mother bake everything from cakes to cookies for friends and family as a side job, Garrison fell right in line.
It may not be decorating Christmas trees, but every day is almost like Christmas for her – being able to decorate something that will be the centerpiece for birthday parties and weddings and watching the smiles she brings to every customer that picks up their order from KaCee's Sugar and Spice bakery in Ruston.
"I always stress the most important part of this job is not how many cakes I can make in a weekend. It's not the money or the glory or how many pats on the back," Garrison said. "It is by far being a part of that person's special day. It is so important to me."
As a student at Ruston High School, Garrison joined the family business during her free time, baking side by side with her mom KaCee – the namesake of the bakery – and like a recipe, she started from scratch.
She bought her first Easy Bake Oven at a garage sale, so she had the equipment, but she didn't have the ingredients to go with it. She would see her mom baking and ask for a sample size to go in her tiny pan and send it through the tiny conveyor belt.
"It was very soon I was like, 'I don't want to play with this kid stuff. I want to play with the big stuff. This is for the birds,'" Garrison said. "I want the real stuff."
Her mom took the opposite approach. She was a business woman as a human resources director for a company in town, but the grown up job of sitting behind a desk in the corporate world didn't work for her either.
KaCee wanted the fun loving job that felt more like a hobby – since it started out that way in the first place. She would sit Morgan down with their pans and show her how to pipe and scrape the icing until practice became perfection. Before Morgan was even a teenager, she was elbow deep in cake batter and icing once her mom quit her job to focus on a bakery full time.
"She was a businesswoman, then on the inside she was this creative little monster making cakes," Garrison said. "I was probably 12, and my stepdad said (to her mom), 'Look, if you take all of your cake stuff and get out of this house with it, I will build you a kitchen.' So he took his garage where he had his race stuff, and he said, 'I'll build me a new shop, and you can have this.'"
The two-car garage became one big baking operation and while other girls were attending cheerleading or dance camps, Garrison was going to cake camp, yes, there is such a thing.
For nearly a decade, the garage-turned-bakery became more of their living quarters, spending countless hours churning out not just cakes and cookies but catering events as well. It was almost like a set for a reality show. Shows like Cake Master on Food Network meets the southern charm of the girls in KaCee's Sugar and Spice shop.
"If these walls could talk, you would see blood, sweat and tears," Garrison said. "You would see laughing and cutting up. The greatest years of my life are from high school working with my best friends. There would be three or four of us out here at one time and then working beside your mom.
"You want to kill her at times but you can't stay mad for long because you have to tell her something."
Garrison graduated from Ruston and attended Louisiana Tech where she majored in merchandising and consumer studies. During her college years, her mom had to undergo back surgery,  so her first hand at managing a business came a little earlier than expected on top of juggling school work.
She knew how much she loved the art of cooking and helping make people feel special on their most important days, but at one point she became overwhelmed and wondered if this is what she was meant to do for a lifelong career.
She had made up her mind to move away and see the world outside of Ruston,  and in return she and her mom decided to close up shop.
Then, as Garrison puts it, God put his finger into her plan, as if he was taste testing one of her delicious cakes. The product and overall talent was just too good.
"For nine months, word got around that I was closing, and in those nine months I have never had as much change in my life as a person could," Garrison said. "My stepdad got sick. My sister got sick. The business took on a different meaning. I didn't just work here anymore. I was becoming part owner.
"I thought at one point this isn't what I was supposed to do, but God had his finger in it and was like, 'OK, you can be hardheaded for a little while, but I'm going to show you every step of the way. What you're looking for and what you're praying for is right here."
Garrison's stepdad ended up passing away in 2014. He was at work, doing what he loved, when he took his final breaths. In the tragedy, Garrison found her answers from seeing the blessing of doing a job you love, on top of the conversations she had with her stepfather and his fingerprints all over the bakery.
"I remember a conversation we had probably the week before he died, and he had watched me for years," Garrison said. "He said, 'Baby, this is what you're supposed to do. We're going to support you in anything you do, but this is what you're meant to do.'"
If that wasn't enough, she received affirmation while at a cake camp taught by Marina Sousa. The sugar artist is well known on Food Network and her appearances on the Oprah Winfrey Show, but Garrison just refers to as her "cake idol."
If that wasn't enough pressure to bake and design a cake in front of Marina, Colette Peters walked into the room, too. Peters got her start working for Tiffany and Company and later designed "sugar scenes" for the White House displays, as requested by then-First Lady Hillary Clinton and later the Bush administration. She's also baked cakes for numerous celebrities over the years, including Bette Midler, Whoopi Goldberg, Al Pacino and The Rolling Stones.
"She is like a cake queen," Garrison said. "Marina called me out and asked me to come up. She introduced me to Colette and said, 'This is Morgan Garrison. She's from Louisiana. I've had her in a couple of classes, and she's one of us.
"My whole everything came true. That was a turning moment."
Garrison, now 25, is way too humble to believe she is on the same level as some of the best in the business, but her artist mindset sets her creations apart with their extraordinary shapes, colors and decor.
Unless it's a unique situation, Garrison refuses to do sheet cakes – which she admits is all she knew on birthdays growing up, despite her mother being a talented pastry chef. It's all a lot of people knew before the age of Pinterest – a website that Garrison calls a blessing in disguise.
It's where she gets a lot of her ideas, but it's also where people can get a heightened sense of expectation. A cake posted from a celebrity wedding and likely made by Colette Peters or Marina Sousa is all of a sudden a reality for a Ruston-based bakery and customers with a far different budget.
What Garriston creates is art – albiet art that is meant to be cut into and eaten. It's often hard to make that first slice.
Her multi-tiered wedding cakes speak for themselves and range from sparkling with glitter all the way  to the intricate flower artwork.
Her birthday cakes take on a life all their own with 3D animations of Ninja Turtles to farm animals to her latest favorite–a Hot Wheels themed cake. That's saying something in itself, seeing as she puts the most pressure on herself when it comes to boys' birthdays. Garrison is what she calls a "froo-froo girl" and as much as she wants to bang her head into the wall at the request for yet another cake of Princess Elsa from Frozen, it comes a lot easier to her than getting on a boy's level.
That's the way she puts it, but the finished product for any male-related cake comes out looking as if there wasn't a single ounce of stress in the making. That doesn't end with just birthdays, either. She's had some odd requests for grooms' cakes, too.
One of her latest masterpieces was for a bull rider and she re-created the Las Vegas sign – suspended over the cake and all edible – with a silver belt buckle resting on the cake itself … again, all edible.
"Kids' birthday cakes are my heart," Garrison said. "I always tell people, if you made it to Instagram (kmorgangarrison and #kaceessugarandspice), you touched my heart that week.'"
As her idols said, "she is one of us," but that also rings true as just another human wanting to do good in the world. It's where the "sugar" comes into the Sugar and Spice title. Garrison's eyes light up talking about a customer who has ordered every birthday cake for her daughter through KaCee's Sugar and Spice.
The baby turned one when Garrison was getting more involved with her mother in the bakery.
The "baby" turned 13 this year, and Garrison knows when Halloween rolls around, the customer will be calling to place her order and her wheels are already turning thinking about what she can suggest to top the previous year's cake.
When it comes to weddings, she doesn't just stop with the cakes. She also offers catering for a full fledged presentation and always makes sure that she is the one to sit down with the bride – or any other event's host – and asks as many questions as it takes to make sure they get exactly what they want on their special day.
"I always tell them, 'It's your day,'" Garrison said. "This whole event should represent you and your spouse. It shouldn't be about, 'Well, Aunt Sue doesn't like this.' Don't try to worry about society's standards for a party. Have fun. That's so important for me."
The day that Garrison heard one of her cake idols say she was one of them, it was a dream come true. But really, every morning that she wakes up and looks forward to going to work, is a dream in itself.
Not everyone has that, and the look on people's faces when they see how Garrison brought to life the ideas they had in their heads is the best payment of all.
"I could ride a unicorn to work every day, and people are like, 'You need to be more real,'" Garrison said. "I'm a dreamer. I always believe it's going to work out. It'll all work out, and it'll be fine."
That outlook on life is developed from her advice in life.
"Just be nice," Garrison said. "Everything pays off. Being nice will count in the end. Seeing customers over and over again, you know you're doing something right. It's the relationships I focus on the most. Treat others the way you want to be treated."
It's the golden rule and the Garrison rule – that and don't leave a dirty kitchen on your way out to hitch a ride on your unicorn.
    To see more creations from KaCee's Sugar and Spice, visit www.kaceesruston.com. To place an order, call (318) 255-6771.