Sugar Shack
By Melanie Moffett
May 26th, 2015
0 Comments
513 Views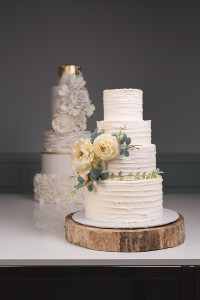 Social Bites of Ruston
article by Mary Napoli | photography by Martin G Meyers
This is the giggly part!" says a pig-tailed, five-year-old to her mother as she licks the top of her chocolate cupcake.  The sugar-induced grin reveals exactly what "the giggly part" is–icing.
Social Bites is nestled in the heart of Downtown Ruston and has a well-deserved reputation for the creating confections that are as incredibly beautiful as they are delightfully delicious.  Each day, dozens of locals pass through the candy-colored doors in search of sweet-tooth satisfaction.  Some ponder the menu, which hangs overhead and displays the special flavors of the day.  Other customers approach the counter on a mission to retrieve the mouth-watering treat they are jonesing for.  No one leaves unhappy.
Heather Bailey, owner of Social Bites and candy-coated genius, is as much a smile maker as she is a cake baker. Since opening the bakery in 2008, the confections that come from her kitchen are simply magical.  They can transform any full grown adult into a giggling child with one bite.
Bailey is part of a generation of self-taught entrepreneurs that learned from experience, web-based research and the sheer will to succeed.  She came of age during the foodie explosion, when every television was tuned to Food TV, and the average American was becoming interested in expanding their palate and culinary knowledge.  These cultural trends influenced the naturally entrepreneurial Bailey, who is genuinely artistic in many ways.  However, her childhood experiences in the kitchen also left a lasting impression.
"Yes, I really did have an Easy Bake Oven," laugh Bailey. "I wore it out! I always wanted to experiment."
Her desire to experiment with flavors and textures remains, thankfully, and presents itself in cupcake flavors like margarita, s'mores, cookie dough, salted caramel and key lime.  Her menu features tried and true favorites, like vanilla, chocolate, strawberry and red velvet.  However, daily specials include more adventurous selections like peanut butter, banana pudding, Italian creme, carrot, lemon blueberry and cinnamon, among others.
"We bake around 500 cupcakes each day," notes Bailey.  "Those cupcakes are made to fill our orders and the shelves in the storefront.  We come close to selling out almost every day."
Social Bites may have a stellar reputation for killer cupcakes, but Bailey and her team create much more to tempt the tastebuds.  Decadent brownies, various cookies, delightful rice crispies and French macarons that are absolutely unforgettable bless the menu.  There are even gluten free and paleo options for those with dietary restrictions.  Taste reveals that Bailey uses quality ingredients, and presentation is just as important.  Each confection is a work of art.  Garnished with a sugared flower, sprinkled with the colors of the rainbow or dusted with shimmering gold, every dessert is a feast for the eyes, as well as for the tastebuds.
When it comes to cakes, the bigger, the better. They produce ten to twelve specialty cakes per week, which includes technicolor, multi-tiered birthday cakes in any flavor imaginable and theme. However, Bailey loves to bake for any occasion and often gets unexpected orders that bring excitement to the kitchen.
"We do cakes for baby showers, graduations, communions…gender reveal cakes are becoming popular," she explains.  "But we can help celebrate any occasion.  I've even done a zombie themed cake.  It was a fun challenge."
The most challenging cake that Bailey creates is also the one that allows her to display her talents best–the wedding cake.  Brides from all areas of the state call on Social Bites to bring their wedding cake dreams to reality, but most of her bridal clients are found from Monroe to Shreveport.  When it comes to designing these special cakes, Bailey has a unique approach.
"I don't have a book of sample cakes like some bakeries.  I want to encourage originality and let the couple incorporate their own individuality.  When I sit down to design the cake with the bride, I tell her to bring in pictures that inspire her or to create a Pinterest board with ideas.  I usually incorporate a pattern or the theme of the wedding or even the couple's new address.  I like for it to express who they are as a married couple."
Bailey is not only talented at designing stunning cakes, but she also knows how to creatively handle a crowd of any size.  Social Bites has a large Instagram following, and Bailey was recently contacted by a bride who had become a fan of her work pictured on the web.  She contracted Bailey to take on her wedding, which would take place near New Orleans.  When Bailey learned that the bride's family was happily spending a whopping sum of $3.5 million on the affair, she could hardly believe it.  A wedding cake to complement this event would be her largest creation to date.
"The royal couple had just been married, and the bride wanted a replica of Prince William and Princess Catherine's cake.  This cake had 27 tiers.  It was a huge undertaking and a massive construction.  We had to drive a U-Haul to the wedding location just to transport all of it!" Bailey recalls. "It was too risky to make that huge of a cake completely edible, so parts of the large cake were iced and decorated, but we used another cake to serve.  It would have been difficult to physically slice a cake of that magnitude, so we brought additional cakes to slice in the back and serve to the guests.  There was a huge guest list, so we had 500 slices of cake, 500 beignets, and 500 assorted desserts, like mini fruit pies and pralines, that were chosen by the bride.  It was a really impressive wedding.  It was so big, the press thought it was Beyonce's sister's wedding!"
Although Social Bites has quite a following and an incredible future in store, Bailey truly enjoys her Ruston location.
"I do love our space here downtown.  It allows me to make super custom creations for people, and I want them to be as satisfied as possible," says Bailey. "There is a really personal element to this, and I love helping people to celebrate with wonderful treats to enjoy.  If I didn't love it, I wouldn't do it."
There is no doubt that people love what Bailey does, too.  Even on a regular Tuesday afternoon, she is turning away customers an hour after closing time.
"They are closed?" laments a couple who have driven from across town to enjoy some goodies. "I've been thinking about these cupcakes all day long," says the woman with a sign.
"Come back tomorrow!" Bailey calls as she peeks out from behind the door.  Her smile seems to ease the woman's disappointment.
"You know I will, sweetheart!" she answers.  "I can't stay away from this place."
Social Bites is located on Park Avenue in Downtown Ruston.  Explore the menu and the many magical possibilities of the bakery on their website, www.socialbitesofruston.com, or check them out on Instagram or Facebook.