Summer Camp
By Melanie Moffett
May 8th, 2017
0 Comments
319 Views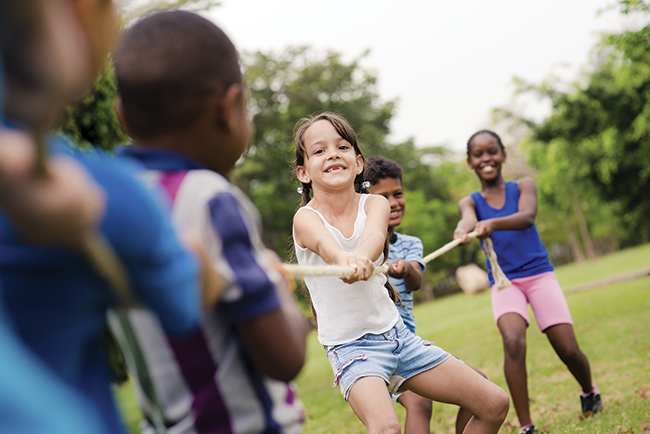 LOOKING FOR THE PERFECT SUMMER CAMP FOR YOUR LITTLE PERSON? THANKFULLY SUMMER CAMPS ABOUND FOR CHILDREN AND YOUNG ADULTS IN NORTHEAST LOUISIANA.
ARTICLE BY NILS BORQUIST
And so with the sunshine and the great bursts of leaves growing on the trees, just as things grow in fast movies, I had that familiar conviction that life was beginning over again with the summer." So wrote F. Scott Fitzgerald early in The Great Gatsby, wonderfully capturing the feeling that the summer months deliver the opportunity to reinvigorate life. While perhaps wishful remembrance of missed childhood for adults caught in the drudgery of work, for children, this sensation is renewed during those short years of life free from the constraints of money, time and responsibility. Unfortunately, for many youth the hours of summer are whiled away playing video games, texting or uneventfully staring at a television screen, lonesome activities that deprive them of sun, interaction and the chance to make new friends; however, there are oases in sight. In our region, 2017 summer camps abound for children and young adults that promote learning, attempting new experiences and community building through art, enhancing critical thinking skills, athletics and outdoor activities.
Nurturing artistic and creative expression may be one of the most important yet underestimated and underdeveloped aspects of children's growth. Three camps in particular seek to invest in such development. First, with a focus on dramatic arts, the Strauss Youth Academy for the Arts (SYAA) (www.syaaonline.com), located at 1300 Lamy Lane in Monroe, will be offering several summer workshops, such as the Charlie's Sweet Chocolate Experiment, Moana's Island Adventure and The Mad Scientist's Timey Wimey Adventure, for children aged 5-12. Each workshop has a special focus: song and dance, set design, acting and even science and theatre. For youth aged 13-18, Walter Allen will oversee a workshop, Auditioning for a Musical, meant to instruct aspiring actors and students to better understand the auditioning process.
Continuing in the realm of art, The Masur Museum of Art (www.masurmuseum.org), located at 1400 South Grand in Monroe, provides the opportunity for children to enhance and develop skills, such as drawing and painting, while also offering lessons in sculpture, printmaking and designing. The classes are available over several weeks for children aged 5-12. In West Monroe, at 106 Summer Lane, MoJoy Studio (www.mojoystudio.com) also offers children the chance to bolster their creative abilities. Offering art camps for various age groups, MoJoy summer workshops are built to give children the chance to paint, create collages and even study leadership skills.
The development of critical thinking skills must be considered of the utmost importance for growing minds. Children who are afforded the opportunities to heighten and hone such abilities certainly will have greater chances of success as they move forward in life. With that in mind, Bricks 4 Kidz (www.bricks4kidz.com) was inaugurated for the purpose of giving children aged 5 and up the opportunity to be challenged and stimulated intellectually. With camps being held at both Louisiana Tech and ULM this summer, campers will be occupied by projects involving building with Legos with the goal of interacting with mathematical, engineering and technological concepts.
ULM Continuing Education is hosting a variety of other camps including Young Scholars STEAM Discovery, Art in Nature, Exploring Art and Fun with Math. These camps are offered as half day events and more information can be found at ce.ulm.edu or by calling 342-1030.
Physical well-being is an intrinsic component of life that is all too often being swept away by the myriad of indoor activities that eat the minutes of children's lives. Fortunately, there are camps that promote physical exertion as a means for better health, skill enhancement and more overall life happiness. CC Gymnastics (www.ccgymnasticscamps.com) at 1906 Ruffin Drive in Monroe has a summer-long camp packed with activities ranging from learning about and performing gymnastics skills, nutrition and food preparation and acrobatics, all with exciting themes such as Disney, Hunger Games and Superhero weeks. Arts and Crafts, relationship building games and field trips are also incorporated, which all add up to an amazing amount of fun activities for children that lasts the duration of summer.
Multiple sports related camps abound throughout the summer as well. From the OCS Believe & Achieve Football Camp to the Calvert incorporated, which all add up to an amazing amount of fun activities for children that lasts the duration of summer.
Multiple sports related camps abound throughout the summer as well. From the OCS Believe & Achieve Football Camp to the Calvert Crossing Golf Camp, the Monroe Baseball Youth Camp and the numerous camps offered by ULM and Louisiana Tech Athletic Departments, kids can find sport specific tutorials that with undoubtedly provide them with the opportunities to develop budding skills as taught by highly regarded and successful coaches and athletes.
Camps that provide summer-long activities are also available for parents. First, for children aged 3-13, Kidcam Camps (www.KidcamCamps.com) will continue their relationship with Kiroli Park offering a Summer day camp from June to August. With multiple activities involving sports, science, art, nature and physical wellness, Kidcam wishes to give children a great deal of fun while also integrating learning and community awareness. The YMCA also delivers a multitude of summer activities. With the theme of Best Summer Ever and lasting from the end of May to early August, the YMCA (www.ynela.org) gives children aged 4-12 the chance to participate in water games, field trips, academic workshops and fitness classes for overall body betterment. Offering multiple locations in West Monroe and Monroe also affords parents flexibility regarding transportation demands.
An extremely interesting and unique summer camp exists at 100 Brimberry Road in Calhoun. The Traveler's Rest Farm Horsemanship Camp is offering six weeklong sessions for campers who wish to better understand how to properly care for horses. Children aged 6 and up are taught to bathe, feed, lead, and ride the horses, learning about respect and care for animals while also bolstering self-esteem. Campers will also get to experience the fun of swimming and even campfire activities, thus enjoying the company of others who are experiencing equestrian interactions for the first time.
Finally, there are a few overnight camps in the region. Camp Ch-Yo-Ca (www.campchyoca.com), located at 2044 Brownlee Road in Calhoun, offers camps for both day campers, those from 5-11 years old, to overnight camps for students from 3rd grade through high school, though those camps are separated by ages. Ch-Yo-Ca has swimming, boating, archery, arts and crafts, and bible classes. The activities are unending, and children are sure to enjoy their experiences at this camp that has continued to thrive for several years. Additionally, Seeker Springs (www.seekersprings.com) in Eros at 1280 Okaloosa Road provides day and overnight camps. Students in 1st through 5th grades may participate in the day camp where they will swim, play games, create various crafts and enjoy tasty snacks. Students from 6th through 12th grades may register for overnight camps with separate boys and girls camps, which both involve swimming, playing games and having Bible classes, or, for older students, the SLAM camp wherein students learn leadership and community involvement skills that may lead to mission work.
In all, there are many camps that give kids the opportunity to have fun, meet new people, and learn diverse skills. Although summer is often a time used to be lazy and avoid anything resembling school, those months could instead be utilized for children to grow athletically, academically, culturally and even spiritually. The investment in community and personal growth can do nothing but help our kids become better individuals and citizens. Fortunately, we live in an area where the possibilities for positive development during the summer months are readily available.