Summer Treats
By Melanie Moffett
May 21st, 2014
0 Comments
896 Views
article by Michael DeVault | photos by Joli Livaudais
Unseasonably cold temperatures in May might have put a damper on thoughts of Summer, but with the mercury rising, cool weather could be just about ready to give way to a scorching hot summer. But don't despair. BayouLife has a way to help you beat the heat, with tasty, delicious frozen treats. No matter your heart's—or taste buds'—desires, we've got it covered. From icy, milky concoctions to dairy-free, gluten-free probiotics, BayouLife has taken the time and sacrificed waistlines to take the guesswork out of your next ice cream excursion.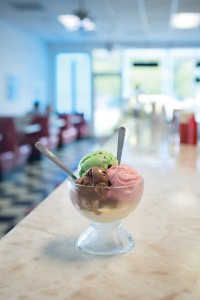 The Creamery
Step Back in Time and take a walk through the 1950s at the Creamery, on Forsythe Avenue in Monroe, where you can reminisce about the Good Old Days or travel back in time with a group of friends. With its chrome-lined booths and classic wrap-around bar, you'd be forgiven if you think the Creamery has been there for decades. But the restaurant first opened its doors in 2005, and it quickly became a community fixture.
Renee Hogg has worked at the Creamery for five years, and in that time she says she's enjoyed getting to know some of the regulars. She is especially fond of the nostalgic atmosphere and the memories that it triggers in some of the customers. "It's an atmosphere where you can bring your children, your grandchildren," Hogg says. "The 50's theme is popular."
On this particular afternoon, music from the musical Grease is streaming over the sound system. At the counter, high school students pour over textbooks in preparation for final exams. At a booth near the front, an elderly woman and her son are eating ice cream after burgers. And that's exactly what the Creamery is about, according to Hogg.
More than twenty flavors of hand-dipped ice cream are available in the freezer. There are the traditionals of Vanilla, Chocolate and Strawberry, and mixed in are more exotic flavors—like Toffee and Crazy Berry. And what's that peeking from around the corner by the soda machine? Is that a Malt machine?
"Our absolute most popular is the Chocolate-Vanilla Shake," says Hogg. Scoops of vanilla ice cream are blended with chocolate syrup to create this popular and timeless dessert. Another favorite Hogg says is the Banana Split, with its three big scoops of ice cream served over a banana, topped with whipped cream, cherries, and syrup. For a smaller treat, consider the Hot Fudge Sundae, with nuts and whipped cream and a cherry. If it all sounds traditional, that's by design. When you step into the Creamery, you should feel like you've stepped back in time a little.
In addition to ice cream treats, the Creamery also serves a full-service menu of what Hogg calls "Americana" food. Hot dogs, fries and Frito Pie are served alongside one of the best hamburgers in northeastern Louisiana. For a delectable and diet-busting lunch, order up a cheese burger, curly fries and a root beer float. In keeping with the 50's theme, it'll all be dished up by a waitress with a smile.
"This is the place where good food and good service never goes out of style," Hogg says.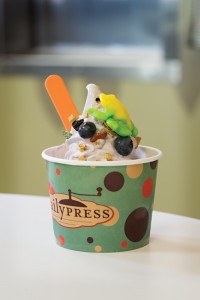 Daily Press
Rushing Home from work, your car beeps at you and, suddenly, you realize you're almost out of gas. So, you swing into the Chevron station on the corner of Highway 165 and Forsythe Avenue. After filling up at the pump, the scent of something catches your attention. Coffee.  More precisely, good coffee and fresh baked bread. Intrigued, you head for the front door. It's been a long day at the office and a cup of Joe sounds good right now. Stepping inside, you're expecting a convenience store, with its rows of shelves stocked with those necessities you can't live without. Instead, you're shocked at what you find.
Along one wall, banks of coffee machines brew coffee in combinations even Starbucks hasn't imagined. Another wall, another surprise, with a full-service sandwich bar, where a friendly server passes a Panini to a smiling customer. And along the back row, tucked between the Icee machine and the soda cooler, there's a yogurt bar.
Co-owner Jared Evans laughs when he thinks about the times travelers have stopped, only to find themselves buying gas at a restaurant. He admits that, many times, people aren't quite sure what to expect. So, he and his crew have developed a solution. "We walk samples out to the pumps and introduce people to the product right there," Evans says. "I don't think they come to a Chevron looking for probiotic frozen yogurt."
But that's exactly what they're getting at the Daily Press, our final stop on the tour of sweet treats. The Daily Press began as a wild idea just two years ago, when Benny Evans began to explore ideas of breaking away from the traditional convenience-store-gas-station combination. What he came up with was a coffee and sandwich shop, tucked inside an existing Chevron. It was a risky move, abandoning the traditional convenience store setup, but it's one that has paid off. Two years in, Jared says they're looking at new concepts and to expand the Daily Press model to other holdings throughout the state. One of the biggest surprises so far has been the success of that yogurt bar. And, unlike many offerings from their competitors, the yogurt dished out at the Daily Press isn't a mix. It's a live-culture yogurt. "There's no powder or cream mixing going on here," Jared brags. "They're all real products."
That means anything contained in the name will be in the yogurt itself, from pineapple to pretzels. Pretzels? "Yes. If it says pretzel in the name, it's got real pretzel in it," Jared says.
The Daily Press offers customers a choice of 14 flavors and seven complimentary flavor combinations for a total of 21 offerings. Each machine is marked with what Jared calls "the code," so that customers know what they're getting. "NF" stands for non-fat and "LF" for low-fat. There are NSA yogurts for those avoiding added sugar, and there are ND offerings, too, for the lactose wary.
Pick your flavor, fill your cup and then step on over to the toppings bar, where you can dress it up with flavored syrups, whipped cream and more than thirty sprinkled toppings. If you're nervous about probiotic yogurt, we suggest dropping by between the hours of 2 p.m. and 4 p.m., for Happy Hour. "All yogurt and espresso coffee drinks are half off," Jared says.
If you're looking for a quick dinner, step up to one of the handy touch screens, order a few Paninis for the family, and watch as your sandwich comes to life before you, all prepared with the freshest ingredients available. Jared is quick to point that out because, unlike other convenience stores, "There's no pre-packaged here."
On this late afternoon, after traveling from custard stand to coffee shop, it is time for a healthy dinner—and one that is, hopefully, low calorie, too. The Daily Press solution is a heaping scoop of chicken salad, served atop a bed of fresh, leafy greens, and surrounded by fruits, nuts and delicious feta cheese.
And maybe some Wild Berry Sorbet for dessert.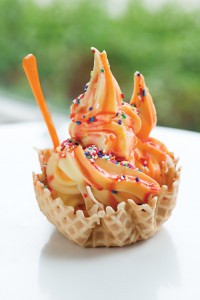 Orange Leaf
Out for a stroll after dinner at Portico's or PieWorks? Maybe that's when your sweet tooth strikes and you find yourself on the sidewalk, bathed in the warm, inviting glow of Orange Leaf on Tower Drive. Step inside, and chances are you'll find Brad or Amy Lawrence chatting up customers while dishing out desserts.
Whatever you can imagine, chances are you can create it at their shop, a serve-yourself frozen yogurt buffet. "You're the master of your creation here," says Amy. Her particular favorite? Carrot Cake yogurt with marshmallow cream and marshmallows on top. But, she grants, some people are nervous about marshmallows and frozen yogurt. And that's okay, too. "That's the great thing about it. It's totally individualized."
Brad takes another tack about the family business. He says his favorite part of the Orange Leaf experience so far has been working with new employees. "I like the way we teach the kids to work here," Brad says. "We're the first job experience a lot of these kids have." That includes the couple's four sons, all of whom have worked for the Orange Leaf location on Tower Drive.
Yogurt machines churn all day to produce soft-serve yogurt in more than two dozen flavors and combinations. The national best seller is Cheesecake, which is always on tap. Also perennial favorites include vanilla, chocolate and classic tart yogurt.
Patrons serve themselves in Orange Leaf bowls, waffle bowls or waffle cones, and then they make their way past the toppings bar before paying and receiving their signature, Orange Leaf yogurt shovel, which Amy reminds is biodegradable—though that hasn't stopped customers from saving them and collecting them. Just make sure to hand wash them, she cautions, because they'll melt in the dishwasher.
Most of the Orange Leaf products are gluten free. Also, they offer several varieties that are non-fat or non-dairy. There's something for everyone, Brad says. Orange Leaf even offers no-sugar-added flavors for those who are mindful of sugar intake.
Over the loud speakers, "Disco Inferno" plays as the first post-lunch customers straggle in. Amy says the music is part of the fun, hip atmosphere, which makes Orange Leaf the perfect place for a birthday party or fundraiser.
Orange Leaf also caters to students, with 10% discounts on Tuesdays for high schoolers and high school staffers, and a similar 10% discount for college students and faculty on Thursdays. They also give customers the chance to earn points and discounts through a loyalty card program. Brad encourages local nonprofits and school groups to inquire about fundraisers at Orange Leaf. "They call us and anyway we can get them going, we try to help."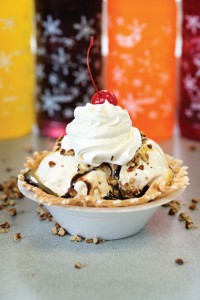 Eskamoe's
Our taste buds tour takes us to Eskamoe's, where we meet up with owner Kelle Messer, who's just about to get the day kicked off in a sweet way—and by sweet way, we mean Frozen Custard sweet. Kelle and her husband Dan started Eskamoe's more than 12 years ago, with a single location on Forsythe Avenue. Response to their offerings was overwhelming and, within just a few years, the Messers have grown to a chain of four family-run stores. Their secret? It's in the cooler, that right now is churning out ribbons of chocolate, vanilla and cake batter frozen custard.
"It's a super-premium ice cream," says Kelle, of Eskamoe's offering. A scooped product, frozen custard contains egg yolks, which add to the creaminess of the ice cream. Also, at 19 degrees, it's a balmy ice cream compared to others. "It's served at a warmer temperature than typical ice cream."
The warmer temperature prevents the taste buds from freezing, which means you can enjoy more of the flavorful deliciousness longer. Also, ice cream headaches are less frequent, so chow down. Kelle adds that a warmer serving temperature isn't the only unique aspect to their frozen custard. Typically, manufacturers inject air to increase volume. "We don't, so ours is a very dense product," Kelle says.
Eskamoe's serves up scooped custard in bowls, in waffle cones and in any number of confection-laced concoctions. One of their most popular products right now is the Trash Can Sundae, a whipped cream topped delicacy aimed at the younger set. "The kids go crazy over them," Kelle says.
Served in a plastic trash bin, topped with whipped cream, and finished with a set of candy eyes, the Trash Can Sundae calls to mind images of Oscar the Grouch from Sesame Street. Trash Cans come in three colors, though Kelle says they tried for a while to discourage kids from ordering a specific color. Too often, though, the kids say they've got a particular color or are missing a different one. So, like any good hostess, Kelle tries to oblige.
For the older customers, it's all about the Arctic Turtle, a custard-and-fudge heaven of roasted pecans, whipped cream and cherries. Since they opened, the Arctic Turtle has been a persistent best-seller, and if you only order one thing on the menu, it's a good bet.
Unlike some of their competition, Kelle says Eskamoe's is targeted at life on the go. Patrons place their orders at the window—not at the menu several cars back—and a friendly server prepares their order on the spot. "So you're going to get the freshest treat, made right to your order, and it won't be melted away by the time we hand it to you," Kelle says.
There are picnic seating areas outside the window, but seating is limited. Instead, Kelle says she recognized from her own life as a mother the need for "treats on the go," which is one of the reasons they picked an ice cream stand concept for their business.
"We were looking for something fun," says Kelle. "And who doesn't like it when you're getting ice cream?"
In addition to ice cream treats, Eskamoe's serves a food menu of what Kelle calls "quick" foods, including pulled pork sandwiches, hot dogs, chili dogs and Frito Pies.