Sweet Treats for the Holidays
By Melanie Moffett
Nov 30th, 2015
0 Comments
431 Views
With the holidays just around the corner, we've selected five delectable treats to satisfy your sweet tooth!
article by Meredith McKinnie | photos by Martin G Meyers
It's the most wonderful time of the year…especially for those with a sweet tooth. As we explored the hundreds of desserts offered by culinary masters of our region, similar threads began to emerge, the textures and flavors shared by each of the selections. After a while, a picture of the holiday dessert began to form, sweet, savory, a hint of spicy, and in pretty much everything is butter, which brings a fulfilling richness to every bite.
BayouLife Magazine selected just five of the masterful treats, dishes that best symbolize the achievement and joy that is the perfect holiday dessert. With treats from several of our area's most popular bakers and chefs, the December issue of BayouLife is sure to leave you craving a sugar fix. So don that ugly Christmas sweater, snuggle up with a hot butter rum and get ready to dig into Christmas on the bayou.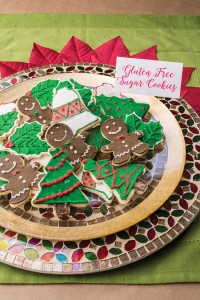 Butter
Charity Jones is the woman behind Butter, a specialty bakery focusing entirely on gluten-free creations. Though she comes from a baking family, it was a concern for a family member that led her to trying gluten-free baking. Her father-in-law, Dr. Gary Jones, suffers from Celiac disease, an intolerance to gluten, and Charity wanted him to be able to partake in the sweets at family gatherings. So she started experimenting in her kitchen, gradually moved on to cakes for weddings, and the bakery evolved. She now has created gluten-free biscotti, brownies, sugar cookies, cakes, cream puffs, and cupcakes. She is up for experimenting with other recipes and is currently working on scones and other pastries.
If you want a certain baked good, Charity loves to experiment, sometimes trying recipes over and over again until the flavor is just right. Butter is close to being a certified gluten-free bakery, and Charity also manages an entirely gluten-free household. She is filling a need for many who crave the pleasure of sweets without the worry of gluten. Her motto, "Everything's better with butter" is true, and gluten-free can be better tasting as well as better for you.
Email: butterlabakery.com
Facebook: Butter A Louisiana Bakery
Phone: 318-791-4000
Gluten Free Christmas Sugar Cookies
Gluten Free Sugar Cookies:
•  2 Cups all purpose gluten free flour
•  ¾ Teaspoon baking powder
•  ¼ Teaspoon salt
•  ½ Cup fine granulated sugar
•  4 Tablespoon powdered sugar
•  8 Tablespoons unsalted butter (room temperature)
•  1 Large egg
•  ½ Teaspoon vanilla extract
Baking Instructions:
Preheat oven to 350 degrees Fahrenheit. Mix all the dry ingredients and blend until well combined. Add egg, butter and vanilla and stir until dough is well blended and thick. Take half of the dough with your hands and form into a ball. Roll out your dough onto parchment paper (or sprinkle GF flour across a level area) and roll until dough is about 1/3 of an inch thick. Use a cookie cutter of your choice and place cookies onto a cookie sheet, with parchment paper, leaving about 1 inch between cookies. Bake for 9-11 minutes until set. Allow cookies to cool on baking sheet until they have set and then transfer onto a cooling rack. Approximately 5 minutes.
Royal Icing:
•  2 Egg whites
•  12 Ounces (3 cups) powder sugar
•  ½ Teaspoon lemon juice
Icing Instructions:
Put the whites in the bowl of the mixer fitted with a whip. Whip on high until they are foamy, then with the machine running add the powdered sugar and juice. Whip about five minutes until icing is thick and glossy.
Thurman's Food Factory
For the last twenty-seven years, Thurman's has been serving the people of Monroe. Whether it's their $6.95 plate lunch or catering a local event, Thurman's is a name synonymous with quality. With an emphasis on pleasing the public, the crew seems to truly enjoy doing what they do. Owner Thurman Dickey aims to offer good products at a great price. Aside from sweets, Thurman's offers a variety of twenty-five different casseroles in varied sizes, fully cooked. They also offer breads, pastries, cakes made by excellent bakers and decorators, cookies, candies, and specialty sauces and toppings.
Thurman's delivers, and catering is a significant part of their business. They can attend to any size event. Some of the favorite dishes are the beef tenderloin, the artichoke wrap, the boiled shrimp and the etouffee. And for the holidays, the shop is offering gifts, such as jewelry, pewter pieces and a new line of boxed candies and goodies for the kids. Mr. Thurman himself insists, "If you fail to consider quality, you buy disappointment." Thurman's  Food Factory prides itself on its quality and its longstanding reputation.
Facebook: Thurman's Food Factory
Phone: 318-387-7848
Saltine Toffee
•  40 saltine crackers
•  1 c unsalted butter
•  ¾ c granulated sugar
•  1 c chopped pecans
•  12 oz milk chocolate chips
Line a 15x10x1" baking sheet with saltine crackers. Set aside. Preheat oven to 375ºF. In a small saucepan over medium heat, melt butter. Add in sugar and bring to a rolling boil, stirring constantly. Pour melted butter over saltine crackers and sprinkle with chopped pecans. Place in a 375º oven for  13-15 minutes, until crackers are browned and caramelized.  Remove from oven. Using a small spatula, place each piece of toffee onto a sheet of parchment paper on the counter.  Melt chocolate morsels and spread generously over toffee. Allow chocolate to set in an airtight container for up to 5 days.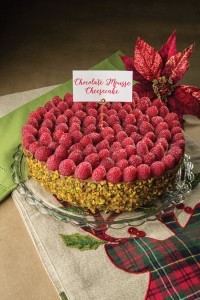 Crumbs Catering
Serving the city of Ruston for just over a year, Crumbs, the creation of Jodie Morphew and Olivia Stinson, focuses solely on catering, creating the entire experience for parties. Jodie and Olivia have been friends since high school. Jodie attended culinary school in Pittsburg, and Olivia was previously the manager of a local bakery. They are now a team, with Jodie making all the savories and Olivia baking all of the pastries. Coordinating all the events together, these ladies emphasize hospitality and "taking the stress off the hostess."
The catering staff will make the party what you envision without you ever having to lift a finger. They customize menus to fit any party including: sorority/fraternity events, weddings, cocktail parties and baby showers. The ladies have served parties of 450 guests and intimate gatherings of 40 people. With a focus on the details, Crumbs offers staff, bartenders, tablecloths, plates, food, serving utensils, platters, etc. All the hostess has to do is show up. While they do serve some specialty dishes, they make your party what you envision. And it all started and thrived because of two blondes in a kitchen.
Facebook: Crumbs Catering
Instagram: crumbscateringofruston
Phone: 318-366-4858
Chocolate Mousse Cheesecake with a Pistachio Graham Cracker Crust
Pistachio Graham Cracker Crust
•  ¼ cup shelled, unsalted pistachios
•  ¼ cup granulated sugar
•  ¼ tsp. coarse salt
•  1 ¼ cup graham cracker
•  5 Tbsp. unsalted butter, melted and cooled
Preheat the oven to 300F-degrees. Bring some water to a boil for a water bath. Butter the bottom and sides of the standard spring-form pan. Set aside. To make the crust: In a food processor, pulse the pistachios with the sugar and the salt until coarsely grounded. Transfer to a large bowl, add the graham cracker crumbs and butter, and mix till combined. Press the graham cracker mixture over the bottom of the buttered pan. Set aside.
Filling:
•  1 pound cream cheese, at room temperature for at least 6 hours
•  ½ cups + 2 Tbsp. granulated sugar
•  ¼ tsp. coarse salt
•  1 tsp. pure vanilla extract
•  1 ½ tsp. vanilla paste, or seeds from 1 whole vanilla bean
•  3 large eggs, at room temperature
•  1/3 cup sour cream
To make the filling: in the bowl of a slandered mixer fitted with the paddle attachment, beat the cream cheese, sugar, salt, vanilla extract, and vanilla paste or seeds on medium-high speed, scraping down the bowl several times, until the mixture is completely smooth, about 5 minutes. Turn the mixer to low and beat in the eggs, one at a time, until blended, scraping down the sides of the bowl after each addition. Beat in sour cream until blended. Place the pan in a roasting pan. Place pan in an oven and pour in the boiling water bout ½ inch up the sides of the pan. Bake until the filling is set but still jiggles slightly in the center, 1 hour 15 minutes to 1 hour 20 minutes. Chill for 4-6 hours, or overnight, in the pan.
Chocolate Mousse
•  12 oz. chopped semi-sweet chocolate
•  4 oz. butter
•  1 ½ tsp. vanilla
•  ½ tsp. salt
•  24 oz. heavy whipping cream
Melt Chocolate and butter in a double boiler until smooth. Once melted, add in the vanilla and salt. Place heavy whipping cream in the bowl of a standard mixer with the whisk attachment. Whisk the on medium-high speed until stiff peaks form. Watch closely so you don't over whip the cream. Once the cream is whipped add a little to the chocolate mixture and stir in till texture is uniform. Gently fold in the rest of the whip cream until combined. As soon as the mousse is finished add it to your cheesecake. Chill another hour. Once your mousse has time to set; unbuckle the pan and slowly transfer your cheesecake to the cake plate or stand of your choice. Once the cheesecake is safely on the plate, it's  time to add your garnishes.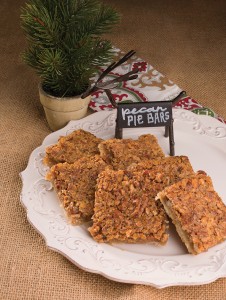 KaCee's Sugar and Spice
The mother/daughter team of KaCee Carroll Lee and Morgan Garrison is the duo behind KaCee's Sugar and Spice in Ruston. For the last thirteen years, KaCee has turned her love of baking into a profit, and since high school, Morgan has been right there with her. She started simply designing cakes alongside Mom and eventually began consulting with brides, where she found her love of building lasting relationships with her customers. Once the connection is formed, bridal showers become gender reveals, then baby showers, and birthday parties. The occasions change, but the relationship stays the same, and customers trust Morgan with the intimate moments of their lives.
The bakery specializes in children's birthday cakes and wedding cakes, and not just your average sheet cakes, but whimsical, detailed designs. They also offer full-service catering including: appetizers, meals and hors d'oeuvres. Much like their cakes, they handle the details of the party, such as planning, tablescaping and styling. Any lifetime event is welcome, from small office parties to large weddings. Like their motto, KaCee and Morgan's hope is: "Let us bake your dreams come true."
Website: kaceesruston.com
Facebook: Kacee's Sugar and Spice
Instagram: kaceessugarandspice
Phone: 318-255-6771
KaCee's Southern Pecan Pie Bars
Crust:
•  2 cups all-purpose flour
•  ⅓ cup white sugar
•  ¼ teaspoon salt
•  ⅔ cup unsalted butter
Filling:
•  3 eggs
•  1 cup of light corn syrup
•  ½ cup white sugar
•  ½ cup brown sugar
•  2 tablespoons butter, melted
•  1 teaspoon vanilla extract
•  1 ⅔ cups chopped pecans
Preheat oven to 350 degrees. Line a 9×13 baking dish with foil and spray with cooking spray.
For the crust, in a large bowl, stir together the flour, sugar and salt. With a pastry blender, cut in butter until the mixture resembles coarse crumbs. Sprinkle the mixture evenly over the prepared pan and press in firmly. Bake for 20 minutes.
While the crust is baking, prepare the filling. In a large bowl, mix together the eggs, corn syrup, white sugar, brown sugar, butter and vanilla until smooth. Stir in the pecans. Spread the filling evenly over the crust as soon as it comes out of the oven.
Bake for 25-30 minutes or until set. We prefer to bake them a little on the rare side.
Allow to cool completely before slicing into bars.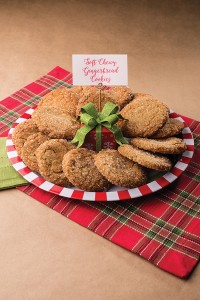 Tummy Yummy Creations
Soft Chewy Gingerbread Drop Cookies
•  8 oz. butter
•  1 ¾ c sugar
•  2 eggs
•  1 tbsp water
•  ⅓ c molasses (may substitute honey)
•  2 tsp. ground ginger
•  1 ½ tsp baking soda
•  1 ½ tsp cinnamon
•  1 tsp. ground cloves
•  ½ tsp salt
•  3 ½ c flour
•  Coarse sugar crystals
In the bowl of an electric mixer, beat butter and sugar until light and fluffy.  Add eggs, water and molasses and beat well. In a separate bowl, mix together ginger, baking soda, cinnamon, ground cloves, salt and flour.
Next, combine the dry ingredients with the butter and egg mixture and mix at a low speed until thoroughly combined. Be sure to stop the mixer and scrape down the sides of the bowl with a wooden paddle. Mix on a high speed for an additional ten seconds.
Scoop mixture out in tablespoons and press tops into coarse sugar crystals.
Preheat oven to 375º and bake for approximately ten minutes or until edges are golden brown and centers are raised.