Team Effort
By Admin
Aug 29th, 2016
0 Comments
756 Views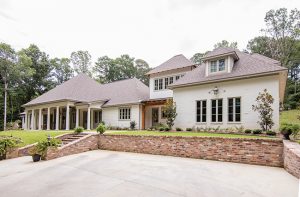 The art of building a home is made all the more fun when the homeowners, architect and builder are on the same team.
Interior Design by Buffy Walker | Architecture by Cassidy Keim | Contracting by Chris Moran

article by Maré Brennan | photography by Martin G. Meyers
After moving 10 times in the past 19 years and setting up home in everything from a turn of the century Victorian to a trailer, Buffy and Scott Walker got to know the little details that make a home special. Having built and remodeled several of their homes over the past two decades, the couple were ready to take on this latest project with the help of local architect Cassidy Keim of Catalyst Design and contractor Chris Moran of Chris Moran Construction, Inc. The homeowners had worked with Chris before when building their home in Ruston's Creeks Edge neighborhood and were eager to continue their successful partnership on this new project. The designing and building trio of Buffy, Cassidy and Chris have proven that beautiful can be functional and stylish and warm and welcoming, as well.
"When we set out to build this house, we wanted our guests to feel immediately at ease and comfortable," smiles Buffy. "I wanted it to seem as if it was an old house. Our home is a reflection of all the places we have lived." She adds laughingly, "We moved ten times to get here."
Buffy recounts looking back in an old journal she kept, "The banker back then told us we could buy a $150,000 house. I got so excited over hearing that news! We have truly loved every house we've owned."
Making a visual connection to the landscape that surrounds and envelopes the home was key for architect Cassidy. The house is nestled on a high ridge that runs along the property, surrounded by nothing but mature native hardwoods. Walls of French doors with oversized panes allow cascades of light to saturate the living spaces. "The home is sited high up, so you feel like you are in the tree tops," says Cassidy.
Cassidy Keim received his undergraduate and masters degrees in architecture from Louisiana Tech. "I had an offer to work in Baton Rouge for a bigger firm, but decided to stay here in Ruston, because we are passionate about here," he says of Ruston. When he and Buffy first sat down to discuss plans for the home, they first talked about how the house would feel and function, rather than its style. Keim built a full 3D visual model of the home so that the homeowners could do a "walk-through" before the foundation was even poured. "The 3D model helps me communicate the design effectively," says Cassidy. "It was so rewarding seeing the whole process – to start from nothing, just an idea, and watch it come together. I enjoy coming back and seeing how my projects are lived in."
Contractor Chris Moran, a 17 year veteran of the construction business, explains about his company's collaboration with Catalyst Design and the Walkers, "Buffy is that great client who gives our team the latitude to do something unique. We help each other, because we work together so well. My favorite part of working on the Walkers' home is that it was not cookie-cutter, and we were able to do some really neat things. Homeowners like the Walkers can make a job. It's not about the money. We just want to be proud of what we do in our small community."
Buffy is known for her artistic pursuits both as a painter and art educator. She used her creative  abilities to create the interior design for her home that is simultaneously chic and encourages the kicking off of shoes and relaxing. With two teenage boys and two dogs, this is precisely the kind of style that encourages friends and family to linger longer. Of her construction process, she says, "These two guys [Cassidy and Chris] did a phenomenal job of listening to their client and figured out how to do everything I asked."
During the building process Buffy's husband, Scott, whom she describes lovingly as amazing and funny, kept the process light, frequently coming up with off the wall requests for the architect and builder, some real…some just for fun. Scott, you see, is a University of Kansas megafan, who takes his family on an annual pilgrimage to watch his favorite team play. To celebrate his beloved Jayhawks, Scott's office features a unique ceiling medallion of the Kansas mascot. Scott himself painted the medallion, which is suspended from the ceiling and backlit for maximum effect. Built-in cabinetry is filled to capacity with Jayhawk memorabilia. A former basketball coach, Scott calls the shots now as an insurance agent.
From the road that winds through the Ruston subdivision, you would barely know the Walkers'  home was hidden behind the verdant branches of tall oaks. Ascending the driveway as branches make way, the columned veranda beckons guests toward the front door. At night, the tower where the boys' rooms are located glows from within.
Buffy's art studio is located to the left of the home's front door, which is well lit by large gas lanterns. A large fleur-de-lis fountain, in honor of her dad and his love of the New Orleans Saints, delineates the separate entrance to her studio. The art room is home to where Buffy teaches art lessons for children as well as adults and creates her own adorable canvases, which are sold at Sue Paperie in downtown Ruston. The room is an incredibly versatile space and can even double as a guest room with a sofa bed. The sink is recessed into a wall cubby, so it is easily accessible yet visually out of the way. Artistic vision is carried through in the room as one needs only to look up to enjoy the soaring groin vaulted ceiling.
In the coffered ceilinged living room, from the front door, one can see through the voluminous space all the way to the luxurious pool and outdoor living area. Another view down the long central hallway reveals Cassidy's obsession with everything being on axis and centered. The result is a very clean lined feel without the home having to be ultra-modern. A church pew from one of Scott's dad's churches in Douglas, LA has a place of significance. Her father's roll-top desk is another piece the couple treasures and has incorporated into the design of their home. Economical yet stylish sofas in neutral linen with nailhead trim were found on Internet design site, Joss and Main. Buffy sourced the decorative urn on the coffee table from Shreveport's Lewis and Co. The mantle in the living room was built by Chris to replicate a mantle the couple had loved in a previous home.
The master bedroom and accompanying en suite bathroom is a veryconscious effort on the part of the homeowner to be pared back to the essentials, with no wasted space. "We wanted lots of windows to fill our bedroom with natural light, and these doors lead to the pool," says Buffy. Luxurious bedding and soft carpeting underfoot create a spa-like feel. The bedding and curtains are from TJ Maxx. Side tables were a Joss and Main find.
In the master bathroom, the architect designed another groin vaulted ceiling under which a freestanding tub is centered. The flooring is an economical rectangular tile laid in a herringbone pattern, upping the design quotient. The space is warmed by toe kick heaters, hidden under his vanity cabinetry. Her vanity features mirrored doors for a glamorous treatment. The oversized shower gets private with a frosted glass door with the couple's monogrammed initials.
The kitchen, dining room and keeping area is the heart of the home.The keeping room's ceiling treatment is made of vintage wood panels. Custom cabinetry by Robbie Wallis of Wallis Woodworks creates the backdrop for this one of a kind kitchen. The tall cabinets feature topmost cabinets with glass front doors for displaying the couple's china. The fireback behind the gas stove top is an antique from the 1800s. When it arrived from England, a small crack had become a huge one. But never fear, Chris' team figured out a way to make the crack become more character and less deal breaker. Backsplash tiles in a Moroccan pattern were found online and actually remind the homeowner of painted pressed tin tiles.
"Chris did a great job of keeping us in line with our appliance costs which helped keep us on budget," says Buffy. Instead of a more pricey brand of refrigerator and freezer, Buffy created the visual look of an extremely high end dual side by side by placing a Frigidaire stainless steel freezer and refrigerator with an added-on kit that makes it look like one piece of high end machinery. Buffy splurged on her favorite "Sonic" ice maker, finding all of her appliances from Barrett's in Shreveport.
Two copper lantern pendants provide task lighting above the kitchen island. The island provides seating for four, as well as an out of the way place for ovens and a below counter microwave. An undermounted prep sink on the island and a large farmhouse sink provide plenty of coveted sink space. The farmhouse sink is positioned beneath a window which offers views of the front lawn and forest, which often reveal a pair of spotted fawns and their mother as they pass through. In the dining room adjacent to the kitchen, rolling upholstered storage doubles as stool seating around the table.
The tower foyer is lined with vintage, white-washed wood siding. Upstairs, the boys have full reign. The landing provides just the right amount of space for a sitting room. Both boys' bedrooms are located off the upstairs common area. Designed with the future in mind, Cassidy placed the boy's bedrooms upstairs so that when they are off at college, the tower can  be shut down to reduce heating and cooling costs. When the boys have families of their own and visit, the tower is all theirs again.
A doggy door in the laundry room is just one of the functional gems the Walkers had built into their home. Another is a key drop area by the back door which alleviates the age old "where's my keys?" scenario.
The half bath is an area where Buffy's creativity on a budget reached its maximum potential. She had seen an antique tile that she wanted to position around a mirror but discovered the cost was prohibitive. Her solution? She positioned a pair of sconces backed with antiqued mirror from Paul Michael on either side of a large mirror to achieve a gorgeous effect. This bath is also accessed from the outdoor living space as well.
"This is where the basketball team comes and hangs out after the school and after the game," says Buffy pointing to the outdoor living area and pool. Old St. Louis brick was used to create a fireplace and focal point. All of the outdoor furniture was sourced from Lincoln Outdoor Living.
The Walker's dream home is a light-filled beacon on a Ruston hilltop. Here's to the teamwork that made it happen!