Ten Fall Decorating Essentials
By Melanie Moffett
Sep 29th, 2014
0 Comments
494 Views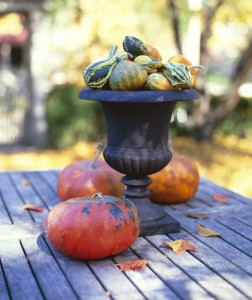 Decorating Ideas Are Right Outside Your Door.
article by P. Allen Smith | photo by Jane Colclasure
Admittedly, autumn is one of my favorite times of the year. When it comes to decorating for the season, it's a mix of inside and outside. The cool crisp temperatures beckon you outdoors while the shorter days nudge you back inside. Autumnal decorating is easy when there is a bounty of natural materials all around.
My 10 favorite fall decorating materials to purchase or plant are: gourds, pumpkins, pansies, corn stalks, ornamental grasses, grape vine, chrysanthemums, seasonal produce, bittersweet and hay bales. Any combination of these 10 items will allow you to create a marvelous setting.
I follow the practice of Recycle, Reuse, Repurpose, so I like to harvest as many things from my farm as I can. You can simply shop your yard for fruits, flowers, twigs, grapevine and grasses. Also, it's amazing what you'll find in the produce aisle at your local grocery store. There is an exceptional selection of pumpkins, gourds, fruits and veggies.
As you're browsing the abundant produce selections, look for three different sizes and colors that match your home. Apples, oranges, pears and pomegranates harmonize well in a big bowl, and ornamental grasses can be dropped in a galvanized bucket and later planted in your yard.
Grapevine is also versatile in decorating for fall. Whether you have wreaths or garland, it can be used on tables, doors, windows or walls. It is beautiful to leave it natural, but you could also spray paint it a lovely color to match your home.
I love celebrating the strong bond with family and friends by sharing the bounty from my garden. So candles, chrysanthemums and gourds are exceptional for a fall dinner table. At this time of year, I'm completely obsessed with pumpkins, so another great idea for decorating a table is using various sizes and colors of pumpkins. A few of the pumpkins can be hollowed out and used to contain a vase of flowers, or a larger one could be filled with a bowl of ice for soda bottles or to chill wine. The rich tones of bittersweet vine also make an excellent choice in a centerpiece arrangement or made into a wreath for the door.
When you're ready to take your decorating outdoors, there's no easier way to spruce up your front porch than with pumpkins, corn stalks and mums. At my Moss Mountain Farm home, pedestals with wire urns perched on top are filled with a generous heap of pie pumpkins. These are the correct scale for each side of the door. I repeat this element in threes with potted boxwoods and heirloom pumpkins to create visual interest and achieve balance around the 11-foot deep porch.
Stacked hay bales along with various sizes of pumpkins, gourds and chrysanthemums make a great choice for an outdoor vignette. If your porch is too small for hay bales, try placing them in the yard or near a path that leads to your front door.
Don't feel as if you have to be stuck with the traditional orange or red colors for fall. A few white pumpkins could be an interesting choice along with some dried corn and flowers. Mums come in orange, yellow, white and even purple. Try adding a few mini-pumpkins or gourds to a wreath for your front door.  Spray paint gourds white, or any color to personalize them to your theme. Your color choices are limitless, and you probably have something else laying around that you could add to your fall decorations, too.
When thinking about landscaping, consider planting violas and pansies in your flowerbed. These colorful beauties will thrive well into cooler weather. They also look great in pots tucked into your tablescape, outdoor vignette or on your front steps.
Embrace your own creativity and style. Give these ideas a try and see where it takes you.
How to Grow Gourds
One of my first memories of gardening is how fun it was to grow gourds. These funky fruits are wonderful to get kids interested in gardening.
You'll need a patch in the garden with well-drained soil, full sun and a lot of space for these wildly fast growing vines that will grow on a fence or arbor.
As soon as the soil warms up in spring, and the chance of frost has passed, plant the seeds about a foot apart and push them into the soil half an inch deep and cover them up. They'll germinate in about 10 days, and leaves will form in about two weeks. That's when you should make sure to secure them to the stake, arbor or trellis.
Experience has taught me that frost will damage immature gourds, so you can harvest those early for decorations. I leave the mature fruits to ripen on the vine and dry, and I collect them after the first killing freeze.
After picking, keep gourds in a well-ventilated, dry area until they are completely hard.
Once the gourds are dried, you can paint them, wax them or keep them natural. Just have fun.